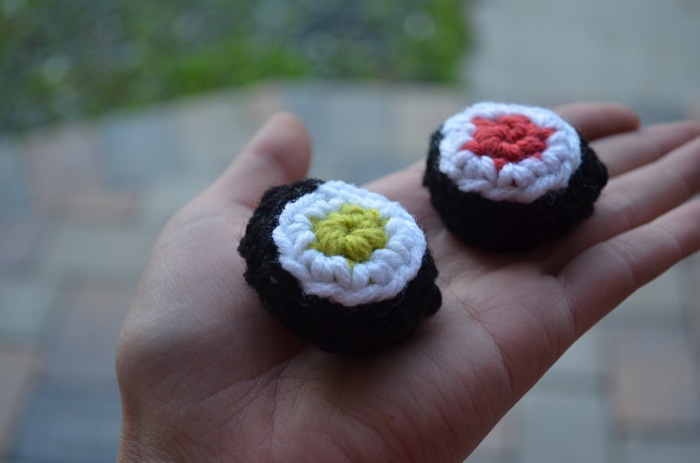 The Crochet Sushi Magnet is such a quick and fun pattern to do. And they have such endless uses you can come up with. If you add in a magnet, you can stick it on the fridge with notes attached. I like to use my sushi magnets to hang up my photos or postcards. If you don't want to use magnets, you can just have them be play food items or decor. I even made one into a keychain. And they'd make great party favors, especially if they are Asian themed!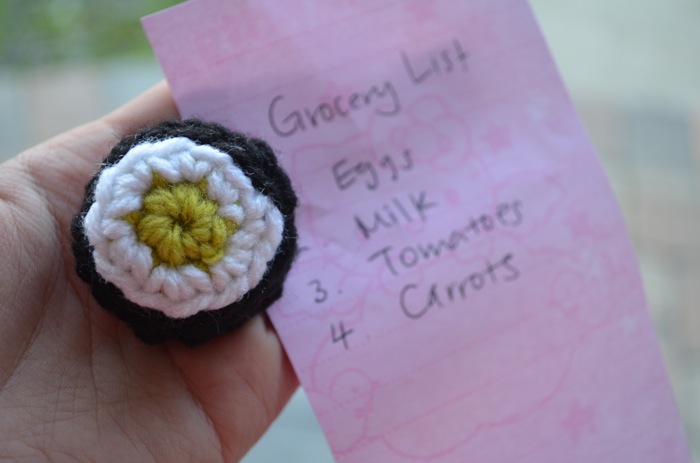 Alright so let's get to it.
Supplies
Red, White, and Black yarn, worsted weight (I used some Red Heart Super Saver and also some Vanna White yarn from Lionbrand)
5.0mm H Crochet Hook
Neodymium Magnet aka Super Rare Earth Magnet.
Yarn Needle, Stitch marker, Scissors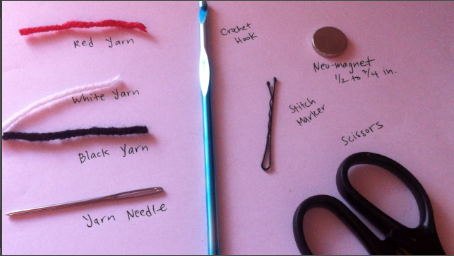 Abbreviations
Ch – chain
Sc – single crochet
Sl St – slip stitch
Sc2tog – single crochet 2 together aka single crochet decrease




PATTERN
Round 1: With Red yarn, Ch 2, 6 sc into 2nd ch from hook.
Round 2: With White yarn, 2 sc in each st around — 12 sc.
Round 3: With Black yarn and in Back Loop, sl st in each st around.
Round 4: In Back Loop [2 sc in next st, sc in next 5 st] around — 14 sc.
Round 5: [Sc2tog, sc in next 5 st] around — 12 sc.
Round 6: (with White yarn and in Back Loop) Sc2tog all around — 6 sc.
Finish off leaving a long tail.
Insert Neo-magnet and sew closed.
Crochet Sushi Magnet Video Tutorial
And finally for those visual learners out there, here's a crochet tutorial video that takes you step by step through each Round in the pattern. It assumes you already know how to crochet! I plan on coming out with basic crochet video tutorials very soon, so I'll keep you posted!
Extra notes:
You want to be sure to get the extra strong magnets or it won't be able to be powerful to stick through the yarn. If you get a weaker magnet, I'd recommend glueing it to the outside of of the sushi. A good strong glue to use is E-6000.
Let me know how yours turns out!