Hey guys, I'm trying something new here! I'm occasionally going to do Ami Giveaways and I thought it'd be fun to make it interactive and play some sort of Game.
The PRIZE:
An adorable Mario Mushroom Crochet Plush!
The NAME OF THE GAME:
Read on for the rules.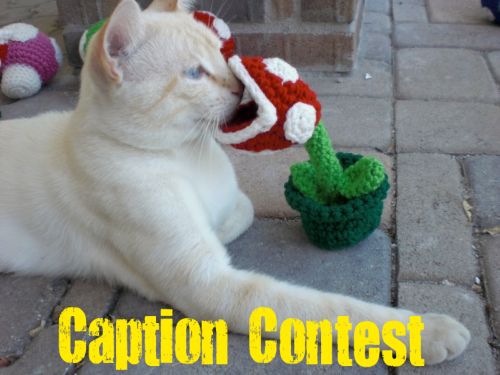 Create a funny caption for this Photo. The person with the winning caption will receive a free amigurumi Mario Mushroom that will give you special powers and energy! Just place your caption in the comments section. The deadline to submit captions is until Monday August 23, 2010. The winner will be contacted by email and the winning caption will be featured in the next Ami Amour newsletter! There's a limit of 5 captions per person. Have fun!
Contest Update:
The winner of the Ami Giveaway #1 is Jeremy! Thank you all for playing.