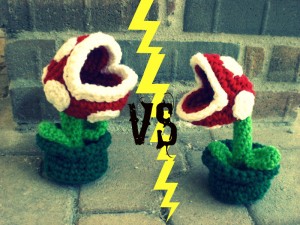 It's the first ever Piranha Plant Showdown! I crocheted myself 2 different amigurumi versions of the Piranha Plant as I was playing around with shape and size. Now I can't decide which plant I like better. So I'm letting you guys decide. Which plant is more superior? Let's take a look at their stats.
PIRANHA PLANT #1
Height: 8 inches
Width of Bulb: 3.5 inches
Snaps per Minute: 5 SpM
Description:
Introducing PIRANHA PLANT #1. It grows to be a height of 8 inches tall and has a sizeable breadth to its red bulb at 3.5 inches wide. Its favorite snack is Mario and its large jaw is capable of swallowing Mario or Luigi in one big gulp. Its big head makes it a slow mover, but when it does take a bite, you better watch out or you'll be dinner!
___________________________________________________________________

PIRANHA PLANT #2
Height: 7 inches
Width of Bulb: 2.5 inches
Snaps Per Minute: 100
Description:
Next up, we have PIRANHA PLANT #2. A fine specimen indeed. This one's a baby and is still growing, but don't underestimate it. What it lacks in size, it more than makes up in viciousness and appetite. Its jaws snap at a feverish pace and can set a record of 100 SpM (Snaps per Minute). A couple of those snaps will surely shrink you down in size!
So who will win this match? Which plant is superior? Piranha Plant #1 or Piranha Plant #2? Only one can be victorious. Who will be left standing? Cast your votes today!