I love doing craft swaps! Usually I'll sign up on them through Craftster. So this was actually my second craft swap. I'll have to show you guys the first one later (it was a Miyazaki theme one!). Rikaheart was my partner and she really outdid herself! She sent me so much loot and so much crafty goodness.
RikaHeart has a chiweenie named Tucker and a mini-dachshund named Jocko. I decided to make amigurumi versions of them because honestly crochet is the only craft I can do.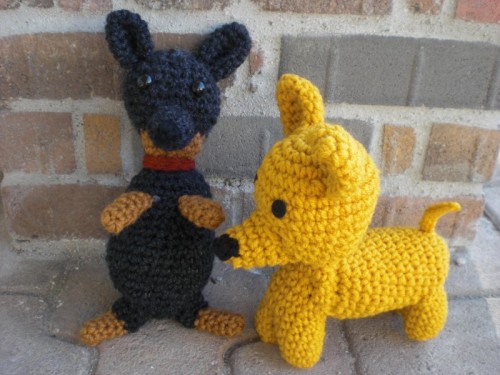 Jocko likes to play Dead sometimes.
Here they are with their respective owners too. Photos courtesy of RikaHeart.

I have 3 pets but I wanted crafts of Thor who is an Alaskan Malamute. Here is my absolute favorite of the crafts she sent. Here are pillows with photos of Thor on them using iron on prints! It matches perfectly with my sofa.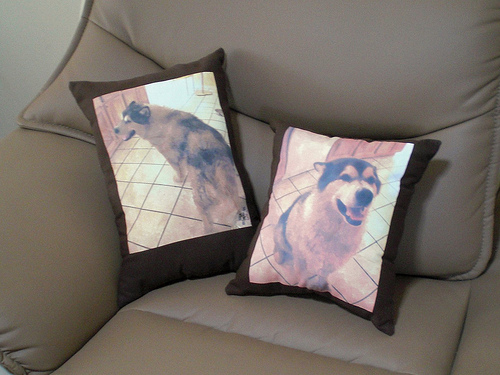 Here's actual Thor sniffing the pillows:

She also sent 2 cat toys for my cats. Unfortunately one of them just died this weekend, hit by a car. RIP Booty. We loved you.

But here you can see Mikey playing with his new toy! He really has a lot of fun with them and gets tons of exercise!

Thor also got a toy!

He also got some delicious things to eat. The Gravy train and homemade doggy treats! I didn't see the note she sent (nor that it said doggy treat on the bag!) and I tried it out and I thought to myself "Ugh… these are not cookies!"

She also sent me an iron print of Thor which I can put onto a T-shirt and photo print of Thor created to look like an oil painting. I've placed it on my whiteboard in my crochet room for now.

And finally, a light switch of Thor which is already installed in our master bedroom.

Thanks RikaHeart for being an awesome swap partner!