I'm excited to show you a Kratos Sackboy doll that I've created. I've been wanting to make him but could never find the time, so when I received a commission for him through an order I received through my ETSY shop, it was the perfect push for me to create him.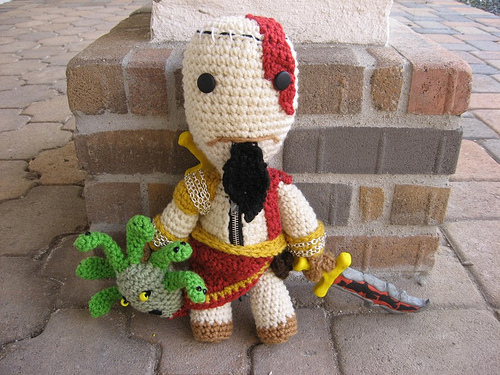 The client was very specific in her details and wanted specifically a Medusa Head, and 2 swords for him as well as chain links for his shoulders and wrists. Whenever I approach a project, I see it as problem solving for myself. I ask myself, "How am I going to acheive this?" I knew I would have to try something new which I've never done before. To get the rigidity of the sword, crochet and yarn would never do. Can you imagine a limp sword made of yarn? Kratos' enemies would laugh at him!
So yes, the swords would be created from polymer clay… except the problem was I had never tried working with it before. So it shouldn't be too hard, right? It actually turned out to be quite fun although a bit time-consuming (hah, and I say this as someone who crochets!). I created a sketch of the sword first and then got around to molding the sword with some Sculpey clay. Then afterwards I got to bake them in the oven.
The Medusa Head was fun to work with too. I wanted her hair to look like snakes so I had some jeweled beads lying around so I glued them onto each head, hoping to simulate the look of eyes. I love it when I have things lying around that can work for me. I have my craft shopaholic tendencies, the "hmmm…. I think I might need this," to thank for! And of course because her head has been ripped off, it needed a little blood around the edges, so I gave the edge of her head a little trim of red yarn.
The difficult part for me was working the chain links for the clothing. In addition to working as a sculptor, now I got to work as a jeweler. Again, a new craft for me! I had to get some jewelry tools to work with so that I could open and close the links to get the length I wanted. I probably used the wrong tools, there's so many of them: some flat pliers, long pointy ones, that I'm hopelessly confused! But at least, I got it to work for me, and tah-dah, the Kratos Sackboy has chain links he can be proud of.

Overall, I'm very happy with how Kratos came out. I love it when a project comes together like this, all the colors in perfect harmony, the accessories, the clothing, and the expression all coming together in a beautiful crafty yarn symphony. I had fun with the photo shoot as well. Check out my favorite photo. Doesn't Kratos look so badass? Poor Medusa, she really had no idea what was coming.
The Medusa Head is sewn to his hand. His two swords can be strapped to his back. He can also hold one in his hand as well. And of course his zipper is fully functional! Well, let me know what you think! And of course if you're interested in owning your own head-slashing Kratos Sackboy doll, you can contact me through my Etsy shop.