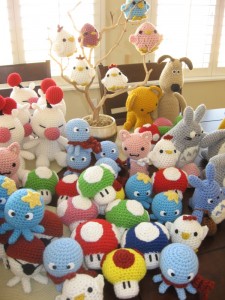 Well Anime Expo has come and gone. It was a terrific year and I was very hectic with all the preparations leading up to my Artist Alley. So hectic in fact that I haven't been very good at updating my website. But never fear, I am back now and you'll be seeing loads of new content from me. Before I get to the new stuff I've been working on I wanted to show you guys photos for all the amigurumis I created for Anime Expo this year.
It's the most I've ever made, like EVER! Count them all, 175 in all! I reached a little short of my 200 goal, but nevertheless it still made me proud to see them all together in one sitting. I started crocheting them beginning January, but most of them were done from about March till end of June.
Now most of them have found homes with some wonderful owners! It was great seeing new and old faces again.
Here are the 175 Amigurumis all spread out over my dining/craft table.

The Left Close up of the Amigurumis

The Right Closeup of the Amigurumis

ZBs: Pirate, Scarf, Starfish, and Pollie

Gray, Blue, and White Totoros. Kodamas and Porings.

Kawaii Kitties: Cornflake, Peaches, and Skye

Cheese-kun – Mascot of Pizza Hut in Japan!

And finally Sackboys and Eggies!

After AX I was definitely burnt out from crocheting and had to take a 2 week hiatus from crocheting. Now I'm all rested up and currently working on commissions. I was also involved in a Miyazaki craft swap and I have some new Studio Ghibli goodies to show you guys soon!