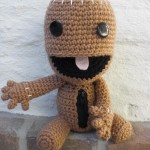 So I've seen a lot of crocheted Sackboys out there and I knew that when I made Sackboy I wanted to add something a little new to the mix. So let's talk design.
I wanted Sackboy to have an actual working zipper for his body. I also thought to myself, wouldn't it be nice if Sackboy had a pouch behind the zipper so that it could hold a surprise when you unzipped it? How to make it work in concept wasn't that difficult to figure out. All I had to do was crochet a rectangle and sew it behind the zipper inside the body. The actual execution and construction of it was a little more challenging because the inside of the body wasn't that roomy and so it was troublesome trying to manuever the yarn around to sew on the rectangle.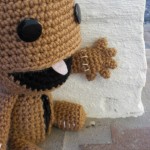 I also wanted him to have an open mouth because he looks cutest that way! This is actually my first time attempting the open mouth and I tried out a new technique for it and I'm happy with the way it turned out. The eyes are buttons that I sewed on. I also used cotton thread to create the sewn look around his head arms and feet.
I created a mini Sackboy and a regular Sackboy. When sitting, the mini Sackboy is about 7 inches tall. Regular Sackboy sits at approximately 10 inches tall.

Let's take a closer look at the zipper pouch on the Regular Sackboy.
What can we do with a zipper pouch? You can hide a note inside for a friend!
Or you can also use Sackboy to be your coin-carrier!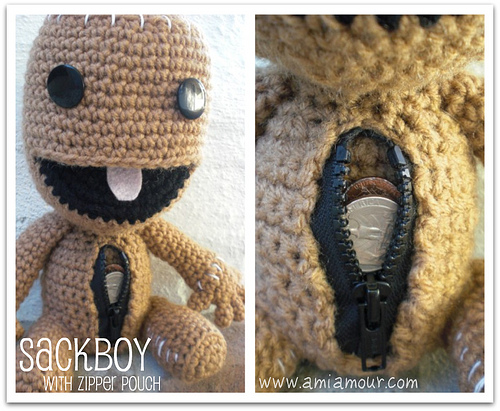 When I was making Sackboy it was difficult finding silver zippers, so for this one I had to settle with a black zipper. I checked everywhere from Walmart, Joann's, to Michael's, and online but it was to no avail! But just recently I found a seller on Etsy called Rugrats who sells the perfect silver zippers for sackboy. She was really great and communication was fantastic! They just arrived in the mail for me yesterday, so I'll update with a new photo of Sackboy with his brand new silver zipper once that is ready!