I've been busy crocheting the days and nights away.  I feel very blessed these days that people are coming to me to buy their Christmas gifts.   So thanks everybody!  You guys are helping make my dream come true.
So… I wanted to introduce you guys to my new machine, the Amigurumi-mizer!  It's my trusty machine that can transform any object into an amigurumi version – that is a crochet plushie.  It's basically a magical cardboard box. Don't ask me how it works, I haven't figured it out yet. But this is what I do: I just place the object that I want to amigurumize inside the machine and then I place the dial on "crochet" and wait a few seconds as it does its magic, and ZAP! out pops an exact replica but in crochet form!  It's pretty nifty and it's been of great help to me as I do my commissions.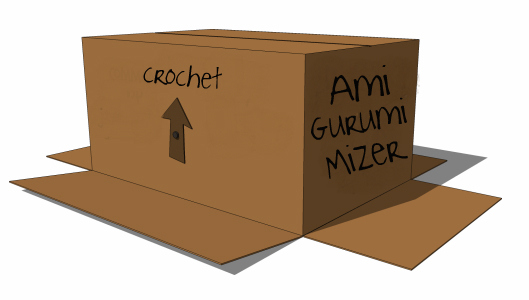 So without further adieu, here are some commissions I've been working on thanks to cool people I met at PMX.
Here is Pink Panda designed by artist Larissa.  She has a website called Royally Divine.  Check it out!  Her drawing was put into the Amigurumi-mizer Machine…
and I waited a couple of seconds, and out popped out its crochet counterpart in all it's pretty pinkness!
The Amigurumi-mizer than had a second go at another panda, but one with a completely different aesthetic.  It was Scary Panda, designed by Thea, cute but scary at the same time.  Here it goes again…vwoorp vwoorp vwoorp…
But uh-oh, me thinks the Amigurumi-mizer got a bit confused.  It couldn't decide which face to do! =(
I guess it needs a little work still.  I'll work on getting the kinks out.  In the meanwhile, thanks for reading about our very first adventure with the Amigurumi-mizer Machine!