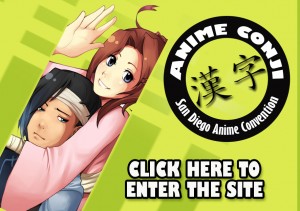 I'm going to be at Artist Alley at Anime Conji – San Diego's very own Anime Expo. It's held on March 25th-27th and should be lots of fun. It's going to be my very first time going there. I believe Anime Conji is relatively new so it'll be fun to watch it grow and develop. You can get a full weekend badge online for $45 online right now or $30 if you're a student or teacher. Be sure to register online before March 19th as tickets are more expensive at the door.
Originally they had run out of Artist Alley spots as I had just found out about the show about a month ago, but luckily (I think) a spot opened up and I was able to get a half table. Now the only problem is I have about 2 weeks left to crochet up a storm and have my crochet plushies ready for you guys.
I've also been thinking about the Japan Earthquake and Tsunimi Disaster and been thinking about what I can do to help. So, I've decided to donate a part of my proceeds I make from artist alley to the Japan Red Cross.
So yes, San Diego and southern California folks come on out to Anime Conji and let's celebrate Japanese culture as well as lend our support for the people who are suffering from such a terrible natural disaster.
If you want to help out also, but cannot make it out to Anime Conji, please consider making a donation to the Japan Red Cross. You can make a contribution here: