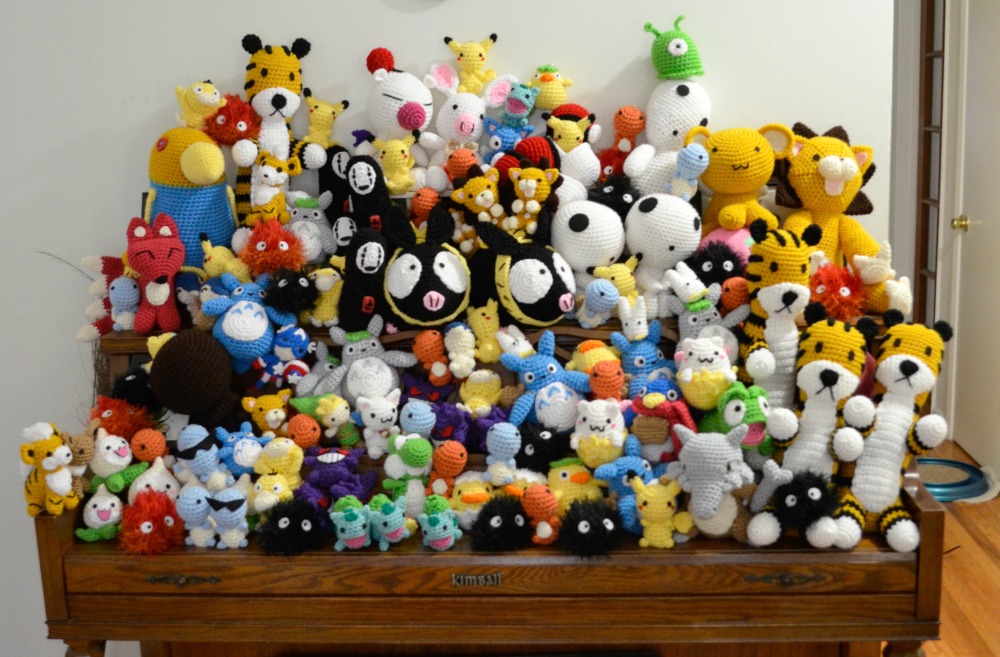 Hey everyone, here's my chronicle of my Anime Expo 2017 adventure!  This year's attendance numbers broke records again with over 115,000 unique attendees across 5 days including pre-show night.  That's a lot of people!
I was in Artist Alley at Kentia Hall.  This is the 2nd year that we've been moved to Kentia Hall separate from the regular Exhibit Hall.  There had been some issues last year with traffic control and overheating, and I was pleased this year that air circulation was much cooler and widened aisle-ways between the tables helped with the crush of attendees.
I set up on Day 0 for the first time which was a great help as you don't have to maneuver through throngs of people with heavy luggage.  Here are some pics from Day 0 or what I like to call "the calm before the storm."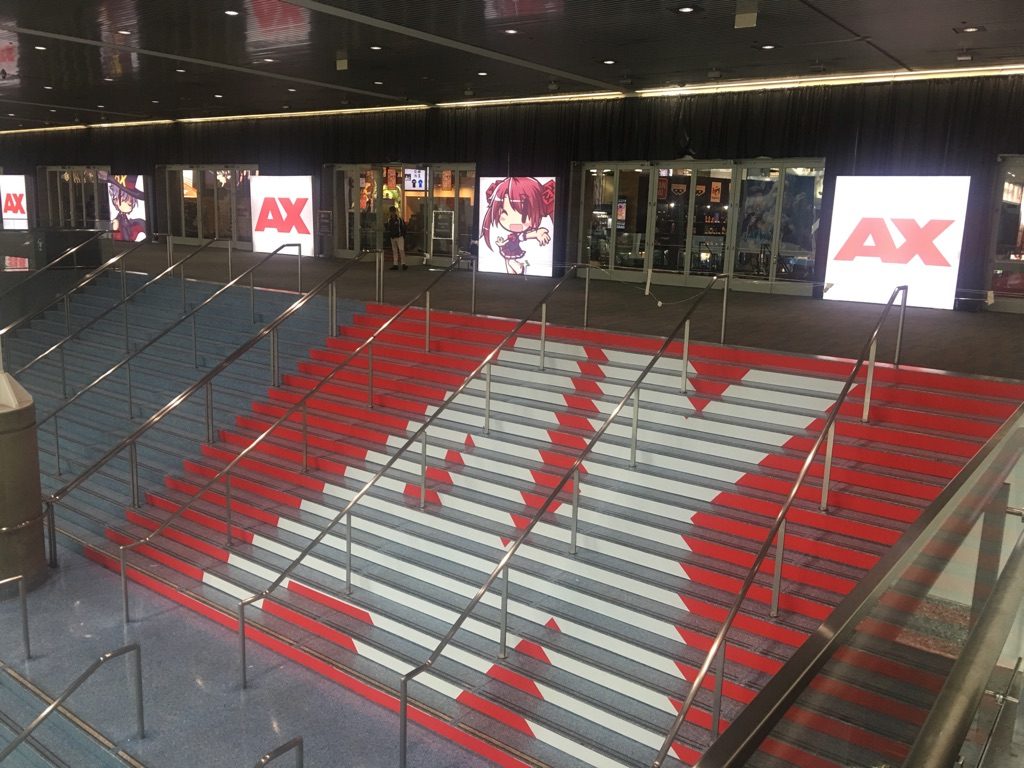 Exhibit Hall got some spiffy new lit up signs!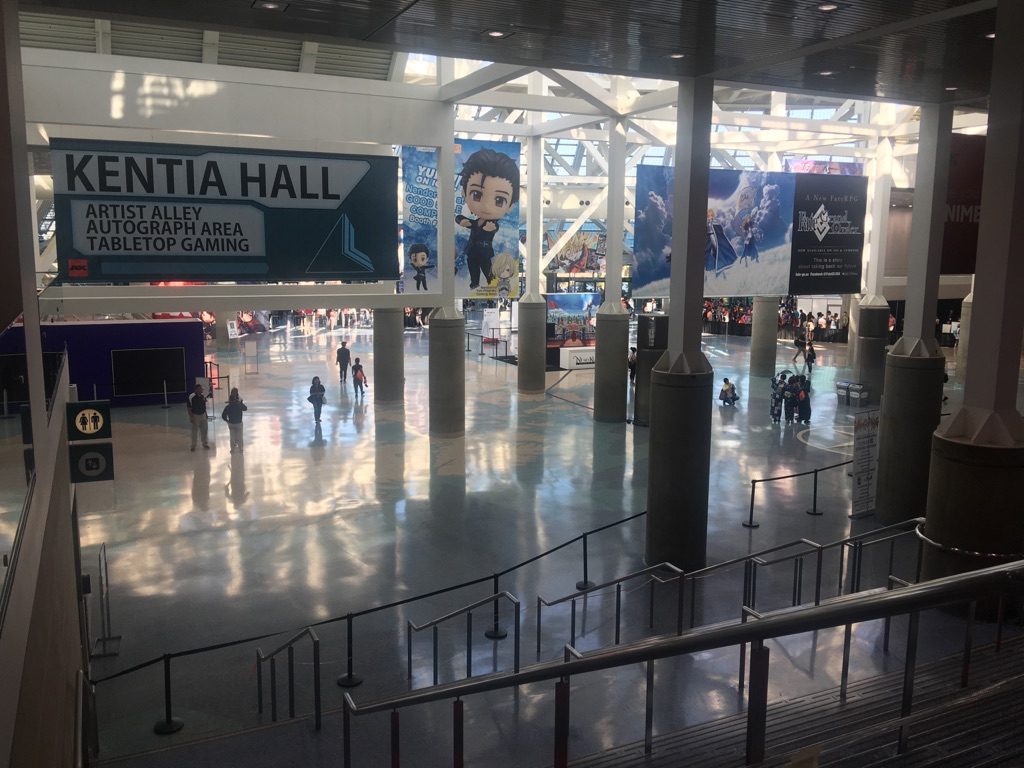 The lobby in which cosplayers shall converge upon later.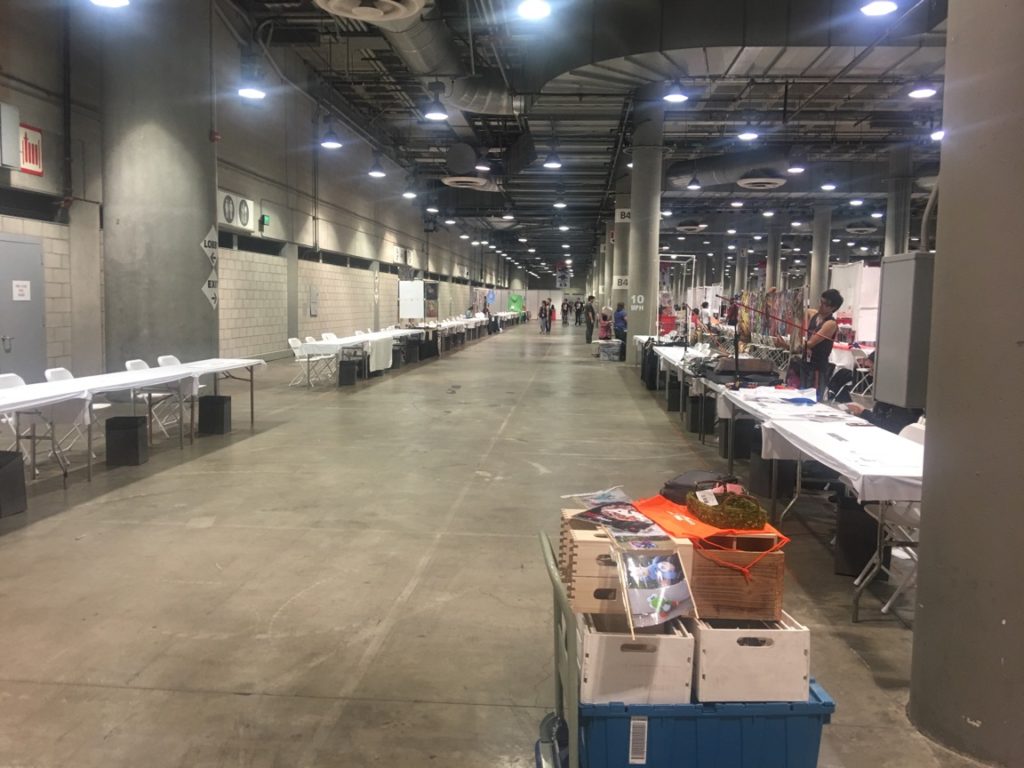 Here you can see how wide the walkways between the artist table alleys are, but it gets crowded quick!  That's some of my display setup supplies there.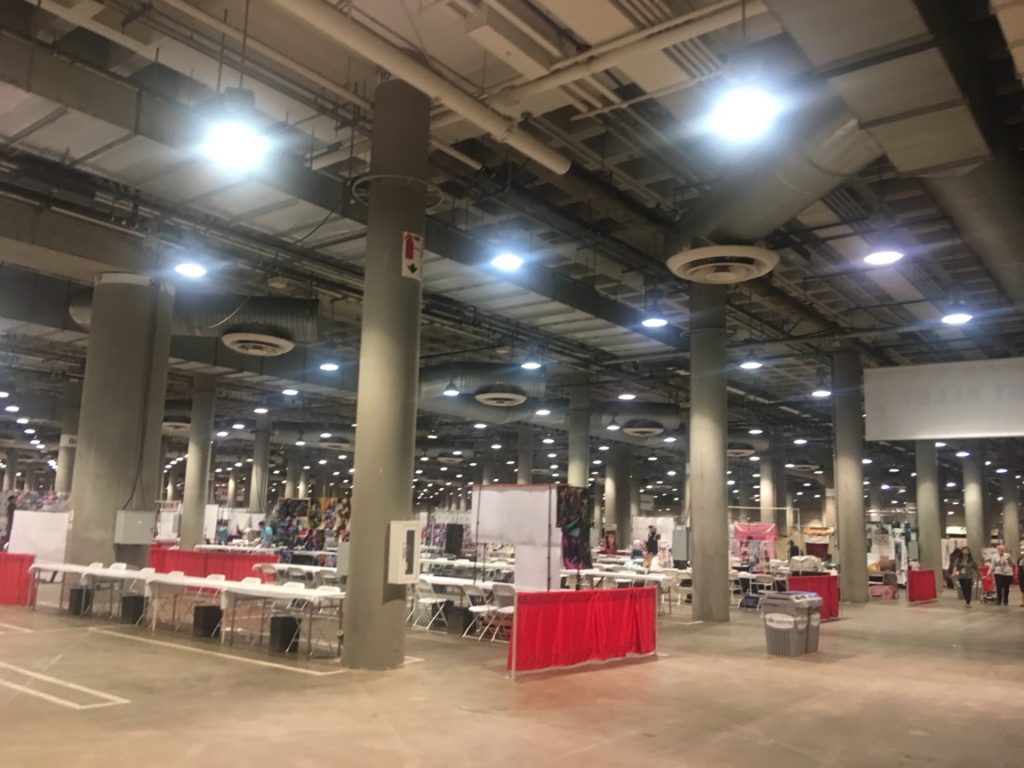 A bit of a wider look of Artist Alley in Kentia Hall, which is often used as a parking lot space as well as an exhibit space.
Day 1 arrived as well as the horde!  This is everyone waiting to get in.  Usually this is also when someone will cosplay Waldo and do a "Where's Waldo" gag :D.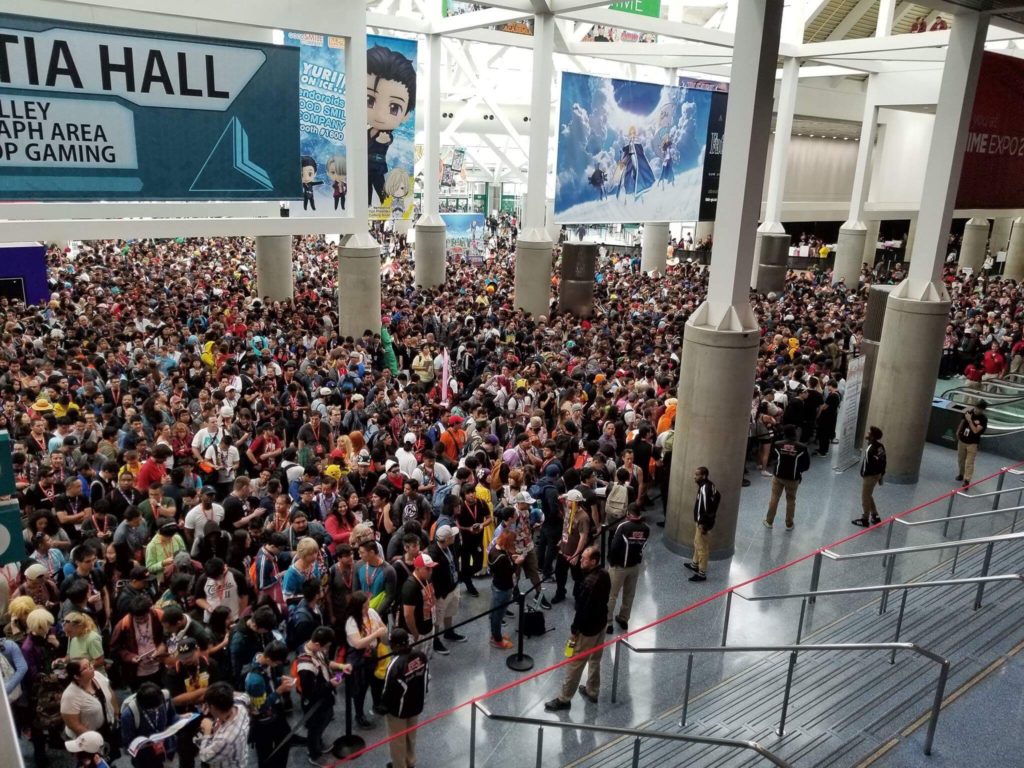 Here's my table setup.  I've been changing up my setup and trying out different crates and boxes instead of wired cubes for a more crafty feel.  I still had to use some wired cubes because though the crates are good for display aesthetics, they don't fit quite as many amigurumis inside them.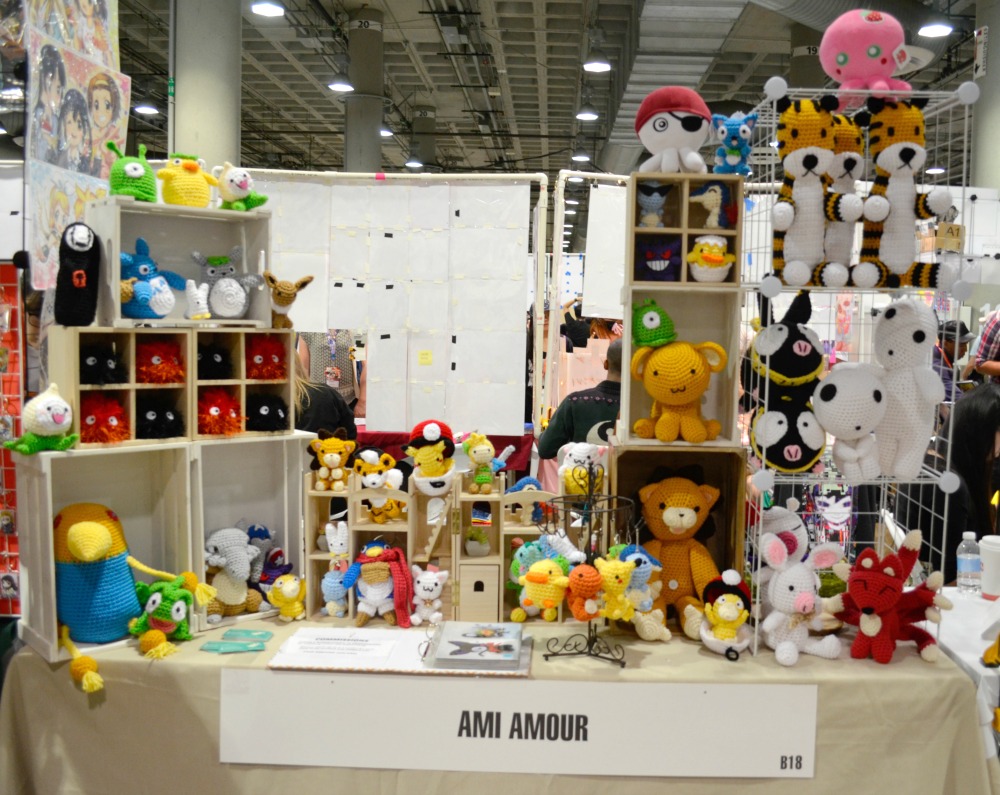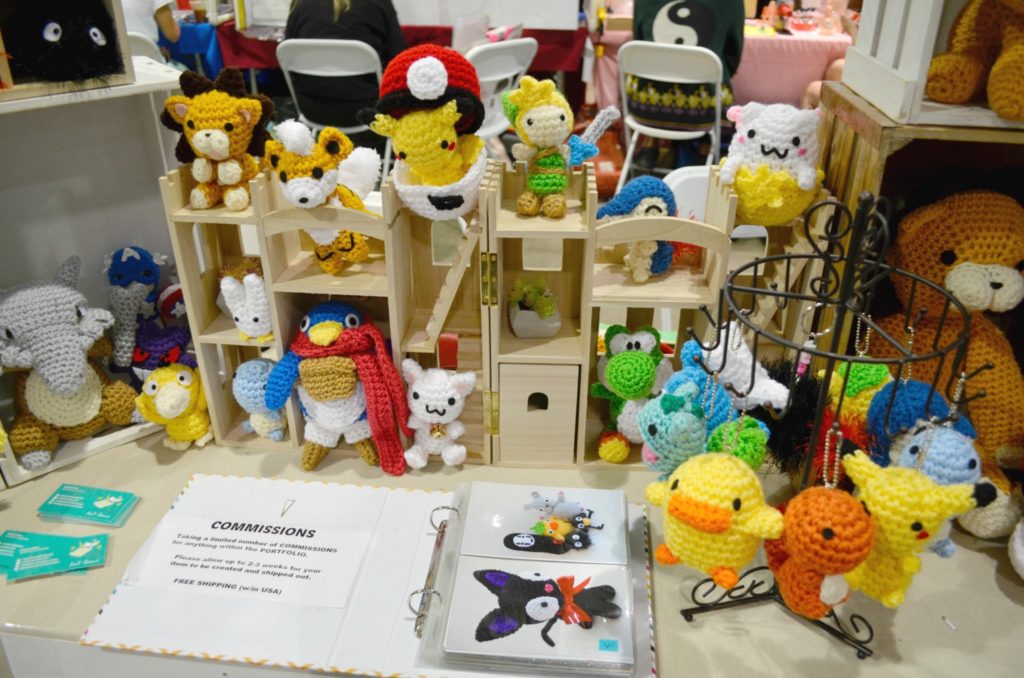 One new addition I made to my display setup was this keychain display rack seen in the bottom corner above.  It also spins around! It's a good showcase for my smaller amigurumis.  The castle display with amigurumis is always fun to play around with as well and people seem to get a kick out of it.
Totoros, Soot Sprites, Calcifer, No Face, Duck Spirit, Pachimari, Eevee, and Brain Slug 😀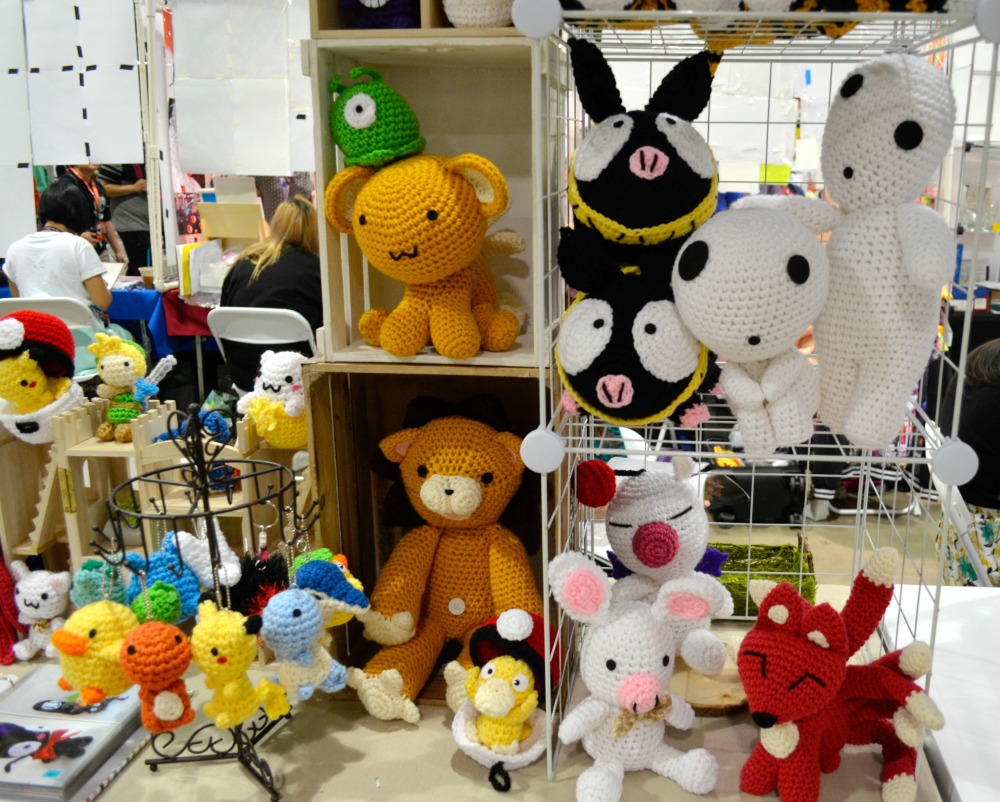 Day 1 was on a Saturday so it was pretty much known as line-con.  I've heard some stories of attendees waiting to get in for 3 hours or more and that the line snaked around to be even 2 miles long at one point.  If you want to visit Anime Expo, I don't really recommend ever going on a Saturday.  Weekdays are usually best or Sundays are not that bad either.  I had people tell me on Sunday the wait to get in was only about 30 min long.  Next year, Anime Expo is planning on mailing out the registration badges so hopefully that will cut down waiting times by a lot!
Day 2 was my cosplay day.  I had my miko outfit or shrine priestress costume ready to go and decided to do double duty.  There was an Inuyasha cosplay gathering I wanted to go to. Here I am as Kikyo with my soul collector.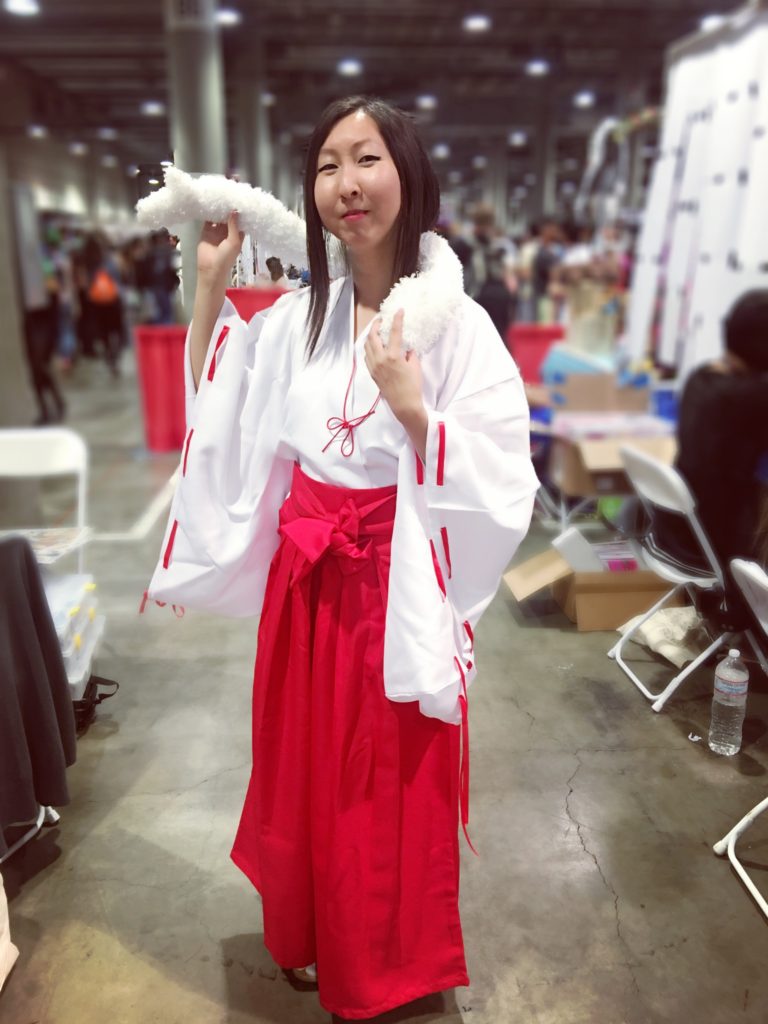 One of my fav photos from the Inuyasha cosplay gathering.  "Sit, boy!"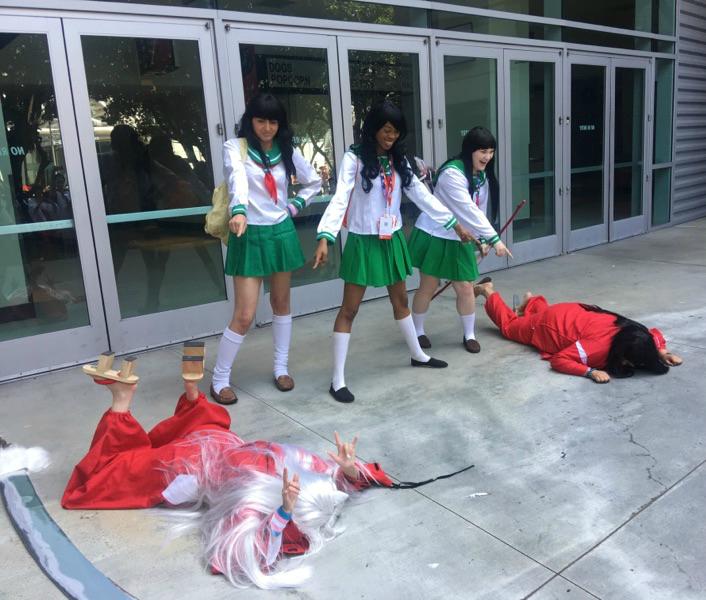 Here I am with Inuyasha.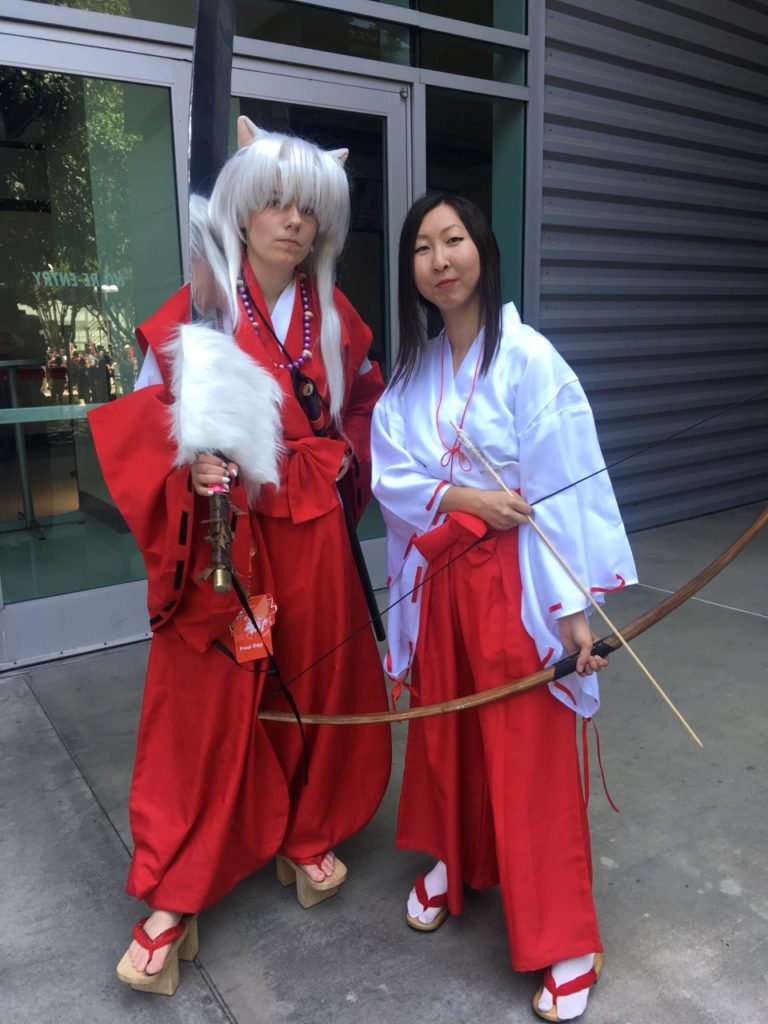 I also ran into some awesome Full Metal Alchemist cosplayers
I also made a few changes to my costume and got some new props and then transformed into Sailor Mars or Rei Hino in her shrine temple outfit.  Here I am with some of my other fellow Sailor Mars.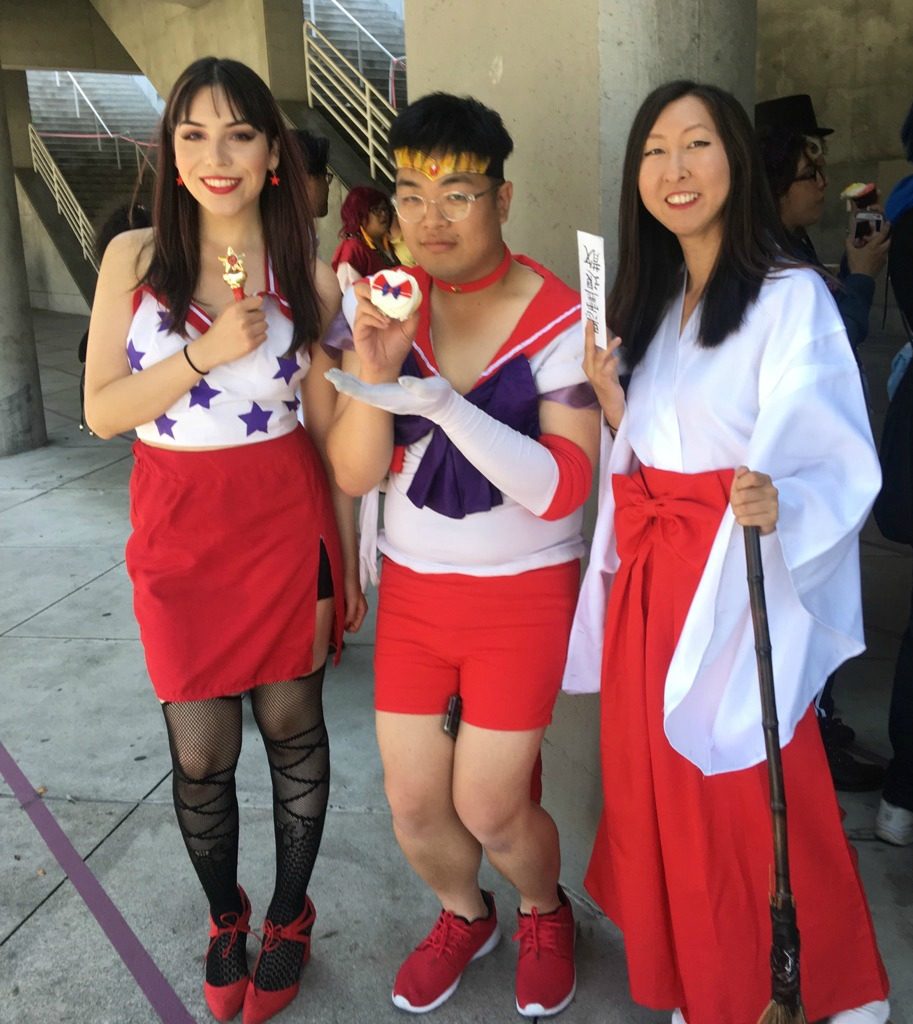 This Sailor Venus and Sailor Moon is too cute!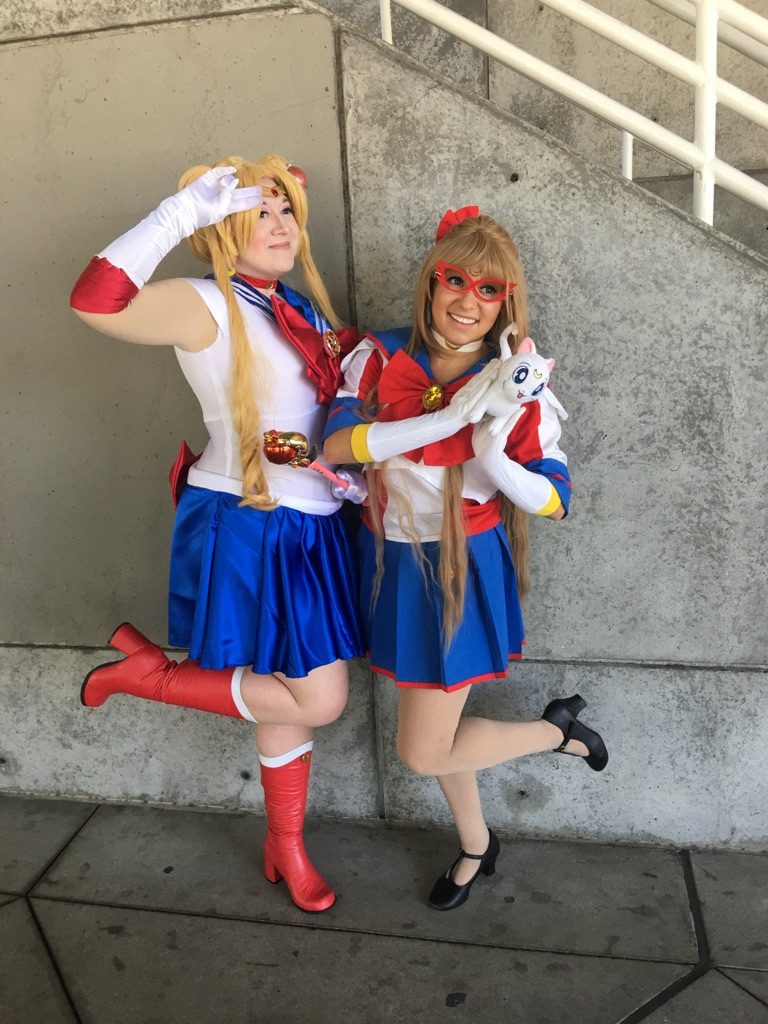 Amigurumis were well represented at AX this year.
Here's Noelistuff with her amigurumis.  Her table was actually almost right behind me.  We're Instagram friends too so it was great to be neighbors!  I adore her Haku scarf.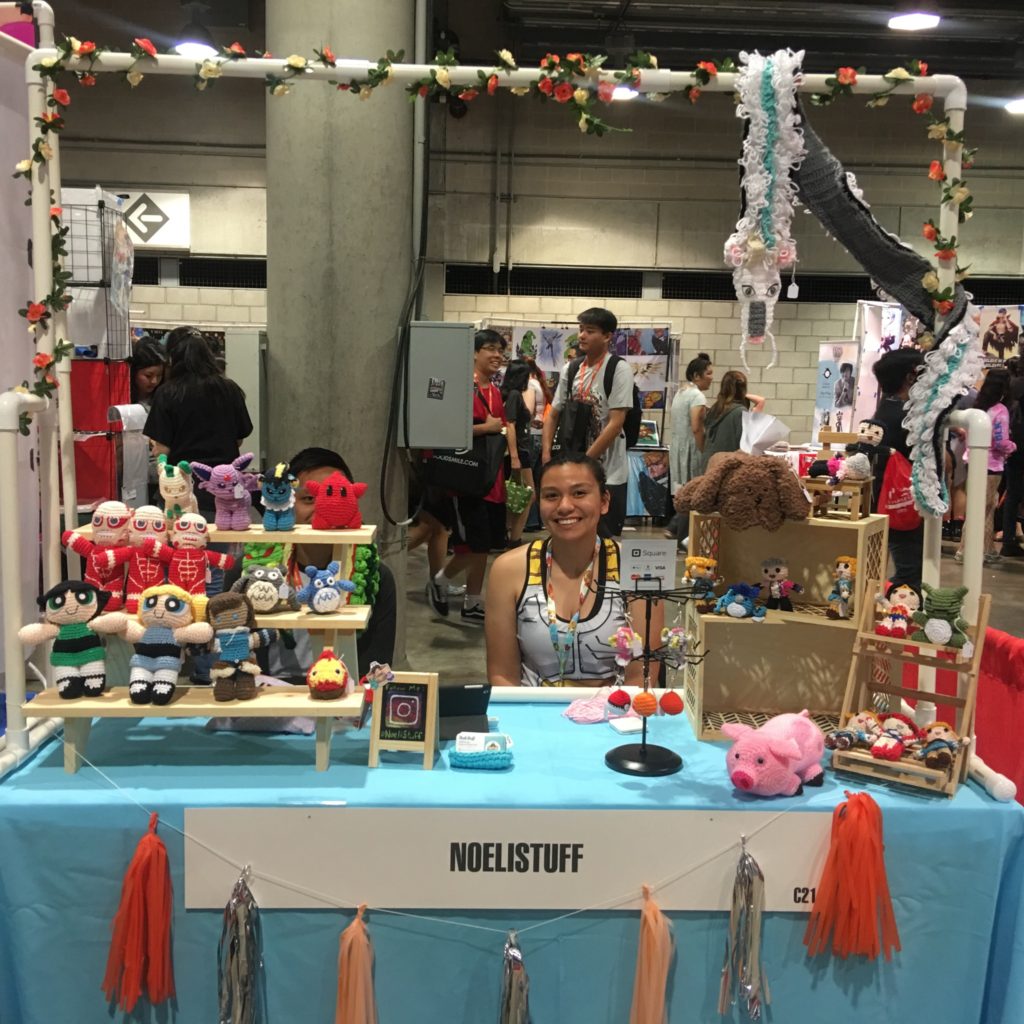 These bear ice cream cones are so adorable.  This is by Chasing the Frill.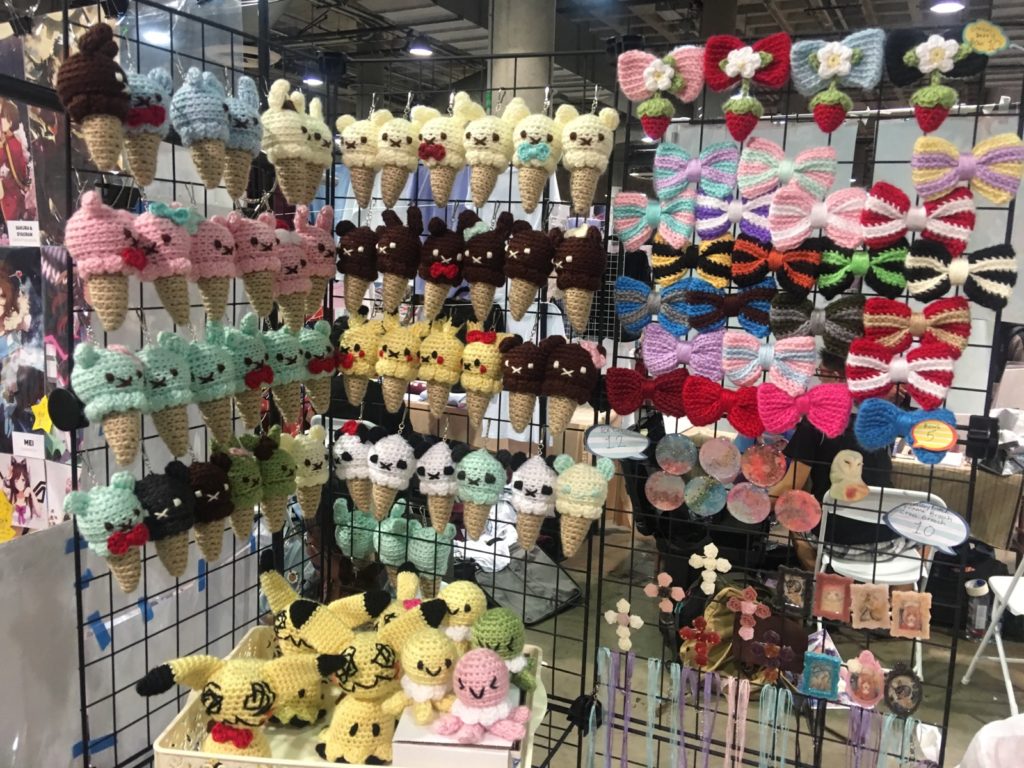 This is Amigurumi Man.  I actually know Stanley because back in San Diego when I used to host crochet meetups, I taught him to crochet.  And now he has his very own table at Anime Expo!  He called me "senpai" XD.  So it was nice to catch up with him and see how he's doing!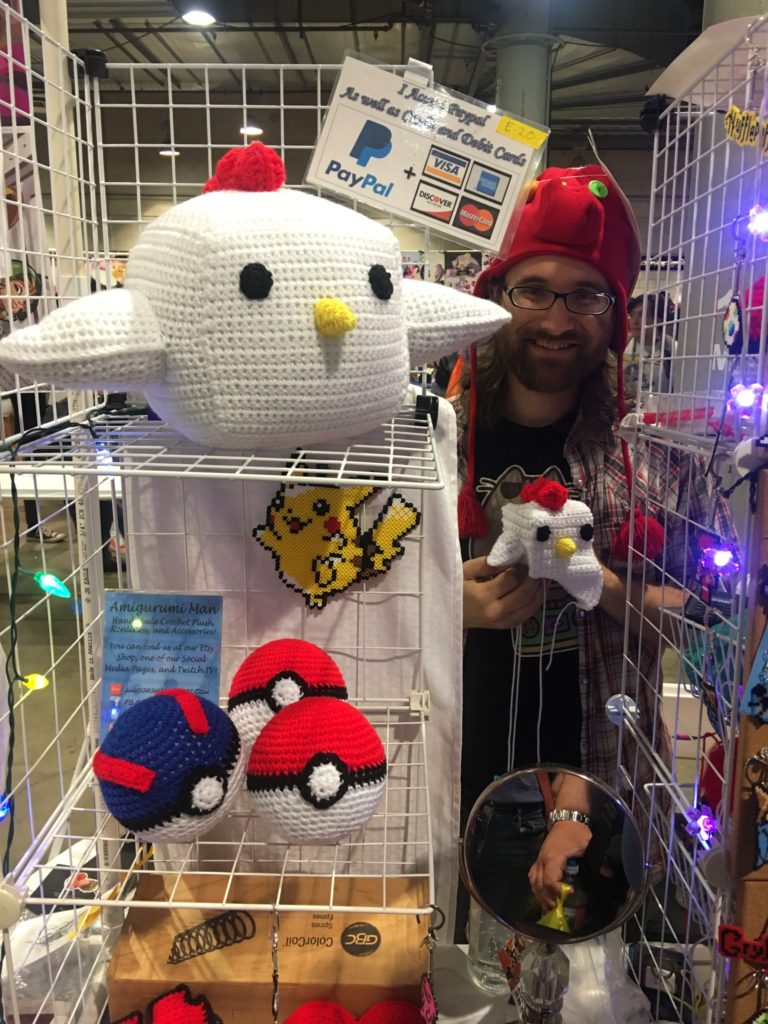 It was really fun to catch up with old friends and make some new friends as well! Thank you all for the support and hope to catch you at the next show! 😀