I was browsing around my local library and of course I always like to check out the knitting/crochet section. Take a look at this book I came across: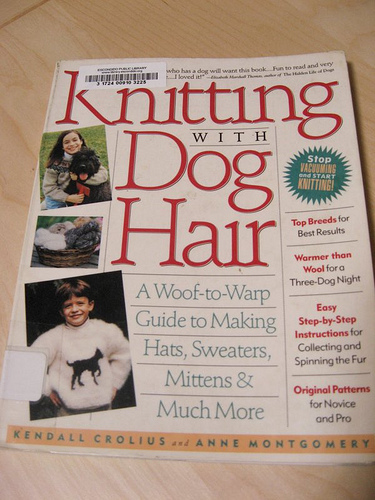 Whaaat? Now before you say "Ewww", in a way it's genius! Knitting with dog hair…think about it: How is dog hair/fur any different from the fur of a llama or sheep. All natural fiber comes from an animal after all. No one goes "Ewww" when you see alpaca or wool yarn. And actually, people have used dog hair to spin yarn throughout history and different cultures. These days it is easier than ever before to get started with knitting dog hair. You can gather it with a roomba (if you haven't seen these before and would like to learn more, you can read reviews on different articles like 'roomba reviews pet hair'), making for easier collection than a standard dustpan and brush.
I love how the authors market this book. Check out their hilarious catchphrase. At the right of the book it reads:
The book is on Amazon and has a new cover now. I guess the book was popular enough to call for a 2nd edition. The new subtitle reads, "Better A Sweater From A Dog You Know and Love Than From A Sheep You'll Never Meet." Wise words, wise words, indeed.
But I'm offended by this book! How dare they try and knit with dog hair? That is disgusting! It's disgusting because… what about us crocheters? Didn't the authors think that crocheters may want to crochet with dog hair as well too? Crocheters are dying to crochet with dog hair too! This is a travesty that must be fixed! Thus, I give to you the brand spanking new cover of the book:

Now all jesting aside, by reading my past blogs, some of you might know that I have a pet dog, a great big brute of a dog in size but a bunny in temperament. He is an Alaskan Malamute. He sheds tons. Here he is:


At the end of the book, they have a section where they discuss the merits of spinning yarn from various dog breeds. Here's what they have to say about Alaskan Malamutes:
"If you ever wondered what keeps these babies warm during sled expeditions to the Artic (besides, of course, ferocious quantities of aerobic exercise) simply grab a comb and strip out some of their thick, downy undercoat. This stuff will keep you toasty."
So my amigurumi brain got to thinking, "Hmmm wouldn't it be cool if I created an amigurumi of him using yarn made from his own fur?" Of course it would be just for myself. I don't really see many people lining up to buy things made from dog hair as of right now. But I want to do it for the novelty and fun factor. So I've decided that this will be an ongoing project for myself. I will collect his dog hair, find myself a spinner to create the yarn for me, and then create an amigurumi version of an Alaskan Malamute. It might take awhile, but once I do have it finished, I will post of my results!
So if anyone has some extra dog hairs lying around, please send them to me. Just Kidding! =P
So let me know, is this gross or genius? Have you ever crocheted or knit a project made from dog or cat hair? Would you even do it in the first place? Share your thoughts and stories!