Disclaimer: I was given this book by the publisher. All words and thoughts are my own and I give my honest opinion in this review.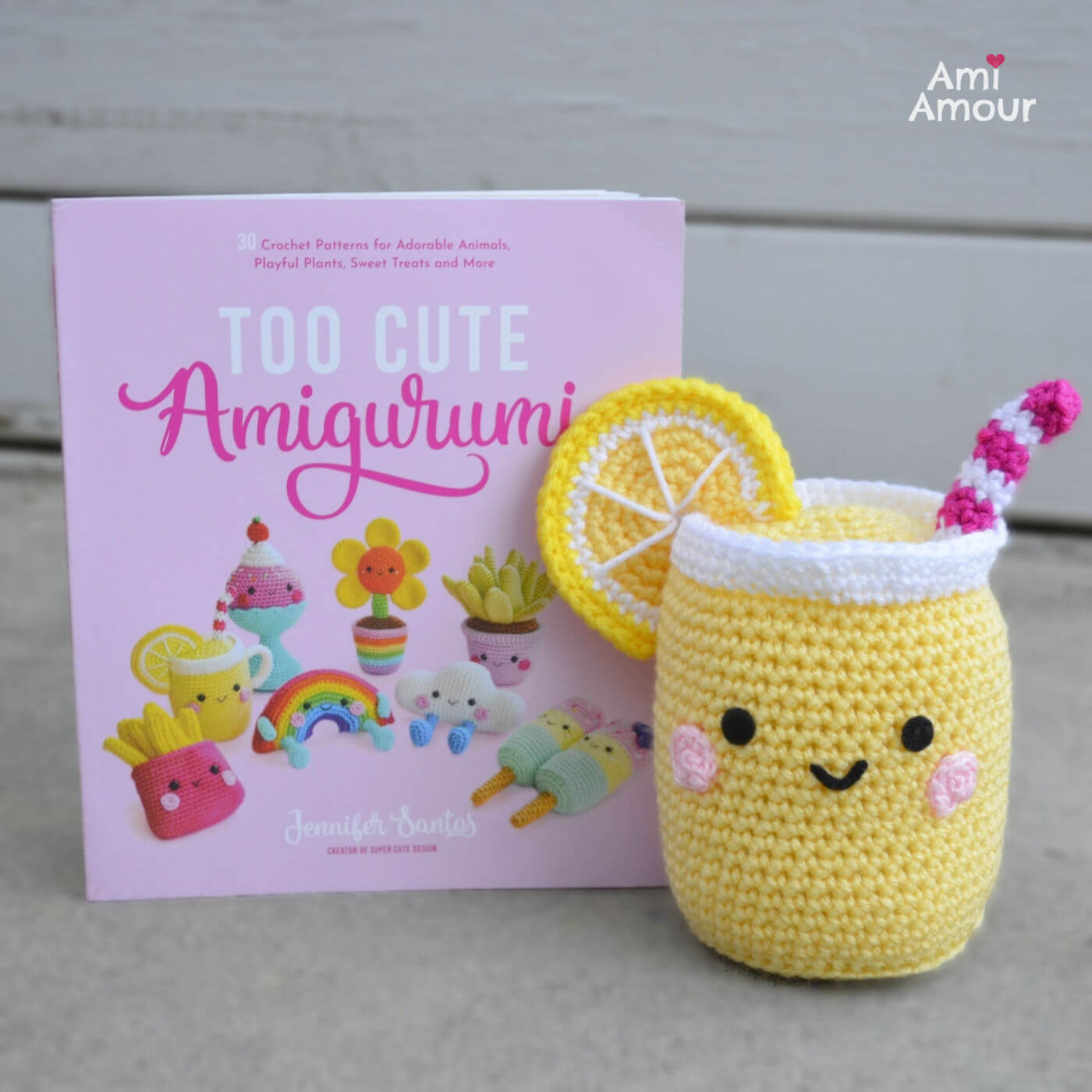 Did someone say "Too Cute Amigurumi?" I must admit that I probably overuse the word "cute" when it comes to describing things, especially amigurumi.  I think in this case though, the title of this crochet amigurumi book is very apt and quite deserving! 
The complete title of the book is actually Too Cute Amigurumi: 30 Crochet Patterns for Adorable Animals, Playful Plants, Sweet Treats and More. (I am loving the use of alliteration!) It is written by Jennifer Santos. She is the founder of Super Cute Design.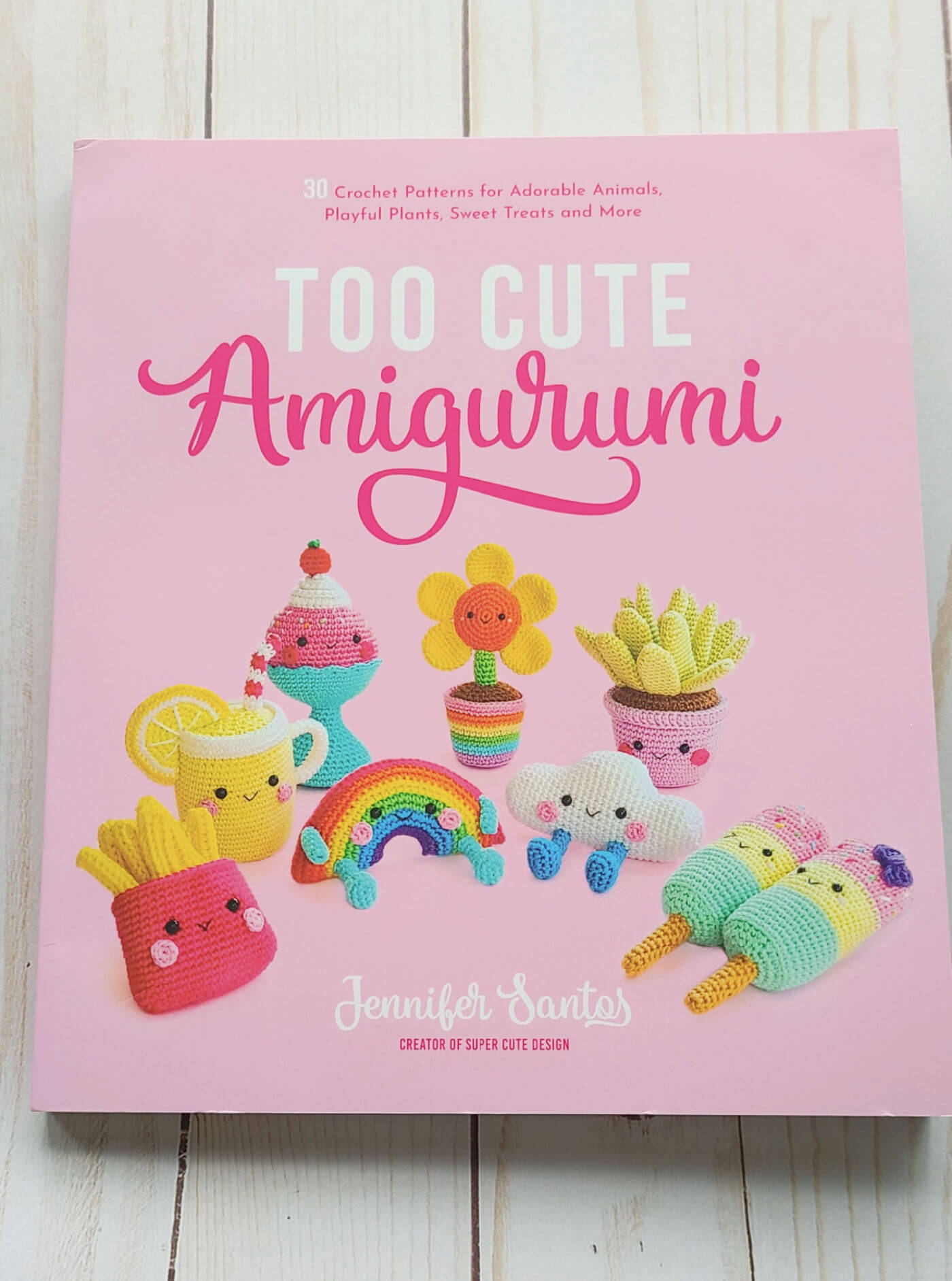 You may have seen some of her adorable anthromorphic amigurumis floating around in your Instagram feed somewhere. I've swooned at many of her delicious projects as she truly has a knack for turning everyday objects such as fruits or desserts into the amigurumi of your dreams!
Too Cute Amigurumi is her debut book, so many congratulations to her! You can tell that she poured a lot of thought, love, and care into the making and design of this crochet book. I thought that with this craft book review, I'd first get into the overview of the book, and then choose one project to make.  
Disclosure: This post contains affiliate links. This means I may receive a small commission if you decide to purchase anything by clicking on one of these links.
TOO CUTE AMIGURUMI – BOOK OVERVIEW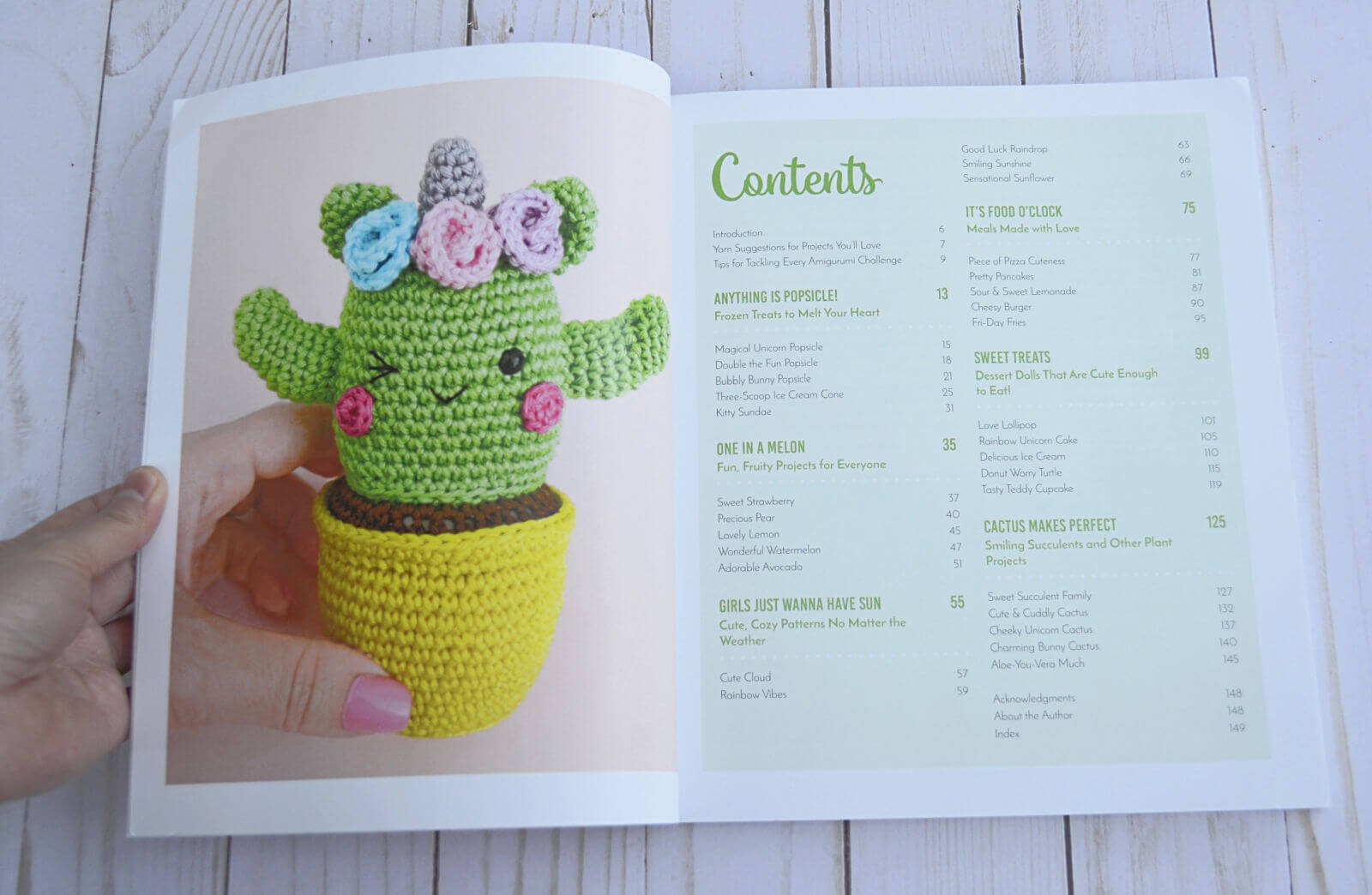 This book has 30 crochet patterns and is 152 pages long.  The patterns are divided into 6 fun categories. Each category has a playful title, complete with wordplay. I really am a sucker for those cute puns!
So let's take a look at these different collections:
First up we have "Anything is Popsicle!: Frozen Treats to Melt Your Heart."  Colorful ice cream designs are combined together with animals to create a tasty combination!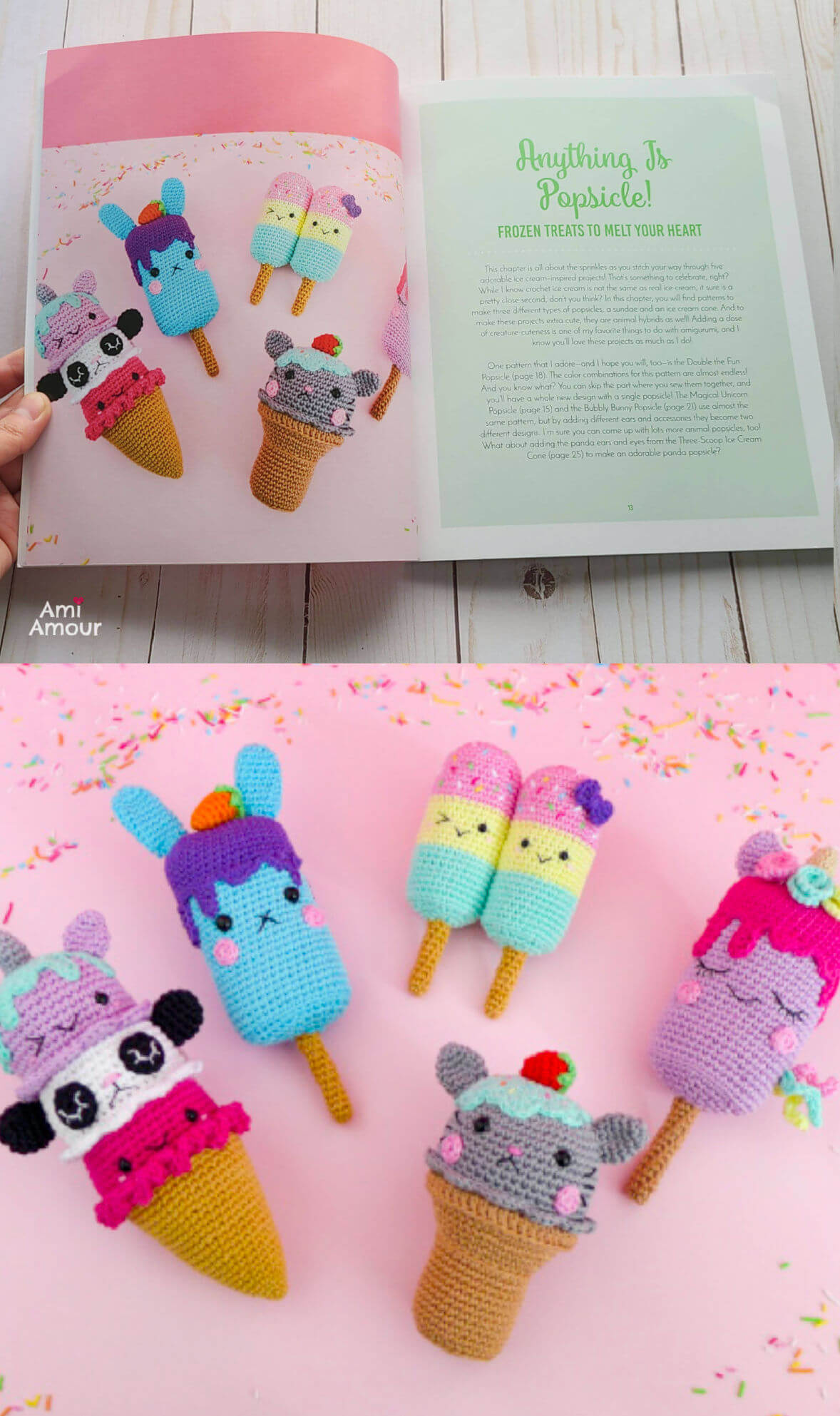 Next is "One in a Melon: Fun, Fruity Projects for Everyone."  This section consists of 5 various fruits all complete with cute legs and arms.  They won't run away if you promise not to eat them :P.  The fruits remind me of an old joke I used to know.  Question: "Why didn't the melons marry?" Answer: "Because they cantaloupe!"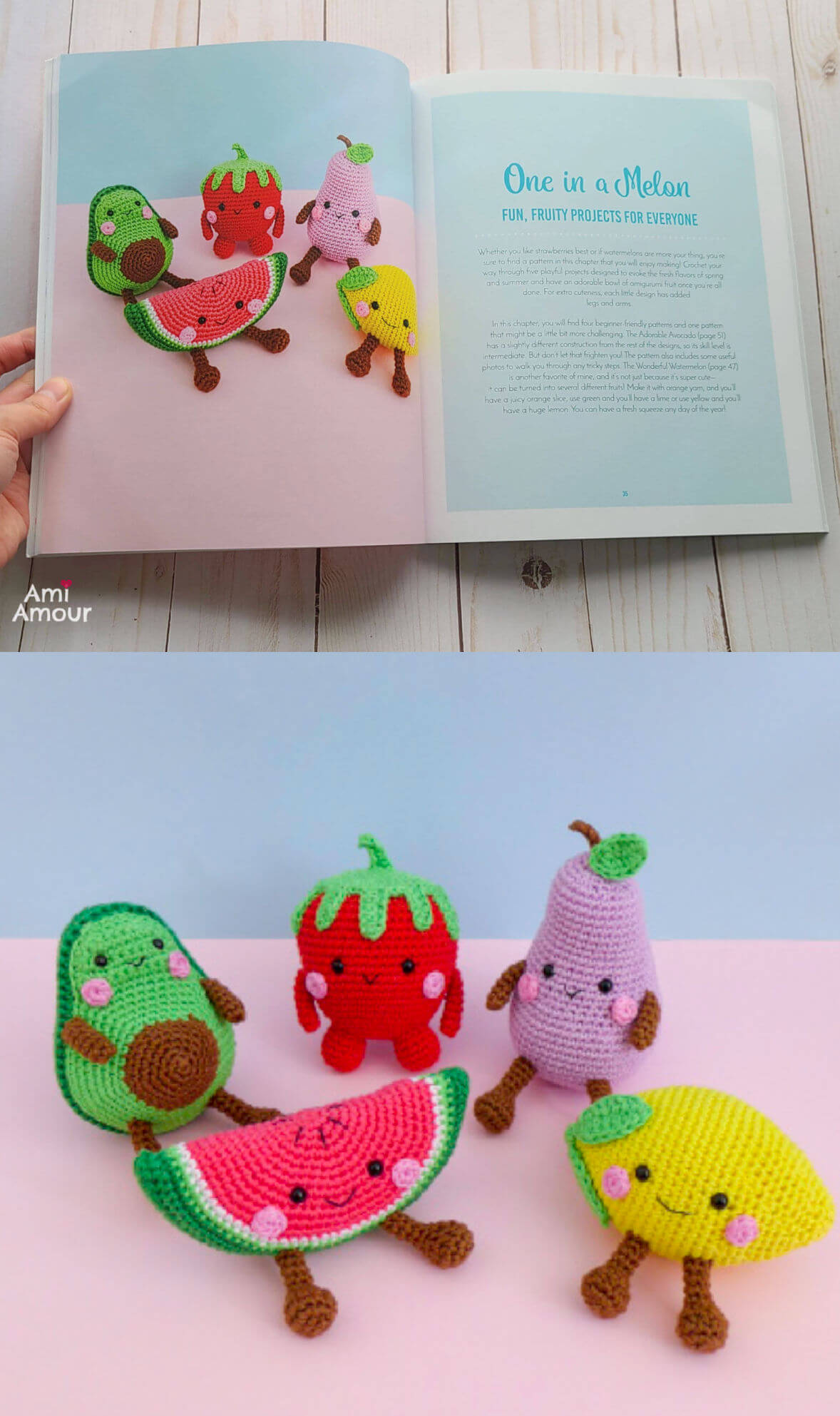 Third is "Girls Just Wanna Have Sun: Cute, Cozy Patterns No Matter the Weather." It's a super cute representation of our weather cycle complete with the sun, the cloud, a raindrop.  And after the rain comes the rainbow, and of course a flower in the shape of a sunflower!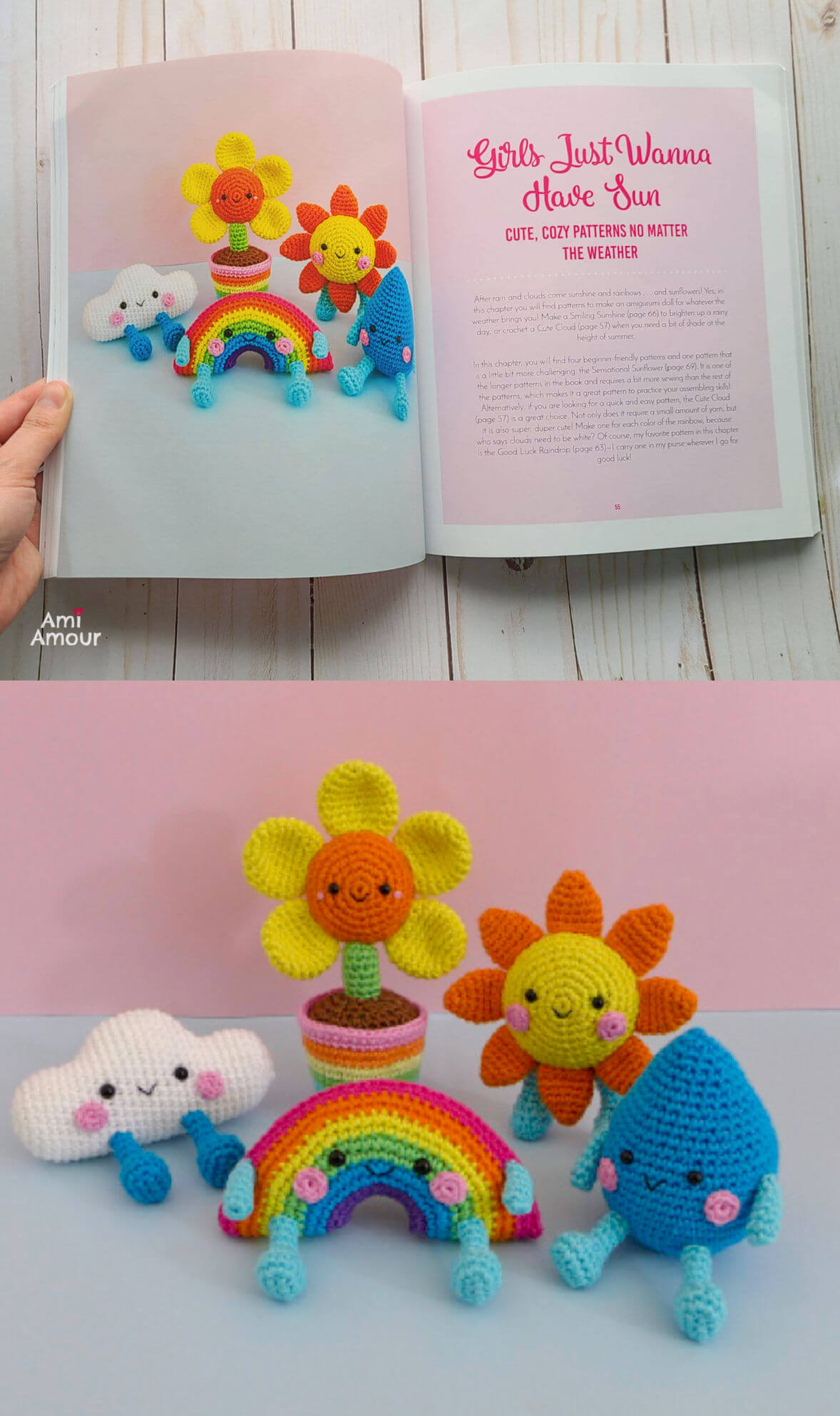 Fourth is "It's Food O' Clock: Meals Made with Love."  It truly is Food O' Clock somewhere in the world and seeing these projects is making me very hungry indeed!  There's breakfast represented in the shape of a pancake, some comfort food in the form of hamburgers, pizza, and french fries.  And of course we need to top off with a drink with some classic Lemonade!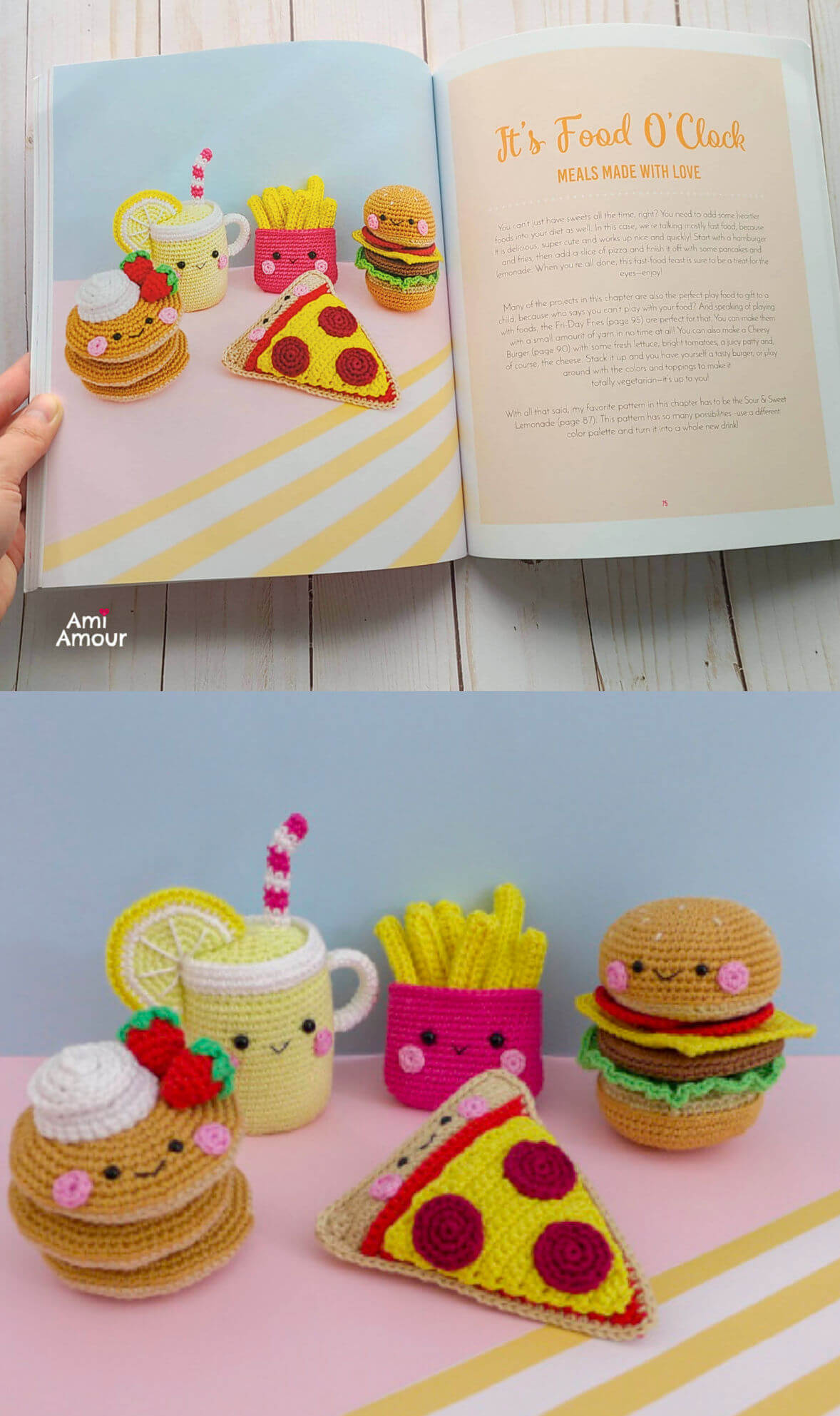 Fifth is "Sweet Treats: Dessert Dolls that are Cute Enough to Eat!" This section is for everyone who has a sweet tooth! I love the clever title for the "Donut Worry Turtle," but I'm also eyeing the Rainbow Unicorn Cake.  That slice is definitely mine!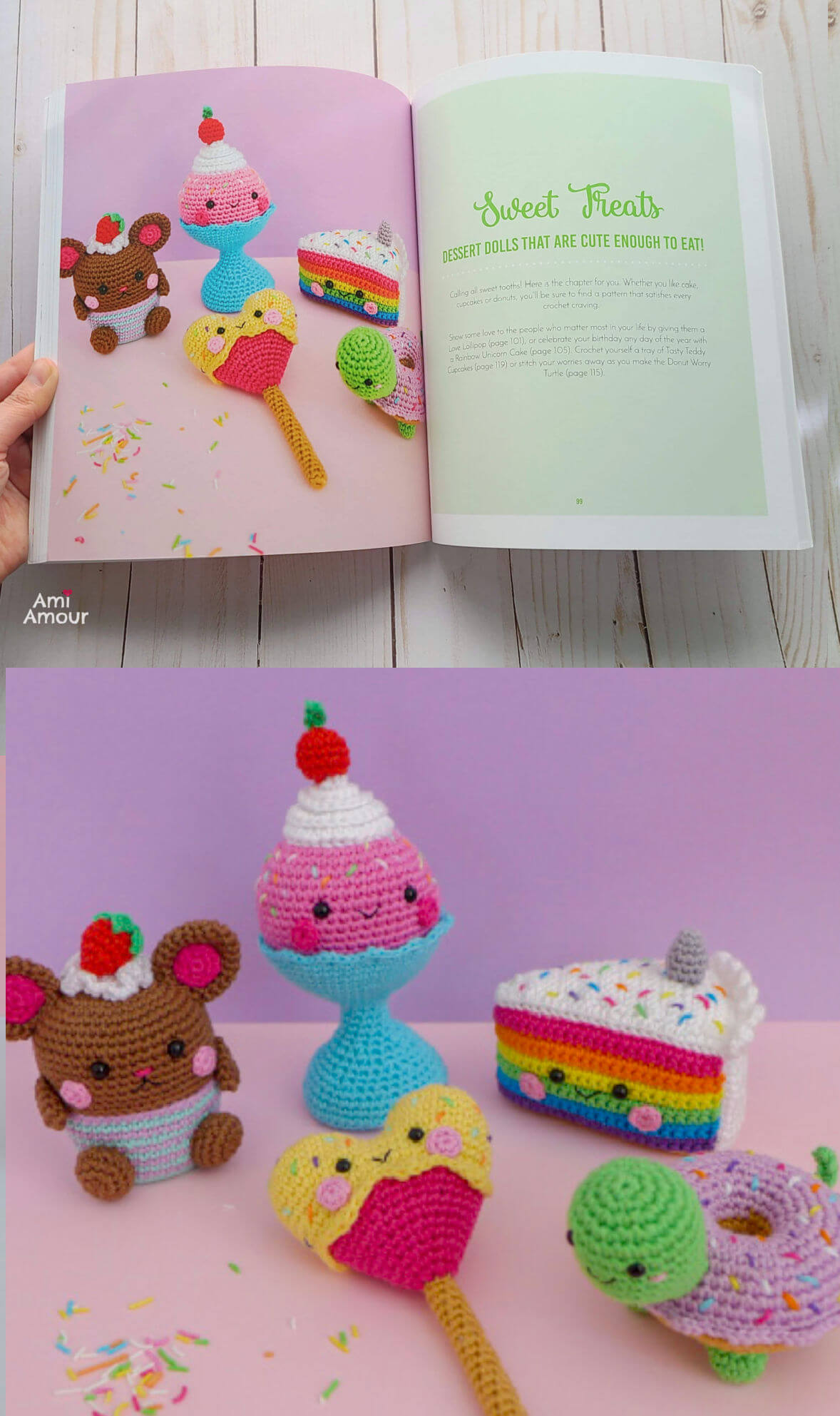 And last but not least is "Cactus Makes Perfect: Smiling Succulents and Other Plant Projects." Do you have a green thumb or not?  Well, it doesn't matter because you won't be able to kill these plants!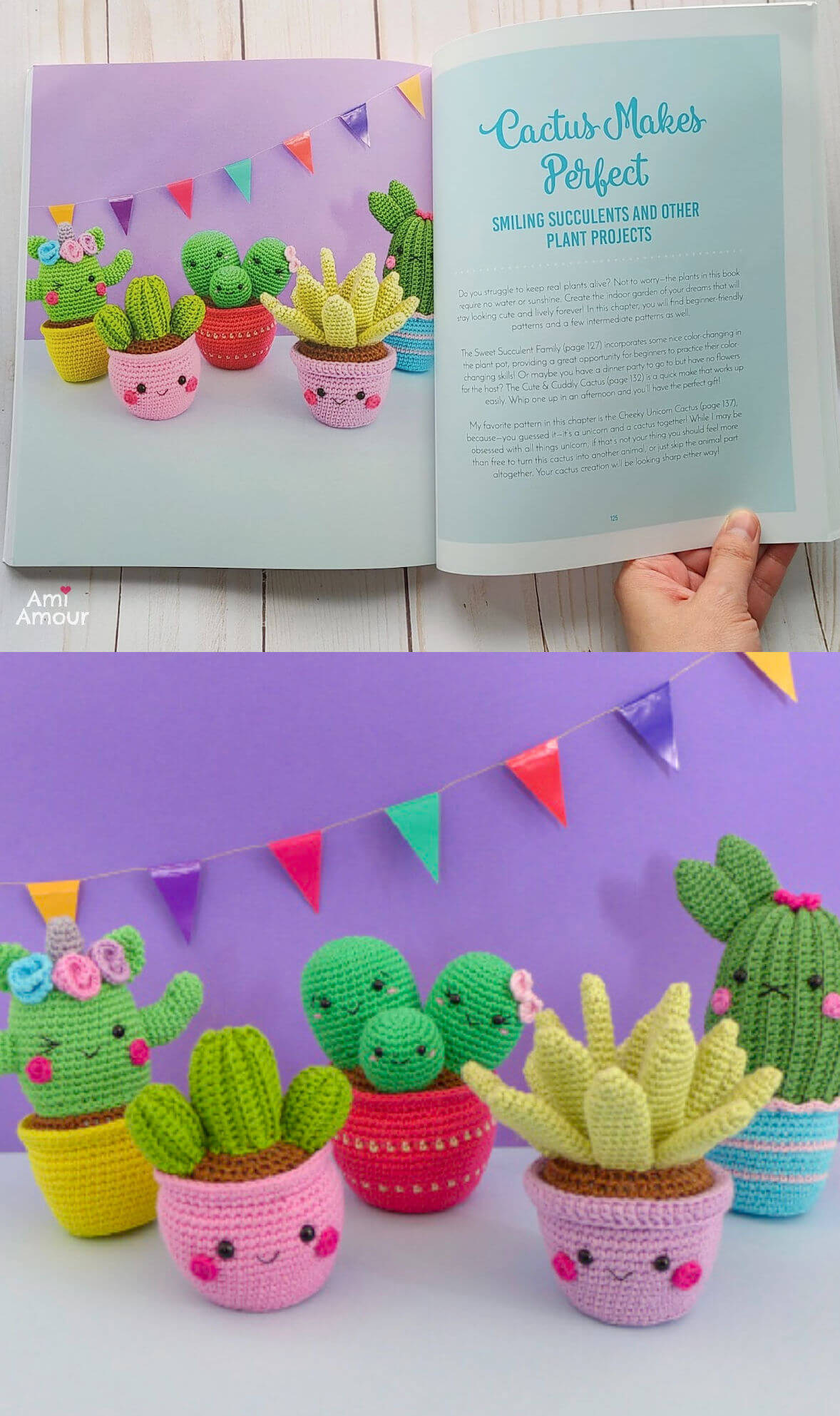 You can Purchase the book HERE!
CROCHET PROJECT
So the most difficult part was probably choosing the 1 project I wanted to work on.  After much hemming and hawing, I narrowed it down between "Sweet and Sour Lemonade" and "Rainbow Unicorn Cake." Somehow though just the cheerfulness of Lemonade kept calling out to me saying I must choose him, so what else could I do but acquiesce?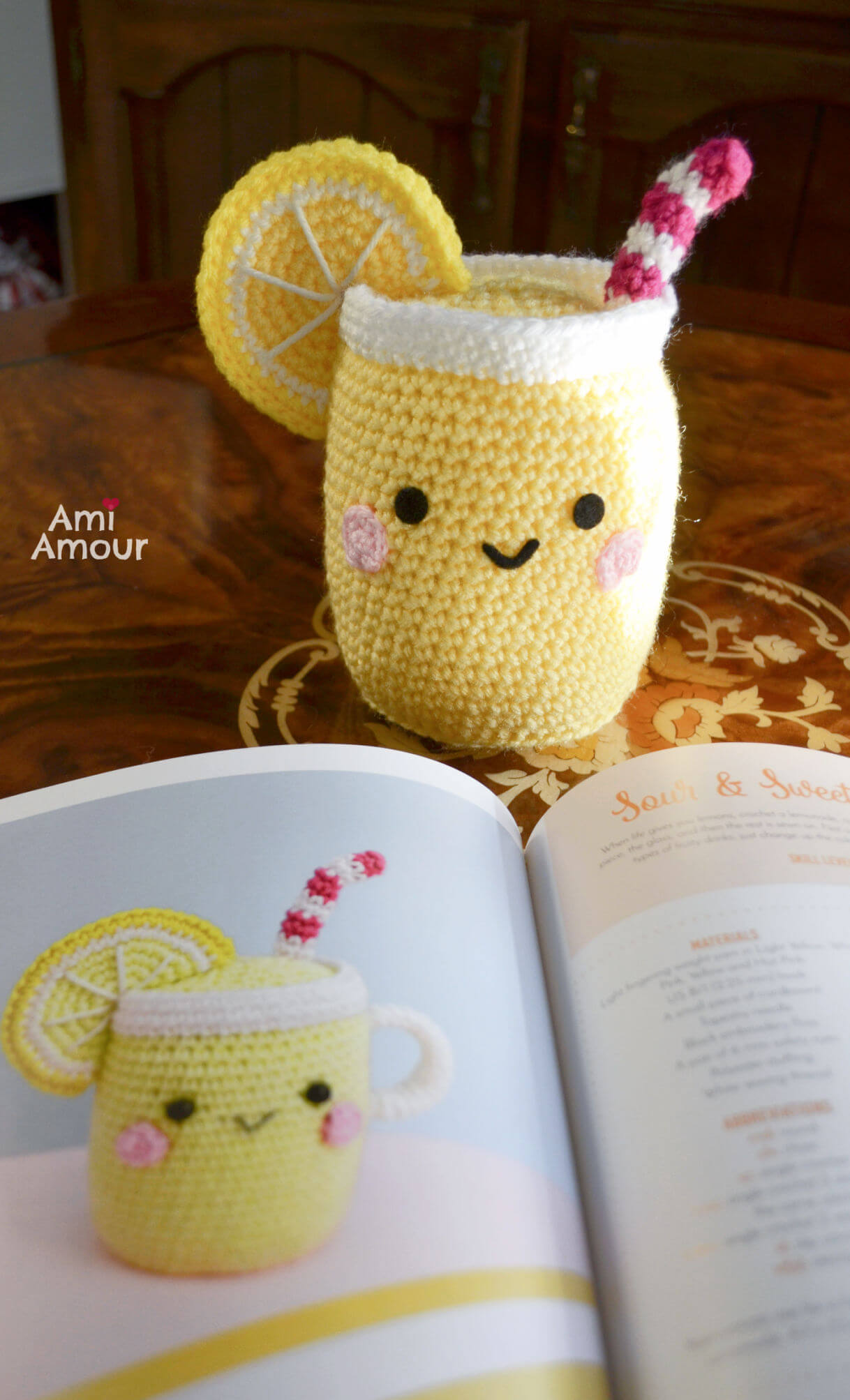 The pattern was easy to follow along. I made the glass section first, and to help the lemonade stand up on its own, it was recommended to put cardboard inside the bottom of the "glass." I didn't have access to cardboard at the time, but I had access to cardstock. It was a leftover box from a frozen food which I just eyed and cut out a circle to fit the bottom and it worked out pretty well. Live and make do, I say!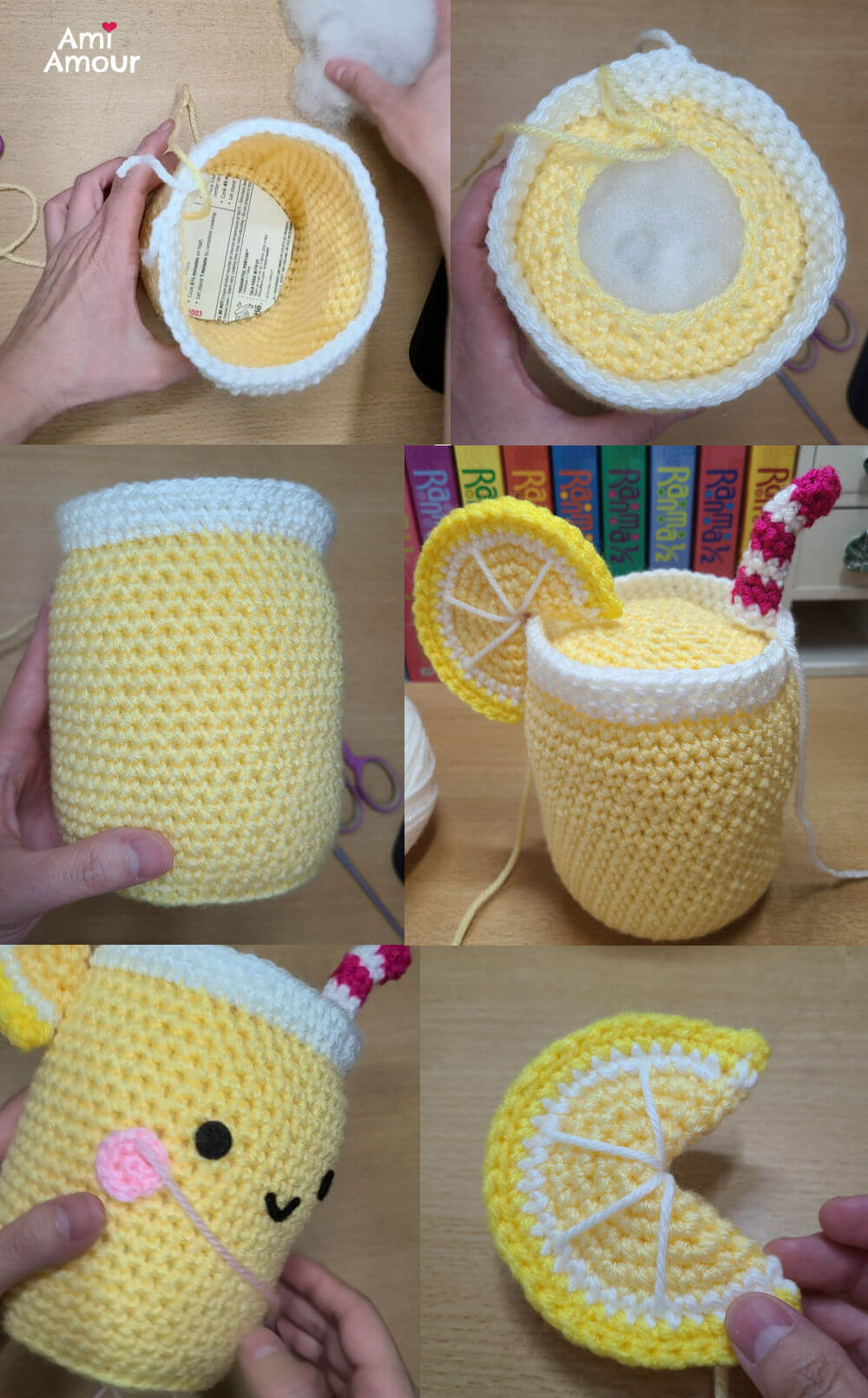 Both the lemon slice and straw are made separately and I really enjoyed the construction of them. The design of the straw has decreases at certain places within the rounds so that the straw bends at the top. That way, the Lemonade is ready to be sipped at any given notice!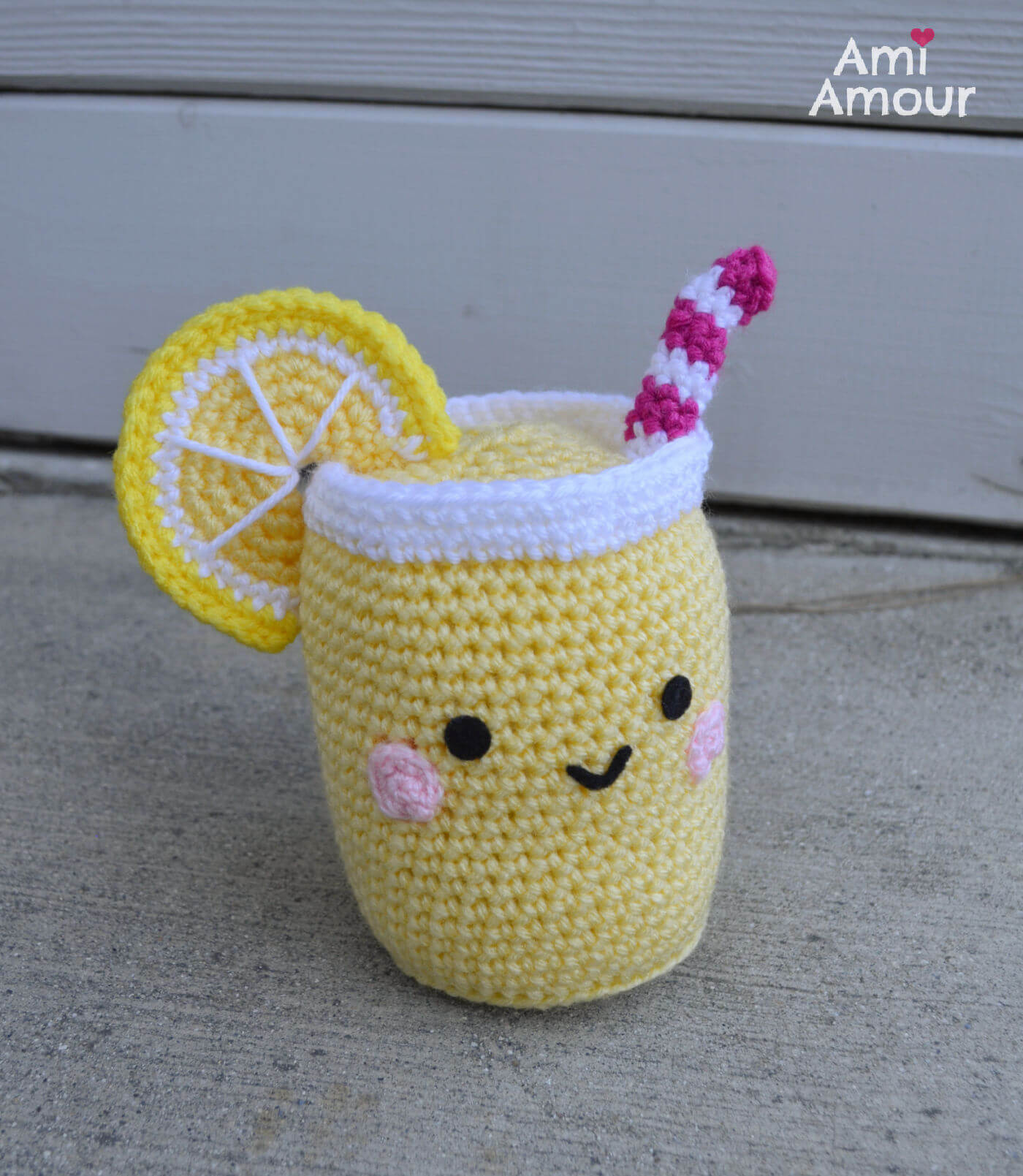 The lemon slice is also a fun one to make as it's created in one piece and then folded and sewn down. It's constructed so that it leaves a perfect wedge to place onto the jar for a totally cute and refreshing look.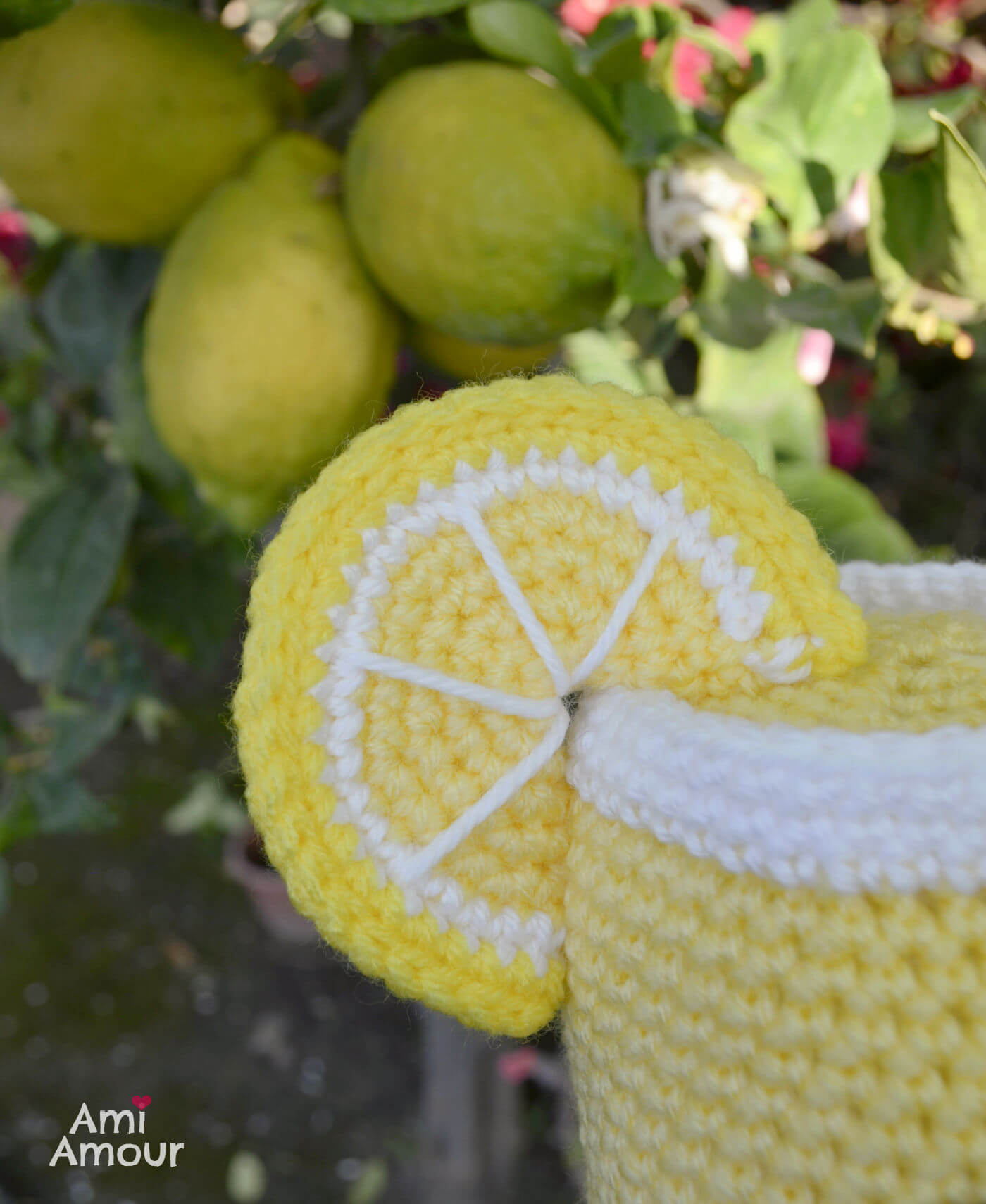 As they say, when life gives you lemons, crochet a lemonade!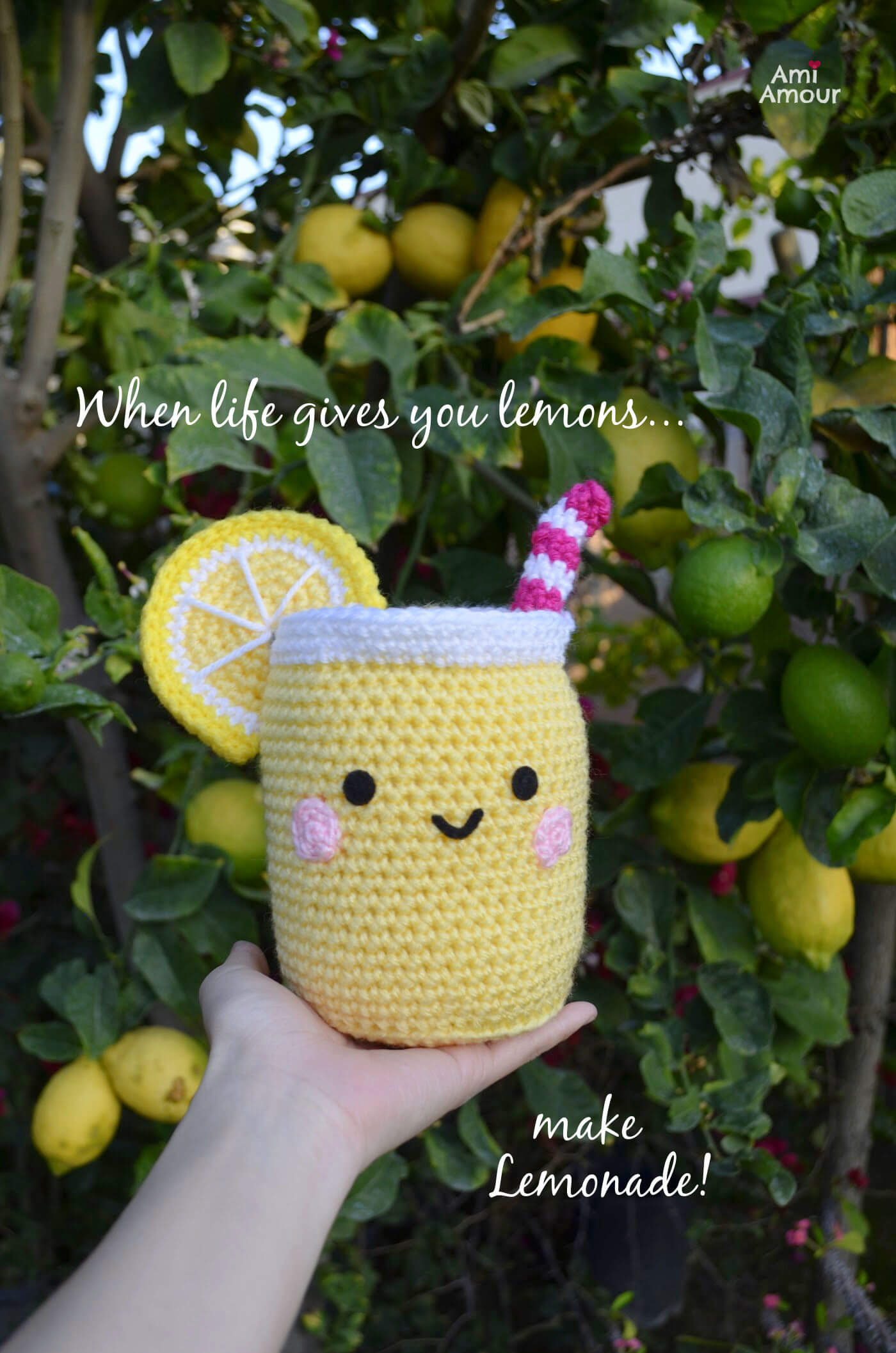 I didn't add a handle to my Mr. Lemonade because I wanted to mimic the look of a mason jar so I decided to not add it on. Here is the Lemonade without any face. Doesn't it look like freshly squeezed Lemonade in a Mason Jar?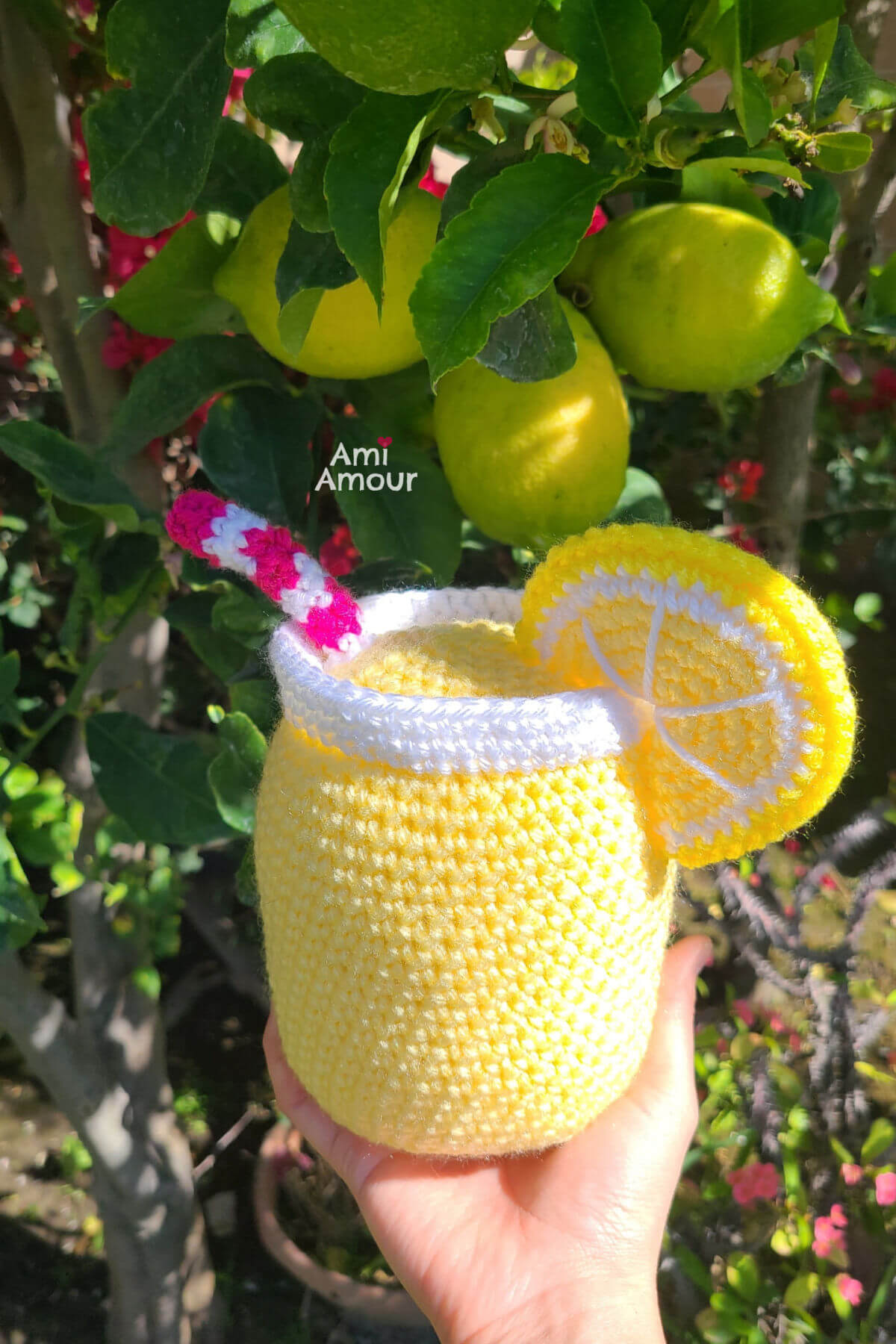 For the face, I used black felt for both the eyes and mouth which I then glued on with Fabri-tac. Here's how I'm able to cut perfect felt shapes. And ta-da, it's Mr. Lemonade, all smiles with his lemon friends!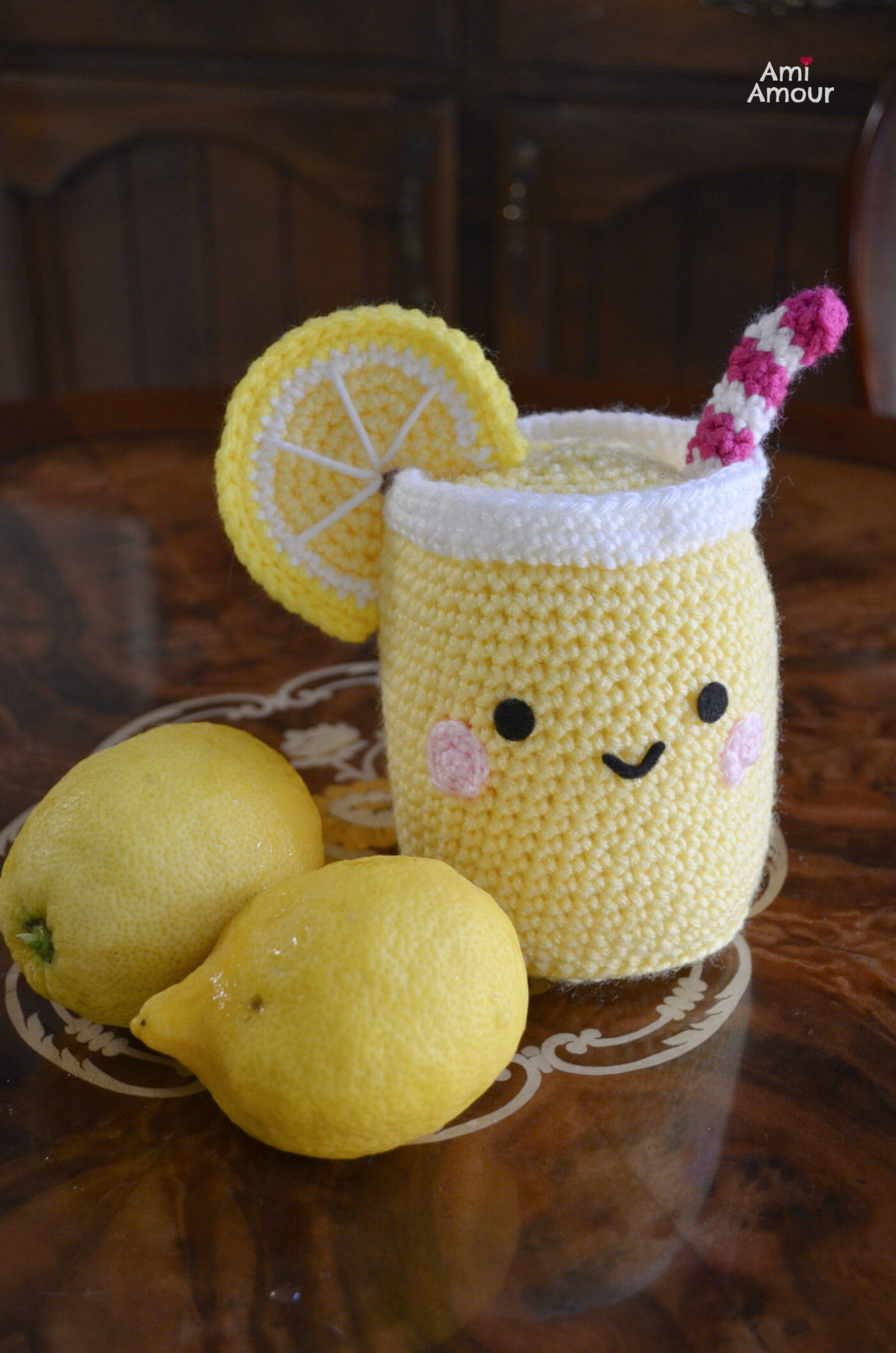 FINAL THOUGHTS
Too Cute Amigurumi is a book definitely worthy to have a place on the shelf in your crochet book collection. There are quick and fun crochet projects that can be easy for beginners to follow along, but the book also gives enough room and innovation for advanced crocheters to have fun with as well.
For adventurous spirits, much of the book's designs can also be mixed and matched since it contains a lot of accessories.  The author encourages such creativity! And for that, the pattern book is greater than the sum of its parts! All the collections combine into a colorful world that I willingly daydream and crochet myself into!
If you're interested in the book, you can check it out here.
Let me know which projects catches your eye.  Which one would you like to make?
Did Sour and Sweet Lemonade steal your heart?  It did mine! I have a feeling that I'll be using him for a lot of summer decor props!  I'm tempted to make him in all different flavors such as orange and watermelon too! Also don't think I've forgotten about Rainbow Unicorn Cake.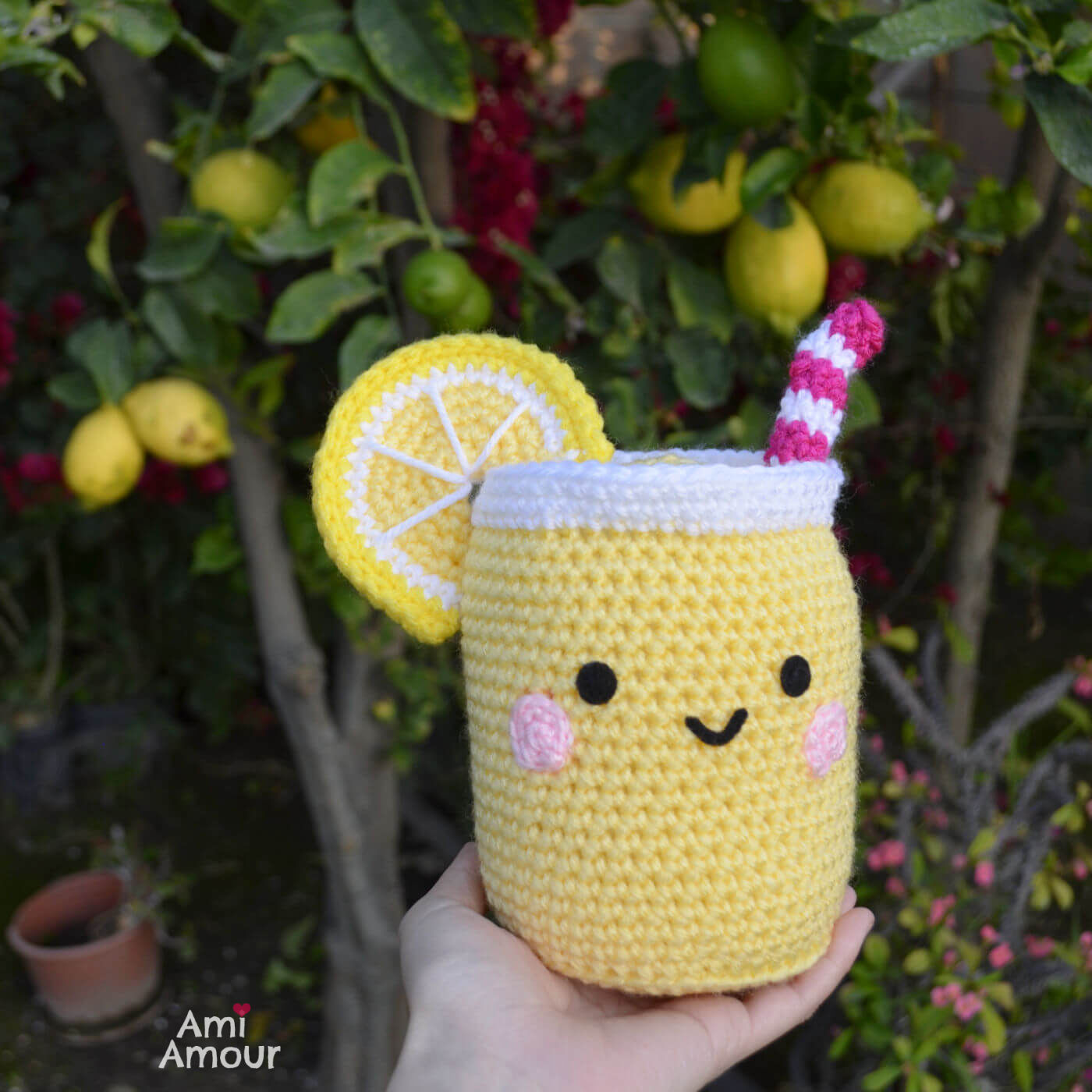 Anyways, it's been a while since I wrote up a review and I did quite enjoy the process. I may try to do more in the future, time willing. Thanks for reading and until next time, Happy Crocheting!
If you like these patterns, you may also enjoy some of my anthromorphic patterns such as my S'mores and Strawberry Kitty or my Mochi Cat and Riceball Kitty.
Also don't forget to subscribe to my blog so you you don't miss any of my patterns!