Here's a perfect crochet macaron pattern to indulge your sweet tooth! With this macaron amigurumi recipe, you'll be able to recreate the beautiful round shells along with a creamy and delicious filling. It's light, delicate, and an utter treat!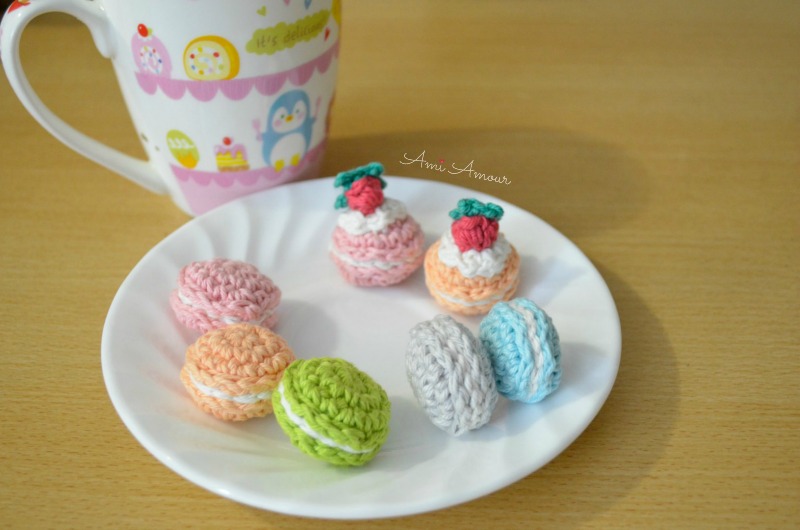 It's been awhile since I did a free crochet pattern for amigurumi food. One of my popular posts happens to be my crochet sushi pattern, but this time around I thought it'd be fun to venture into amigurumi sweets. Both are fun and fast projects and they make great little trinkets you can do a a lot of things with.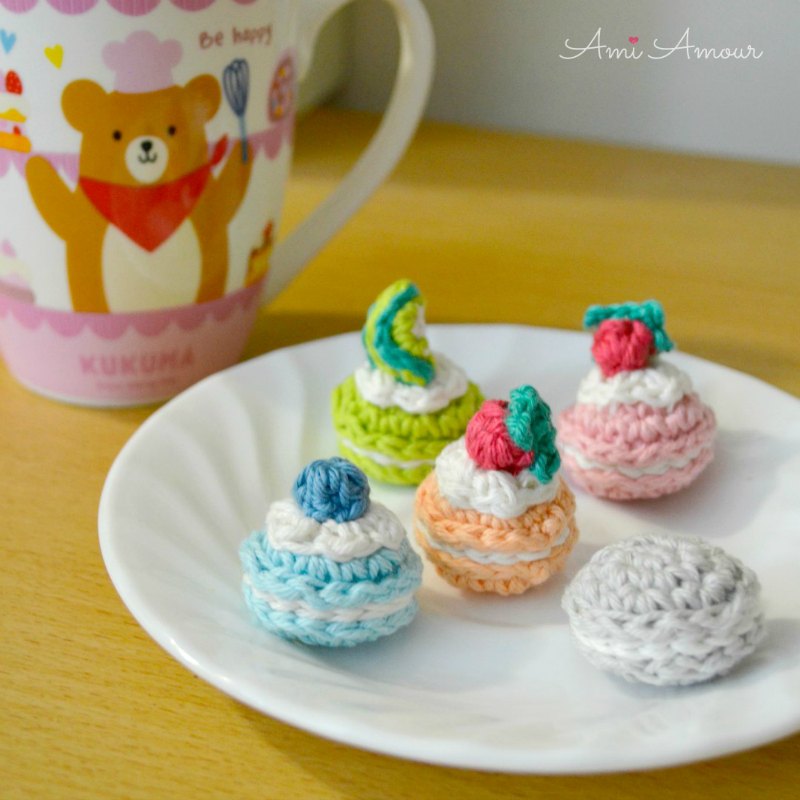 Normally for my amigurumis, I work with worsted weight, acrylic yarn, but well the crochet macaron is so delicate, it required a yarn with a little more finesse. And Lovecrafts was so very awesome, and they sent me the yarn for this project.
I chose to work with the Paintbox Yarn, Cotton DK yarn. It's a more thinner yarn and made from 100% cotton. It's a great natural yarn to work with and I really love how the yarn works up. Lovecrafts also have a beautiful array of colors to choose from, and I thought the pastel colors would work wonderfully for my mini macarons.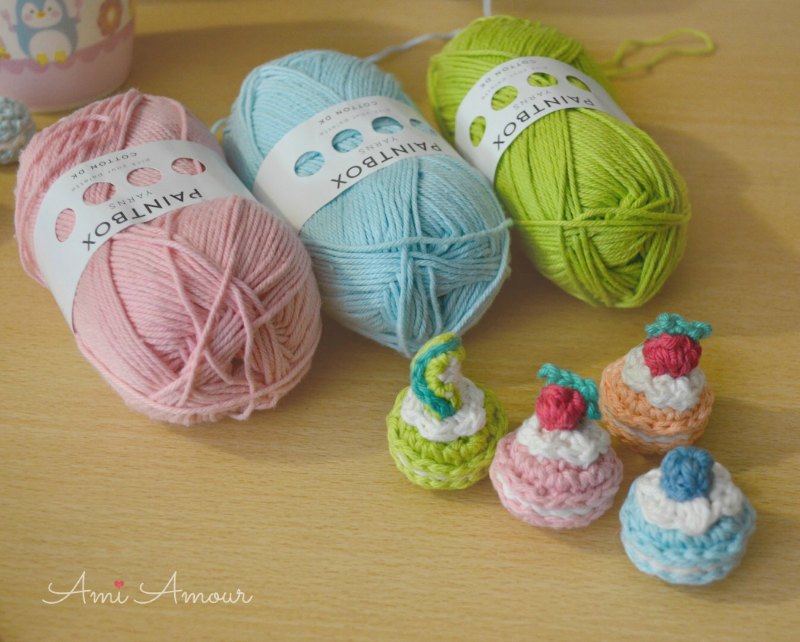 I had to make various batches of macarons before I was satisfied with overall shape and structure of my crochet macaron. Just like a real macaron, you make 2 different shells for it, a top and a bottom. And then I sewed them together in a very particular way. I found this was the best way, so that both the top and bottom looked equally perfect and balanced.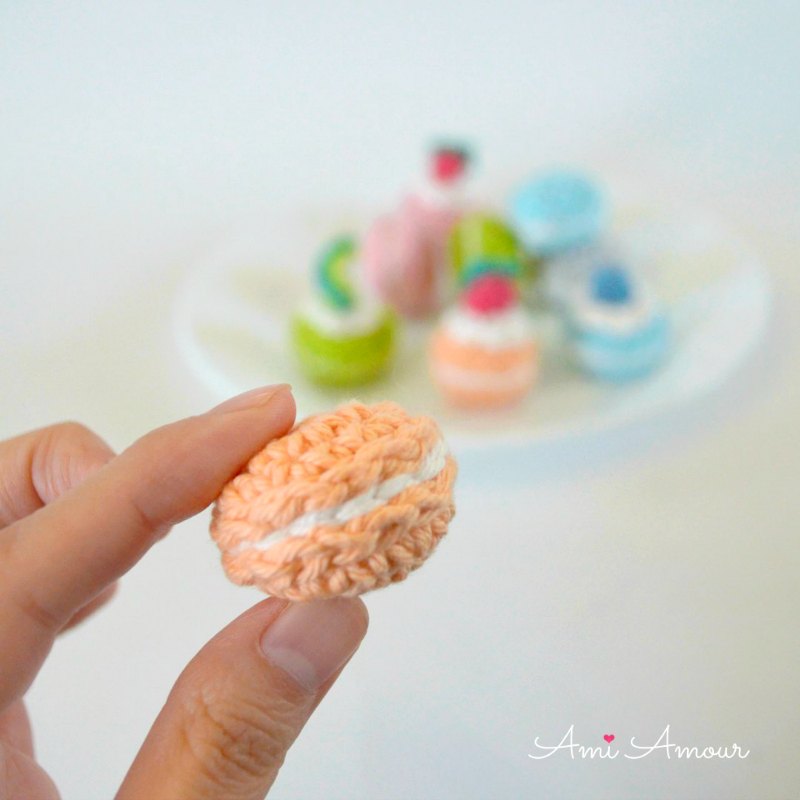 The more macarons there are, the prettier they look! So make as many as you want. You can stack them in a row.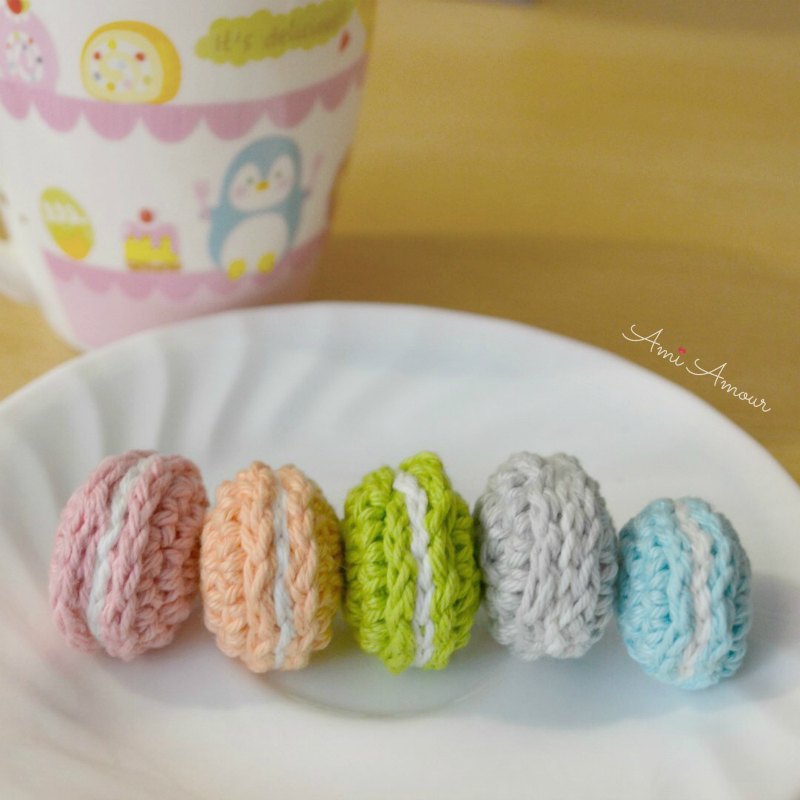 You can stack them on top of each other. They all look gorgeous no matter which way.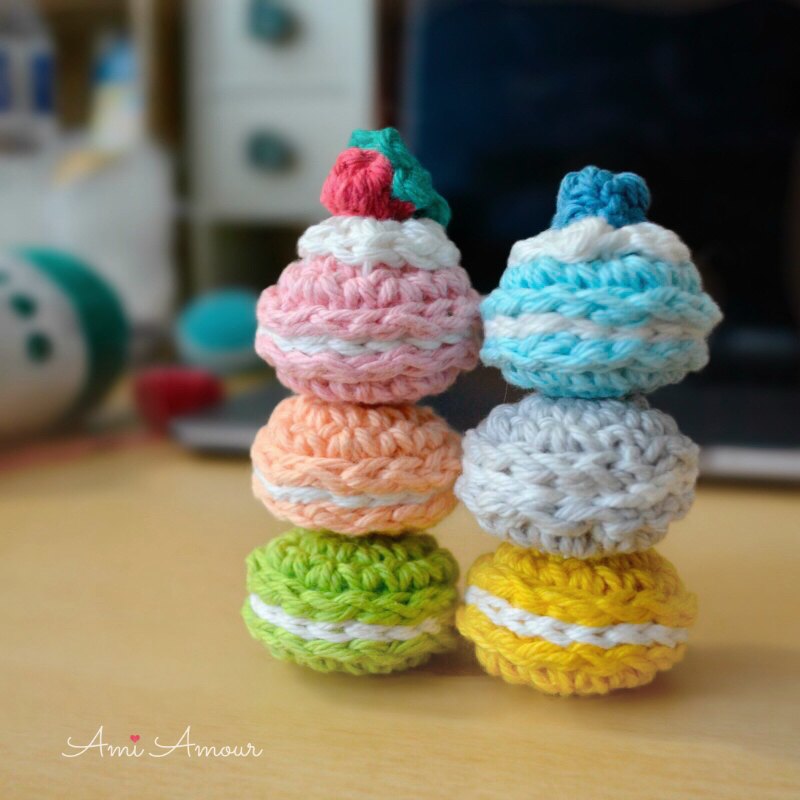 And to make your crochet macaron extra special, I've also included some bonus patterns of some delicious toppings you can put on top of them.
Here's a pink macaron amigurumi topped with the perfect combo of strawberries 'n cream.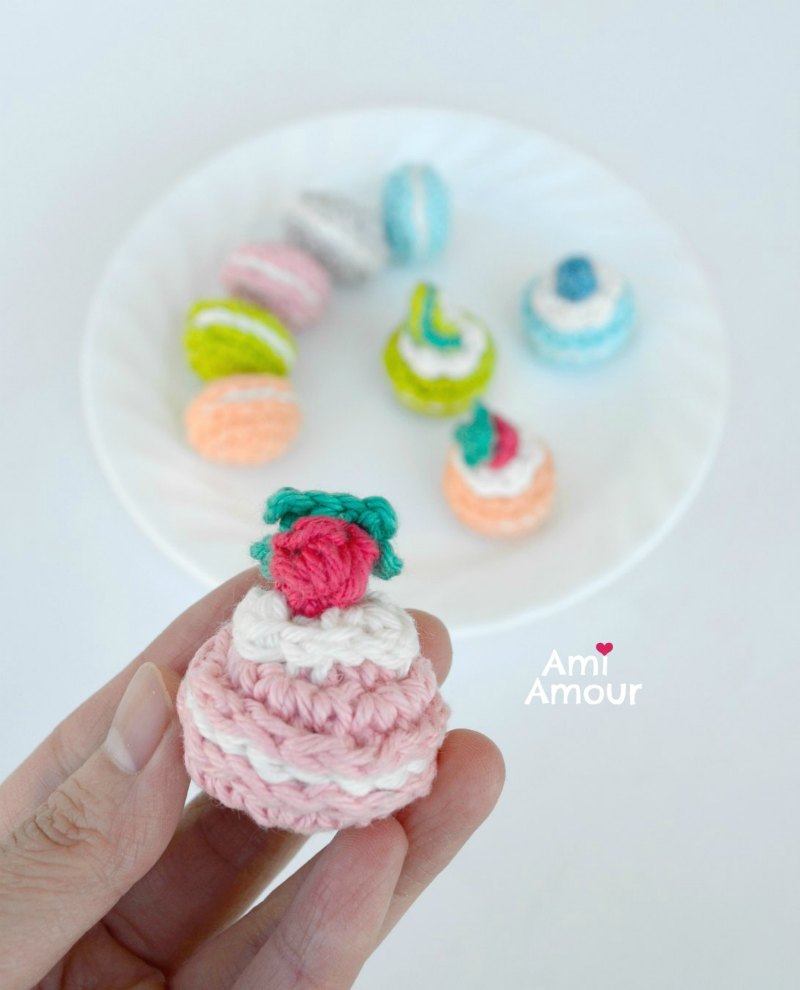 A Zesty Lime Macaron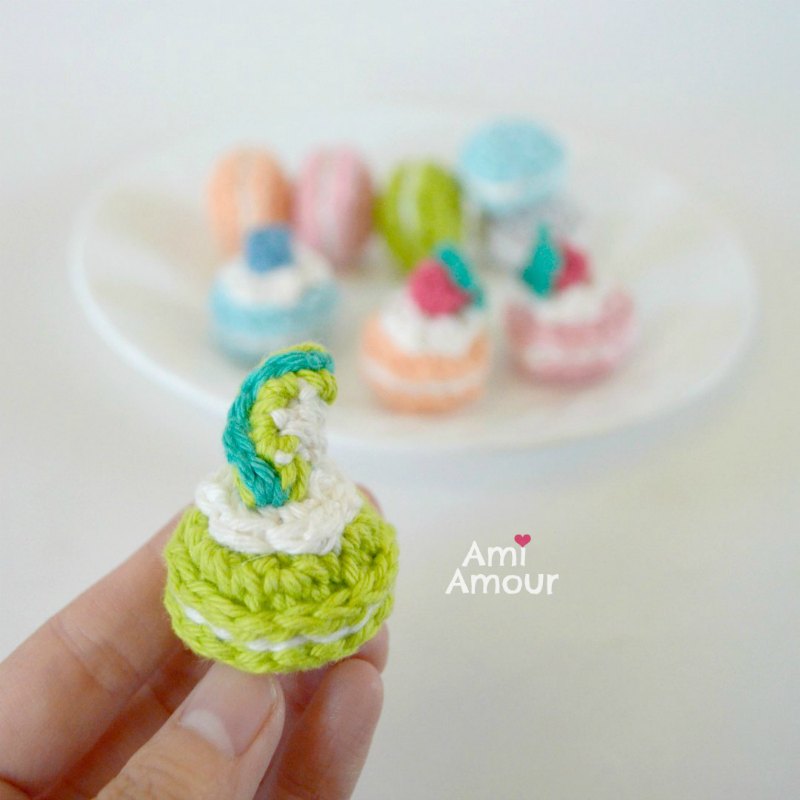 Sweet Blueberry Macaron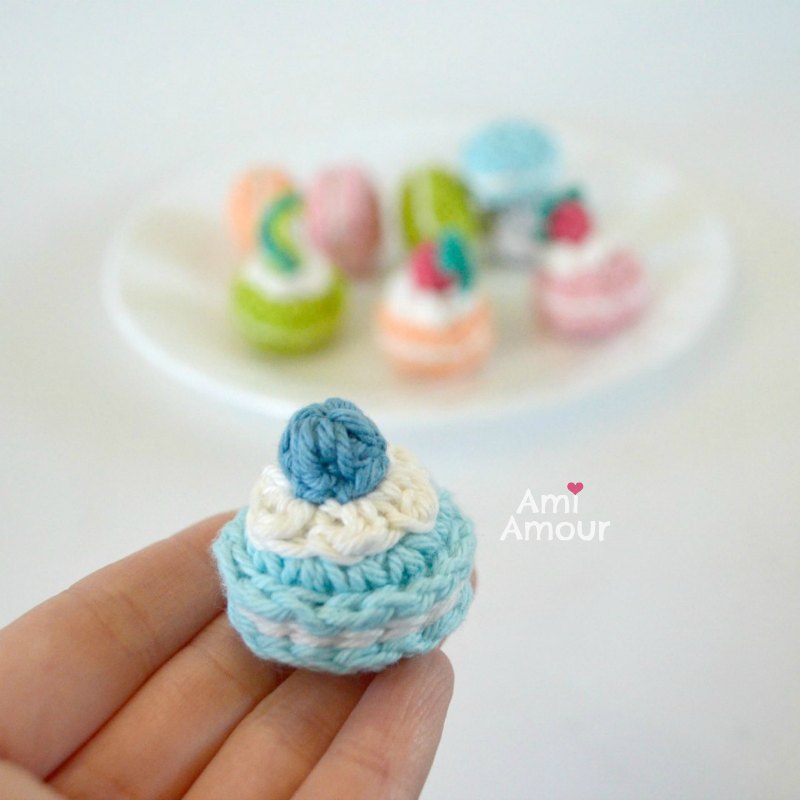 Peach Macaron with Strawberry Topping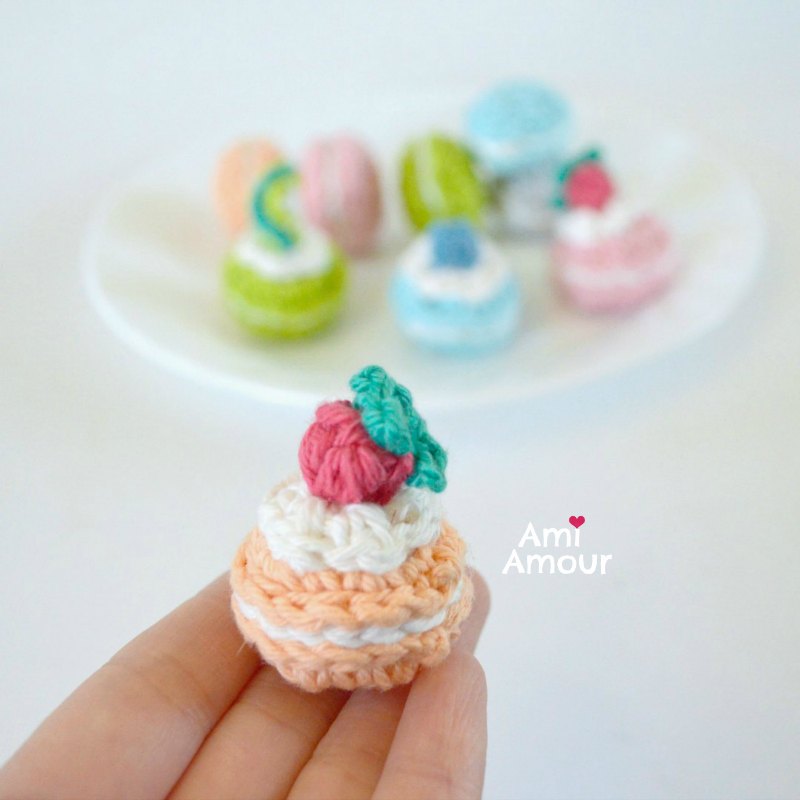 I hope you'll enjoy this free crochet pattern for macaron. Go wild, combining different flavors and colors together. If you'd like to see which colors I chose from Lovecrafts Paintbox DK Cotton yarn, I've also written the specific colors below in my supplies section. And I'd definitely love to see what delightful confectioneries you guys make. So be sure to tag me on Instagram or Facebook with your projects!
Don't forget to subscribe to my blog and newsletter so you catch all my latest patterns!

If you enjoyed this pattern, you may enjoy these other tasty free crochet patterns!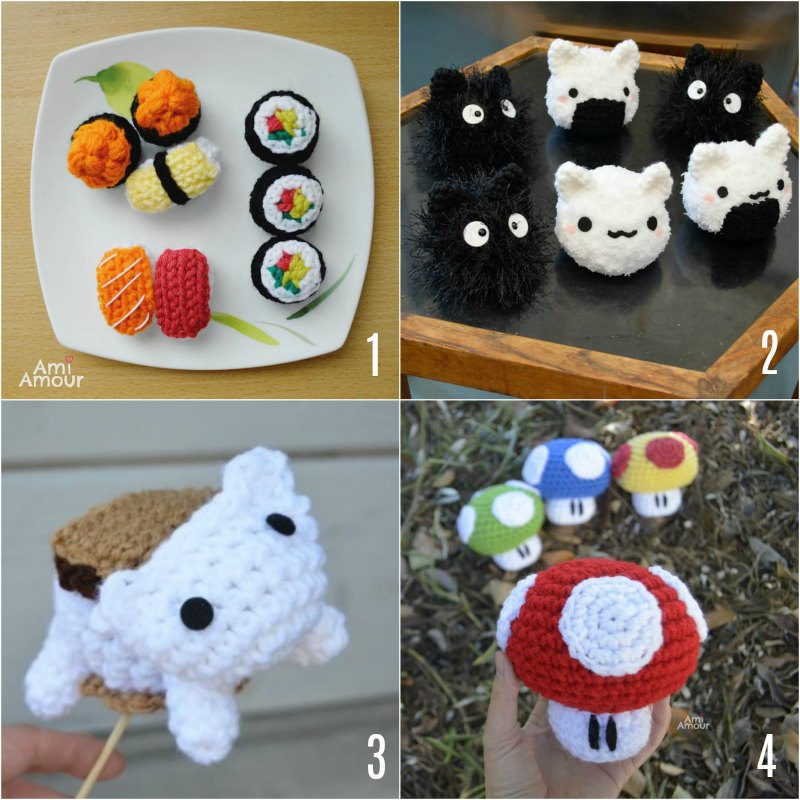 1. Sushi Crochet Pattern // 2. Mochi Cat and Riceball Kitty // 3. S'mores Kitty Mod // 4. Mushroom Amigurumi
Macaron Crochet Tutorial Video
See the Macaron amigurumi in action and crochet along with me!

*Disclosure: This post contains affiliate links. This means I may receive a small commission if you decide to purchase anything by clicking on one of these links.
LEVEL: Easy Intermediate
CROCHET HOOK: 3.75mm size
YARN:
Paintbox Yarns Cottton DK yarn
Colors I've used in this project include:
– Blush Pink
– Lipstick Pink
– Champagne White
– Peach Orange
– Misty Grey
– Washed Teal
– Dolphin Blue
– Slate Green
– Mustard Yellow
– Lime Green
– Slate Green
(This color bundle pack actually has quite a lot of the colors I've used)
NOTIONS:
– Polyester Fiberfill
– Yarn Needle
– Stich Marker
– Scissors
SIZE: Approximately 1.25in/3.2cm in diameter. With toppings about 1.5in/3.8cm tall
ABBREVIATIONS: Using American Standard Crochet Terms
ch – chain
sc – single crochet
sl st – slip stitch
sl2tog – slip stitch 2 together aka slip stitch decrease
Crochet Macaron – Free Amigurumi Pattern
Color A = Macaron Shell Color
Color B = Filling color
TOP SHELL
Round 1: With color A (shell color), 6 sc into magic ring.
Round 2: 2 sc in each st around – 12 sc.
Round 3: [2 sc in next st, sc in next st] around – 18 sc.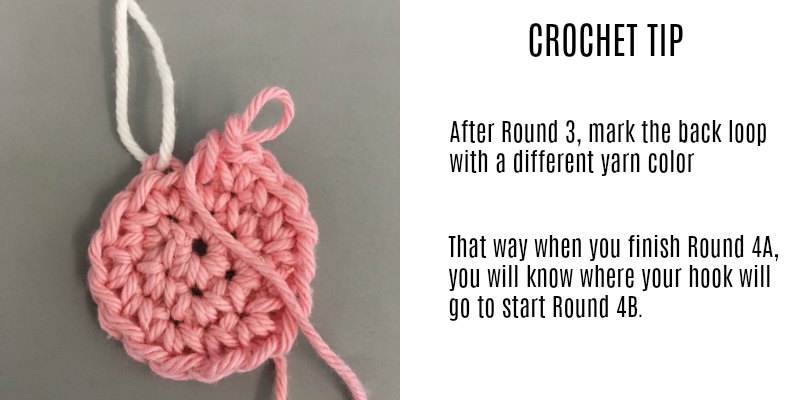 Round 4A: In front loop only, [slst2tog, sl st in next 7 st] around – 16 sl st.
Round 4B: In back loop only, [slst2tog, sl st in next 7 st] around – 16 sl st.
Round 5: With color B (filling color), sl st in each st around – 16 sl st.
Fasten off, leaving a short tail.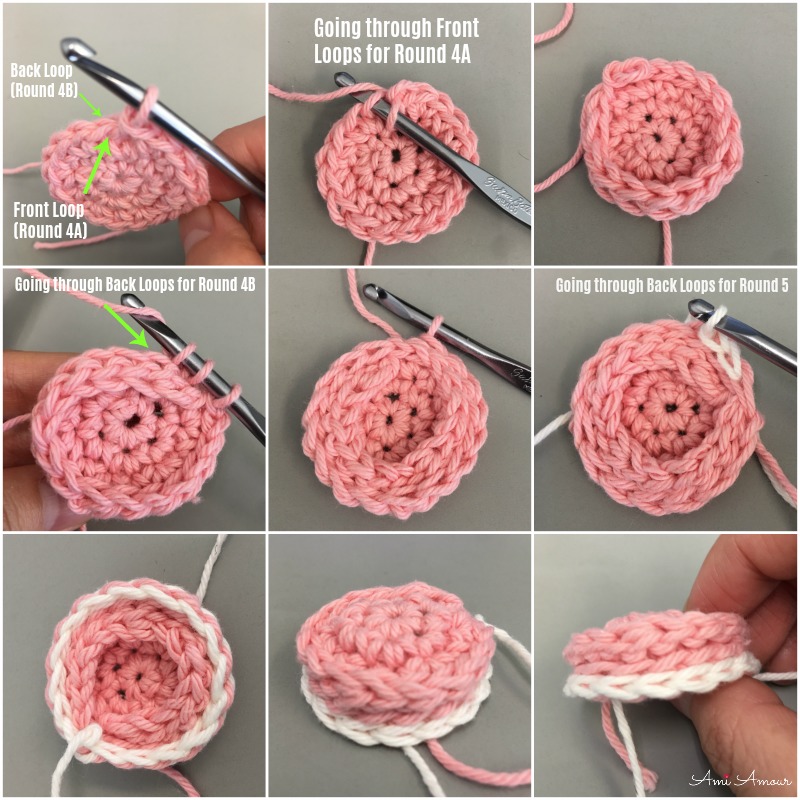 BOTTOM SHELL
Repeat Rounds 1-4a only.
Fasten off, leaving a super long tail.
ASSEMBLING YOUR CROCHET MACARON AMIGURUMI
This is the part the macaron magic happens! It's very important to sew in a specific fashion to get that perfect macaron look. You actually sew around the macaron twice! You can also watch how I sew my macaron together here.
1. With the super long tail, sew the bottom shell and top shell together. Make sure the proper sides are facing outward before sewing. See photo tutorial below to see which stitches to sew into for the perfect macaron look.
2. Before completely closing up your macaron, make sure to stuff, and then finish sewing.
3. You will continue to sew around AGAIN, but this time loop your yarn needle through all 3 layers (top shell, filling, and bottom shell) to bring the shells tighter together for a more polished look for your macaron. See photo tutorial below for reference.
4. Hide and cut all ends.
5. Your cute Macaron is now ready! Make a bunch to put in a long box, or go the extra mile and put some tasty toppings on top.
6. Share your project with me on my Instagram! @ami_amour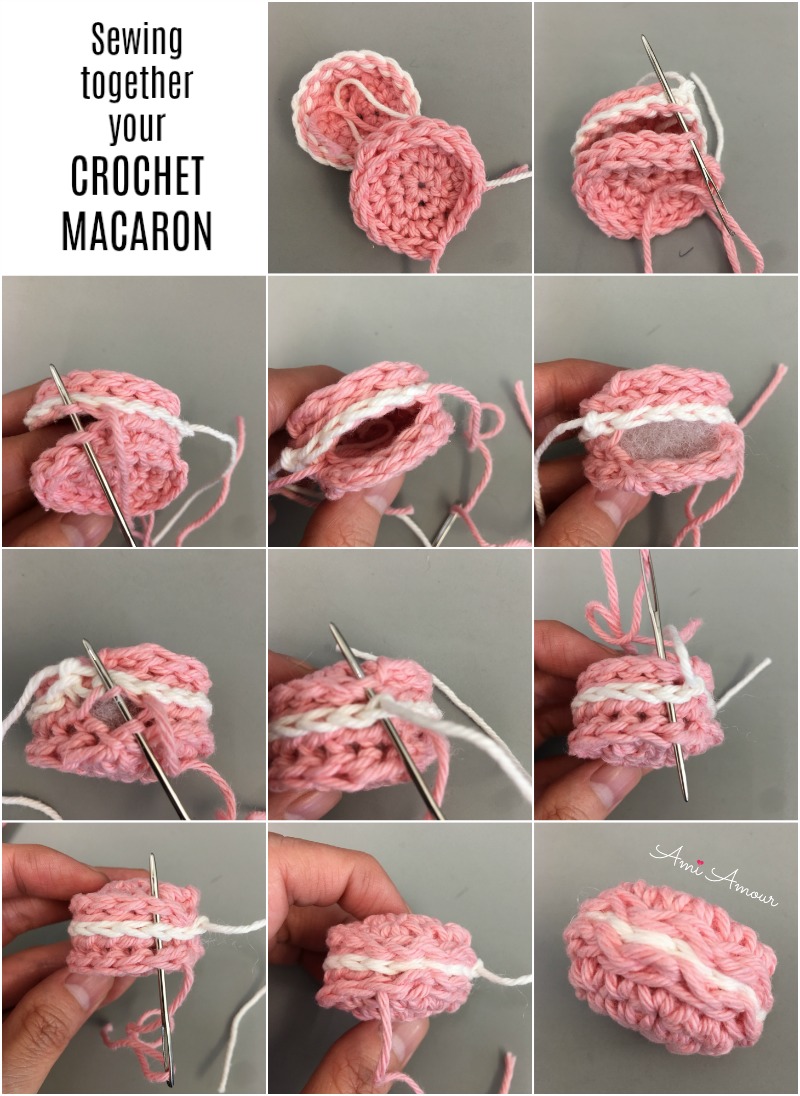 DELICIOUS TOPPINGS FOR YOUR MACARON AMIGURUMI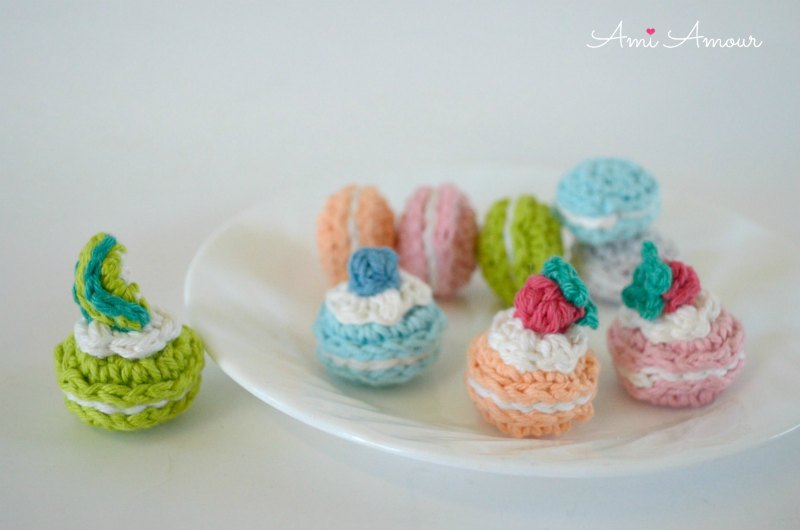 PUFF STITCH = Yarn over, insert hook into specified st, yarn over and draw up a loop (you'll have 3 loops on hook). Yarn over, insert hook through same st, draw up a loop again. You will now have 5 loops on hook. Yarn over and pull through all 5 loops. Ch 1 to close the Puff Stitch.
CREAM
With white yarn
Round 1: 6 sc into magic ring, sl st to first sc.
Round 2: Puff st in each st around – 6 Puff st.
Fasten off, leaving a long tail.
STRAWBERRY
Berry
With red yarn
Round 1: Ch 2, 4 Puff st into 2nd ch from hook – 4 Puff st.
Sl st to first Puff st.
Fasten off, leaving a long tail. Do not stuff.
Leaf
With green yarn
Ch 2, sl st back into first ch, [ch 2, sl st back 2 ch] 4 times.
You will have 5 points in the end.
Fasten off, leaving a long tail.
Curve the Berry into a ball and sew the Leaf to the top of the Berry.
BLUEBERRY
With blue yarn
Round 1: Ch 2, 4 Puff st into 2nd ch from hook – 4 Puff st.
Sl st to first Puff st.
Fasten off, leaving a long tail. Do not stuff.
CITRUS SLICE (can be lime, lemon, orange, grapefruit depending on what colors you use!)
These are the colors for a lime slice
Round 1: With white yarn, 6 sc into magic ring,
Round 2: With light green yarn, 2 sc in each st around – 12 sc.
Round 3: With dark green yarn, sl st in each st around – 12 sl st.
Fold in half, and sew closed.
Fasten off, leaving a long tail.
Shape into crescent shape and sew down.