One of my favorite things to make is a Soot Sprite amigurumi. This free crochet pattern is fast and fun you'll end up with the most adorable Soot Sprites!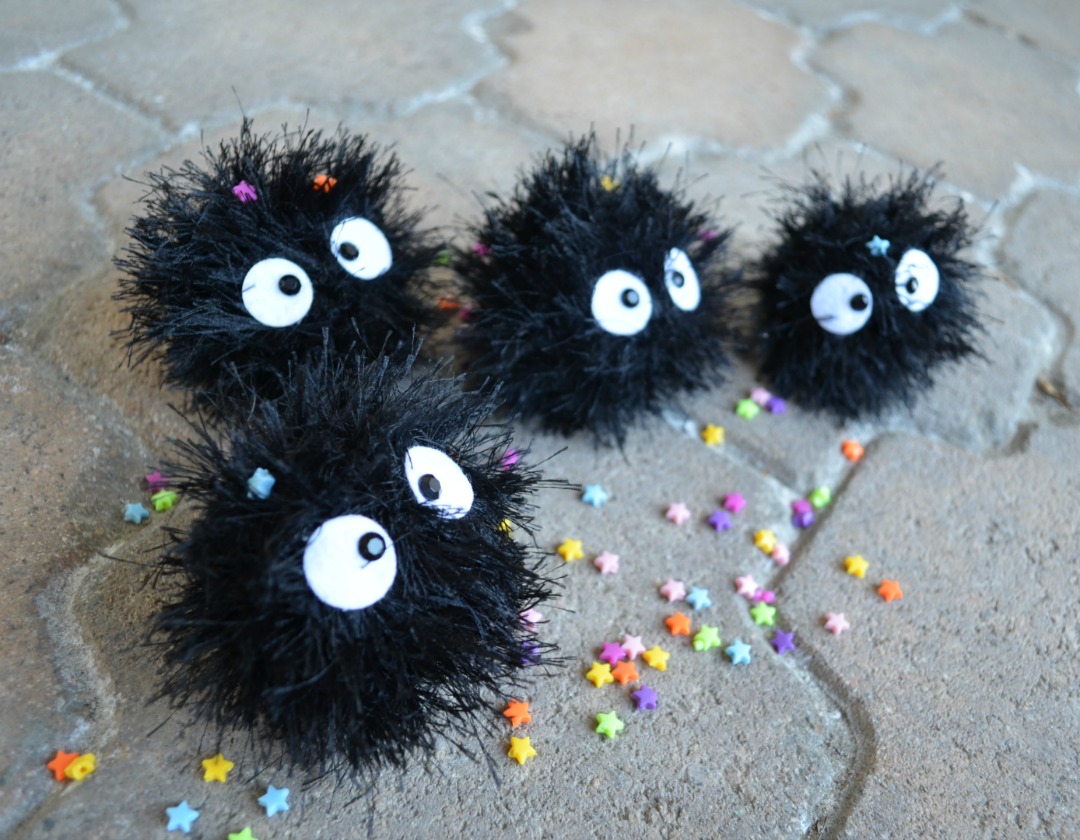 The more you make, the more there will be to help you with your house chores such as heating up the water for your Bath House (a la Spirited Away) . 
These Soot Sprites aka Susuwatari (their Japanese name) can also be seen in the film My Neighbor Totoro where they take up residence in an abandoned house for some time until Mei and Satsuki move in.
I've made tons of these lil Soot Sprites and my cat, Callie, seems to enjoy them as well!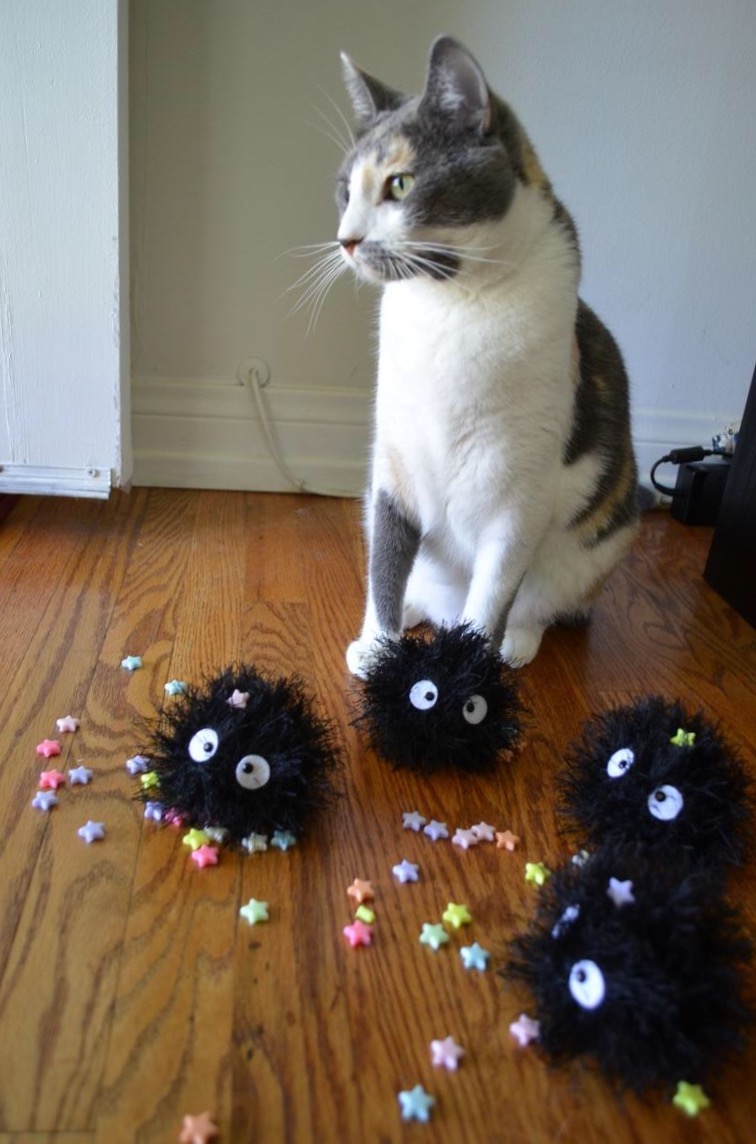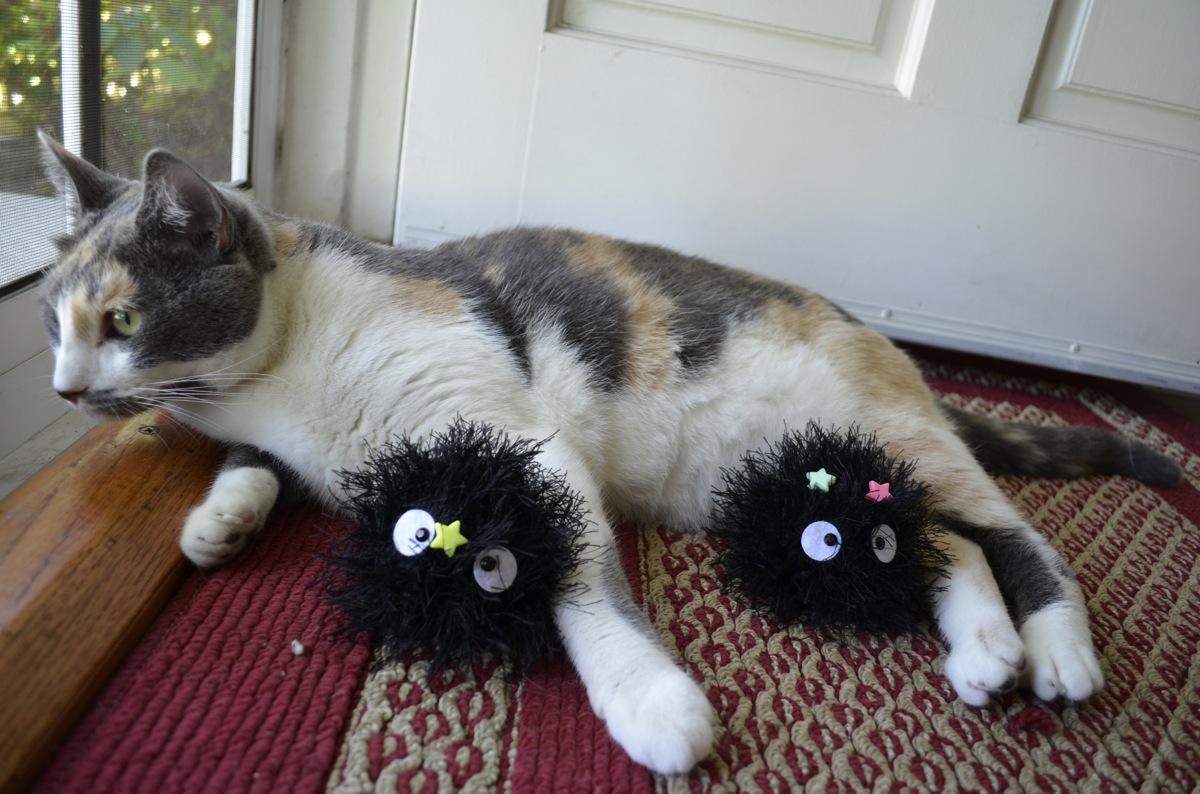 The yarn I use to create this Soot Sprite amigurumi is called Fun Fur (which is a type of Eyelash yarn). 
It's called eyelash yarn because as you can see that it has little whiffs of yarn sticking out from the main strand like long eyelashes.   This yarn helps to create that spiky fuzzy texture of the Soot Sprites so they look like dust bunnies.
However the secret to my Soot Sprite amigurumi is that I double strand the yarn to make it even more fuzzier. 
In addition, I use another strand of black acrylic yarn (worsted weight) to give the amigurumi more structure. So in total you'll be working with 3 strands together as if they were one.

You can check out my Video Tutorial if you would like to see how that works.
Video Tutorial
I must warn you though, working with Fun Fur does tend to get messy! But it's ok, the Soot Sprites can help you clean up afterwards =P.
Also due to the texture and dark color of the yarn, it may get hard to see the stitches, so sometimes you will have to use your fingers to feel where the stitches are.
So now here's the pattern so you can get to making your little helpers! And if you're a fan of Studio Ghibli, be sure to check out my Kodama pattern and Totoro Pattern as well.
Soot Sprites are also great to pair up with my Calcifer pattern and look super cute together. Happy crocheting!
*Disclosure: This post contains affiliate links. This means I may receive a small commission if you decide to purchase anything by clicking on one of these links. Thank you for your support!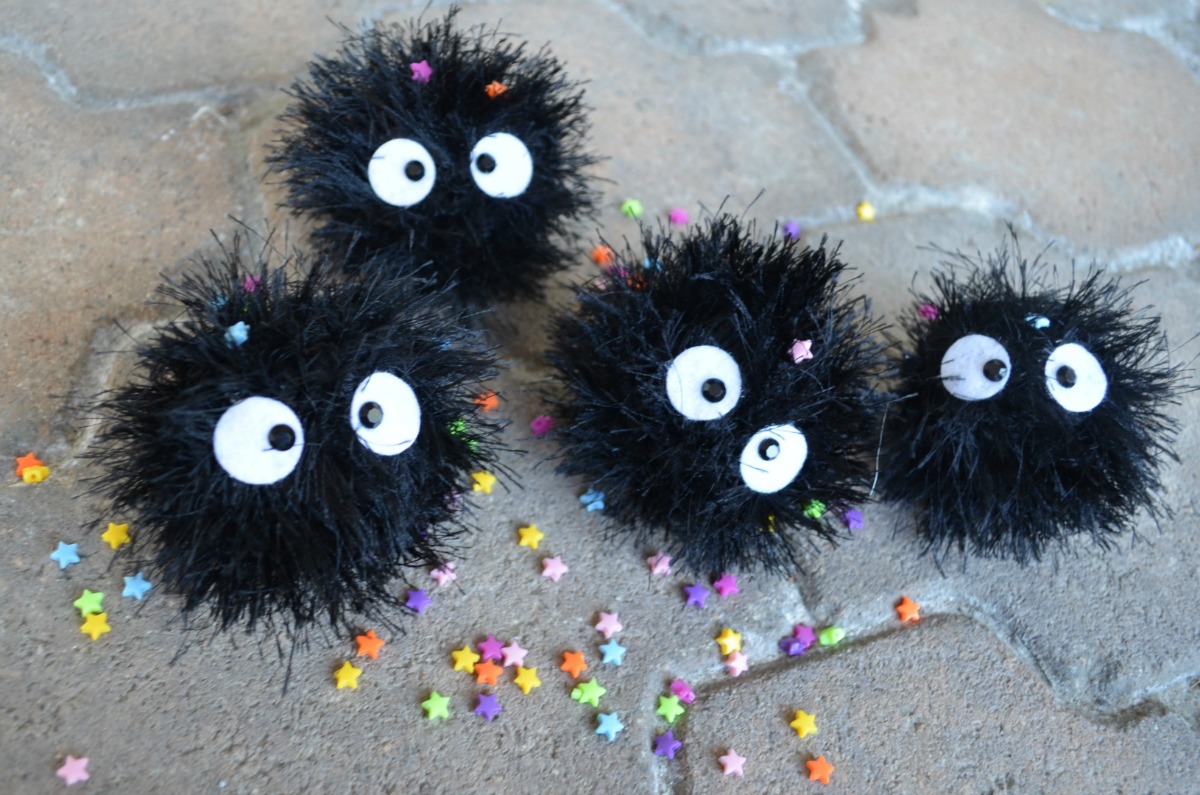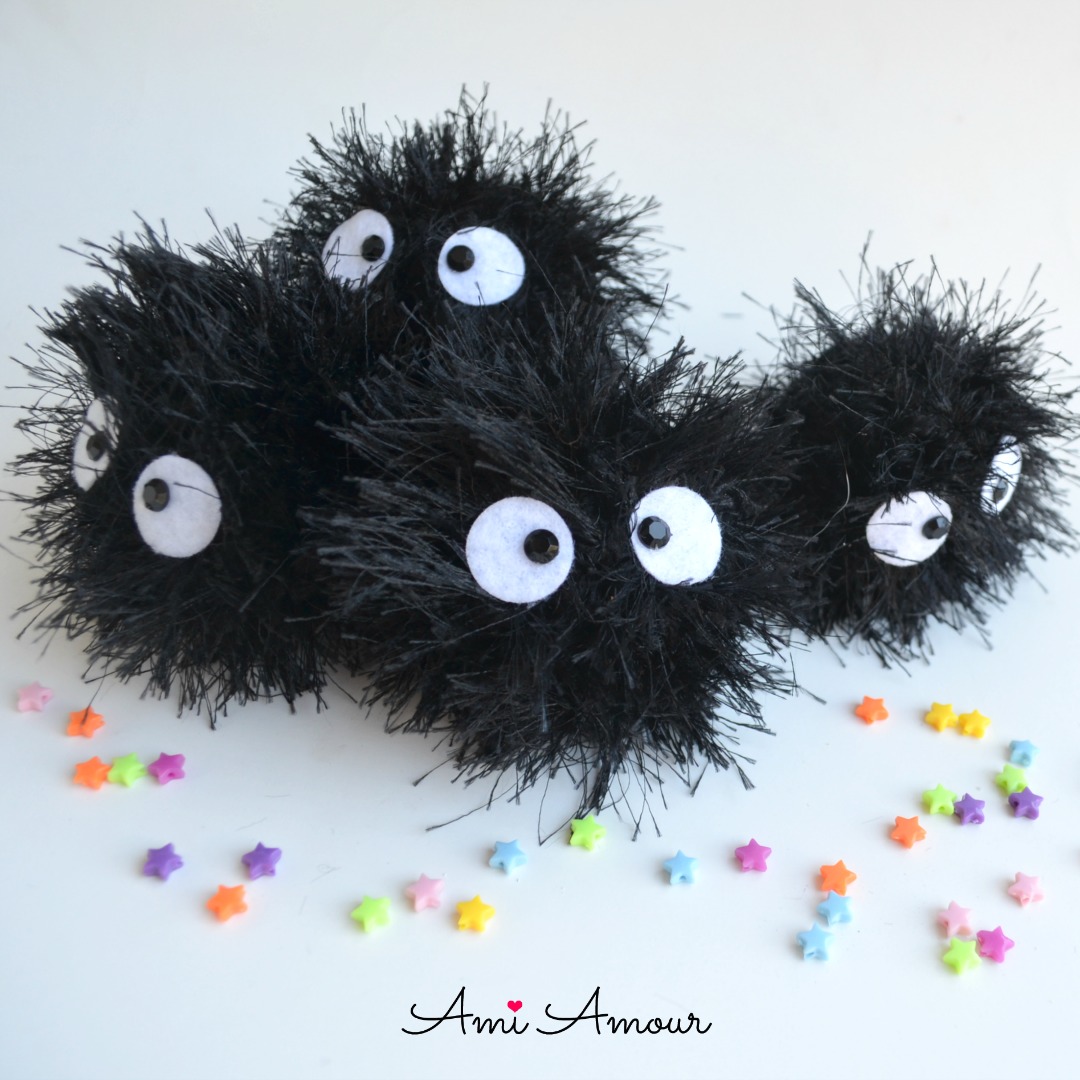 SOOT SPRITE Amigurumi Pattern
LEVEL: Easy
HOOK SIZE: 5.5mm
YARN:
– Lionbrand Fun Fur (black) – 1 skein will make about 3.5 soot sprites
– Red heart Super Saver, worsted weight (black)
NOTIONS:
6mm black acrylic rhinestone (2)
White felt
Yarn Needle
Polyfil Stuffing
Scissors
Stitch Marker
Fabri-tac Glue
ABBREVIATIONS:
Ch – ch
Sc – Single Crochet
Sc2tog – Single Crochet 2 stitches together (aka sc dec)
st – stitch
FINISHED SIZE:
3in/8cm wide by 3in/8cm tall
NOTES:
*This pattern is written in standard American English Crochet terminology
* When crocheting with Fun Fur, you will notice that one side of the work tends to be more furrier than the other side. The side that has more fur is the side you want to be the outside part (or public side) of the amigurumi.
BODY
With 2 strands of Fun Fur (Black) and 1 strand of Red Heart Super Saver (Black) together
Round 1:        6 sc into magic ring.
Round 2:        2 sc in each st around – 12 sc.
Round 3:        [2 sc in next st, sc in next st] around – 18 sc.
Round 4-5:    Sc in each st around.
Round 6:        [Sc2tog, sc in next st] around – 12 sc.
Round 7:        Sc2tog around – 6 sc.
Fasten off, leaving a long tail. Stuff and sew closed.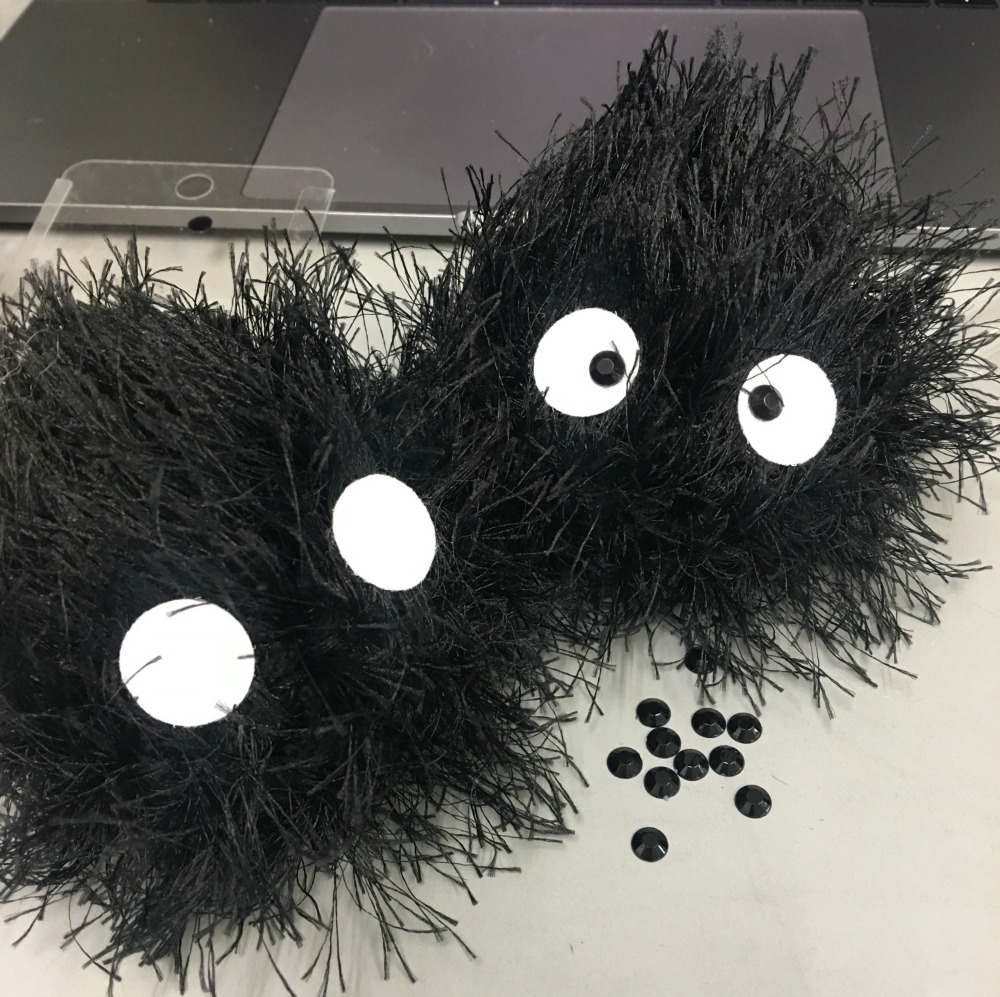 ASSEMBLY
1. Cut out 2 white circles for the eyes (approximately 17mm in diamter) from felt. Glue on with Fabri-tac.
2. Glue 6mm size black acrylic rhinestone to the Eyes for the pupil. DO NOT use for young kids, infants, or animals as the acrylic rhinestones can be a chocking hazard. Another option would be to cut small black circles from felt and glue/sew on.
3. Hide and cut all Ends.
4. Make sure to feed them Star Candy (bead version) or if you prefer, Konpeito (the real Star Candy). They make for great photo shoot props as the colors pop!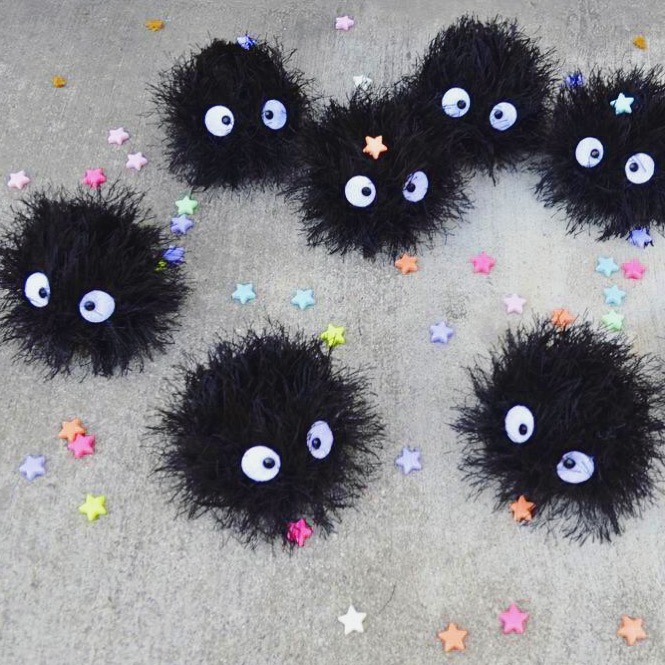 If you enjoyed this pattern please be sure to check out my premium patterns in my Etsy shop. Patterns come in Ad-free PDF versions and may also include an extra bonus pattern.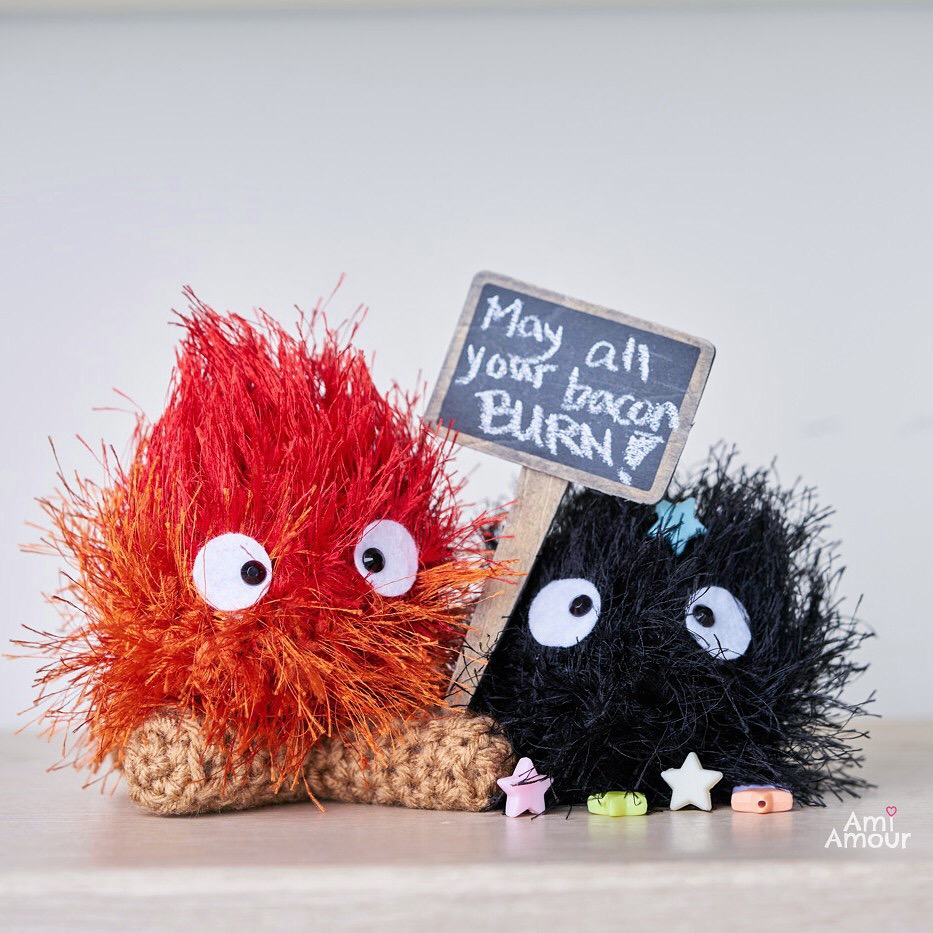 I'd love to see how your projects turn out and what you did with your Soot Sprites! Be sure to let me know by tagging me on my Instagram or Facebook. You can also save the project to Pinterest or Ravelry to queue up for later!