The last time I was in Stan Lee Los Angeles Comic Con 2016 Artist Alley was 2 years ago when it went by the name Comikaze.  It was fun to be back!  Setting up on the first day as I walked on over to Artist Alley I was greeted by this Hulkbuster display!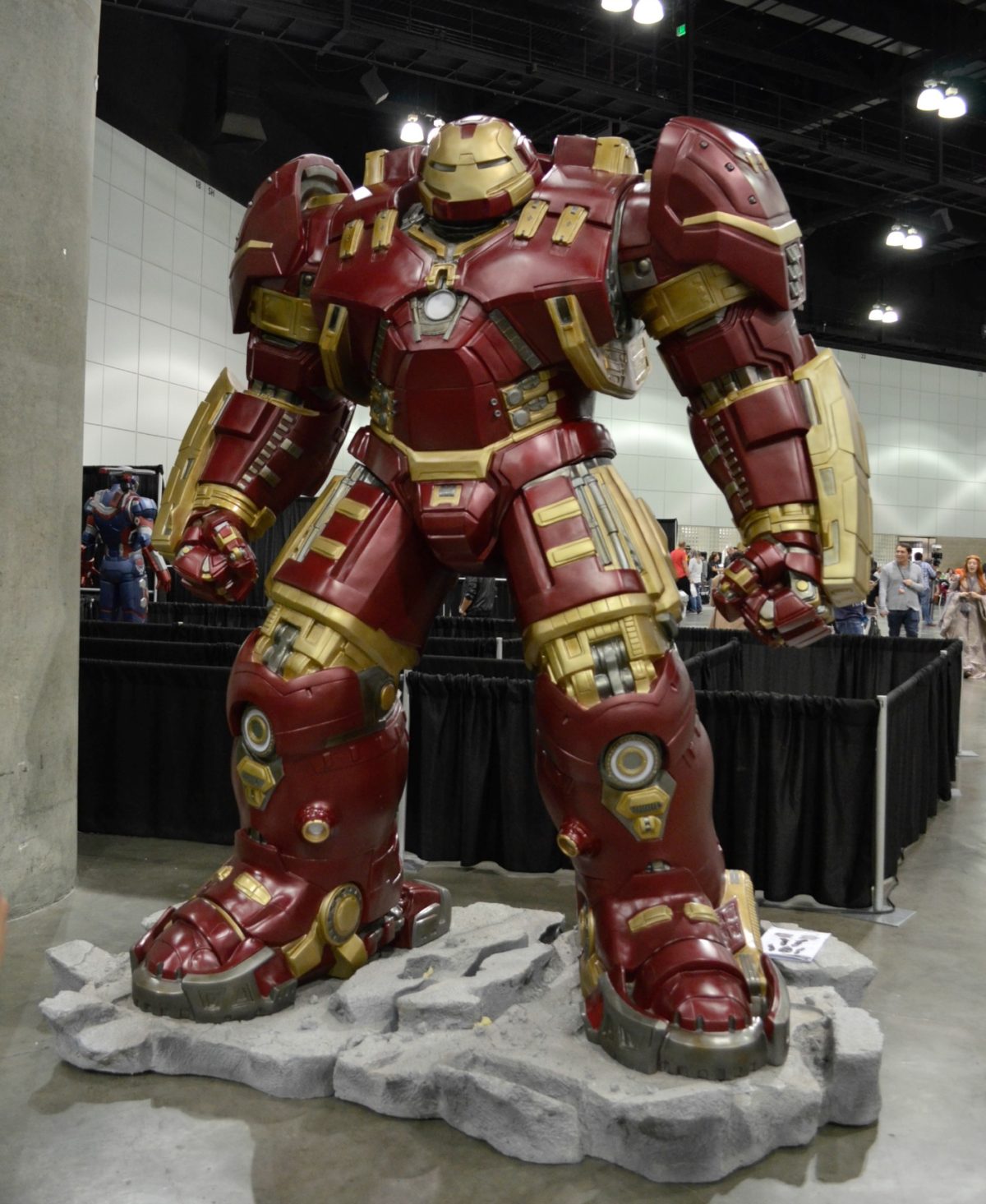 It was a nice welcome! I enjoyed the setup for Artist Alley. I loved the long tables they gave us.  They were 8ft long which was a nice luxury.  I'm used to only having real estate about 6ft long.  It came with 2 chairs, a black skirt table and your very own paper trash can box.  This is super handy when you're like me and sometimes still crafting till the last moment! Here's my table setup below.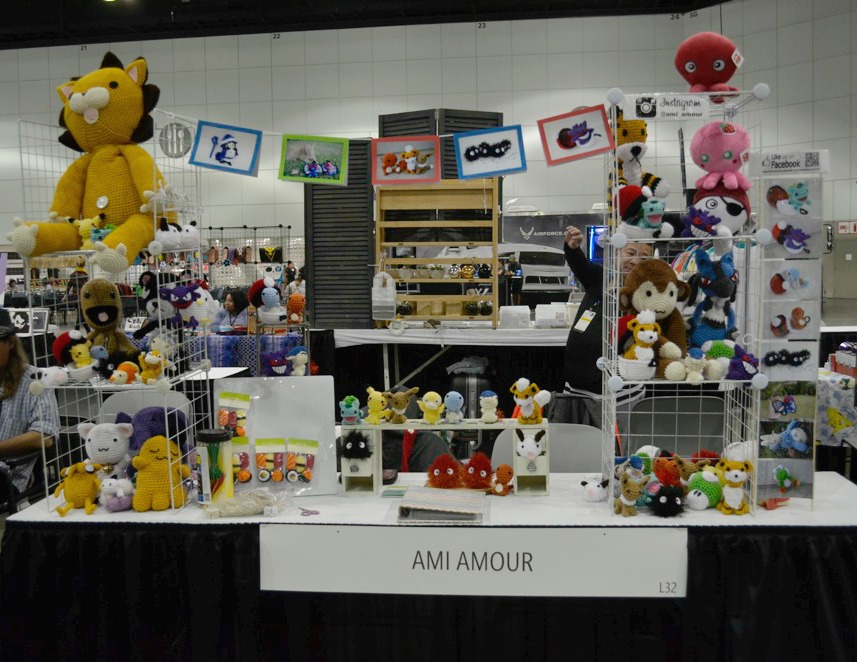 This artist alley I wanted to change my setup a little bit so I added this cute shelf drawer as seen in the photo below.  It was the perfect size to display my chibi Pokemon amigurumis.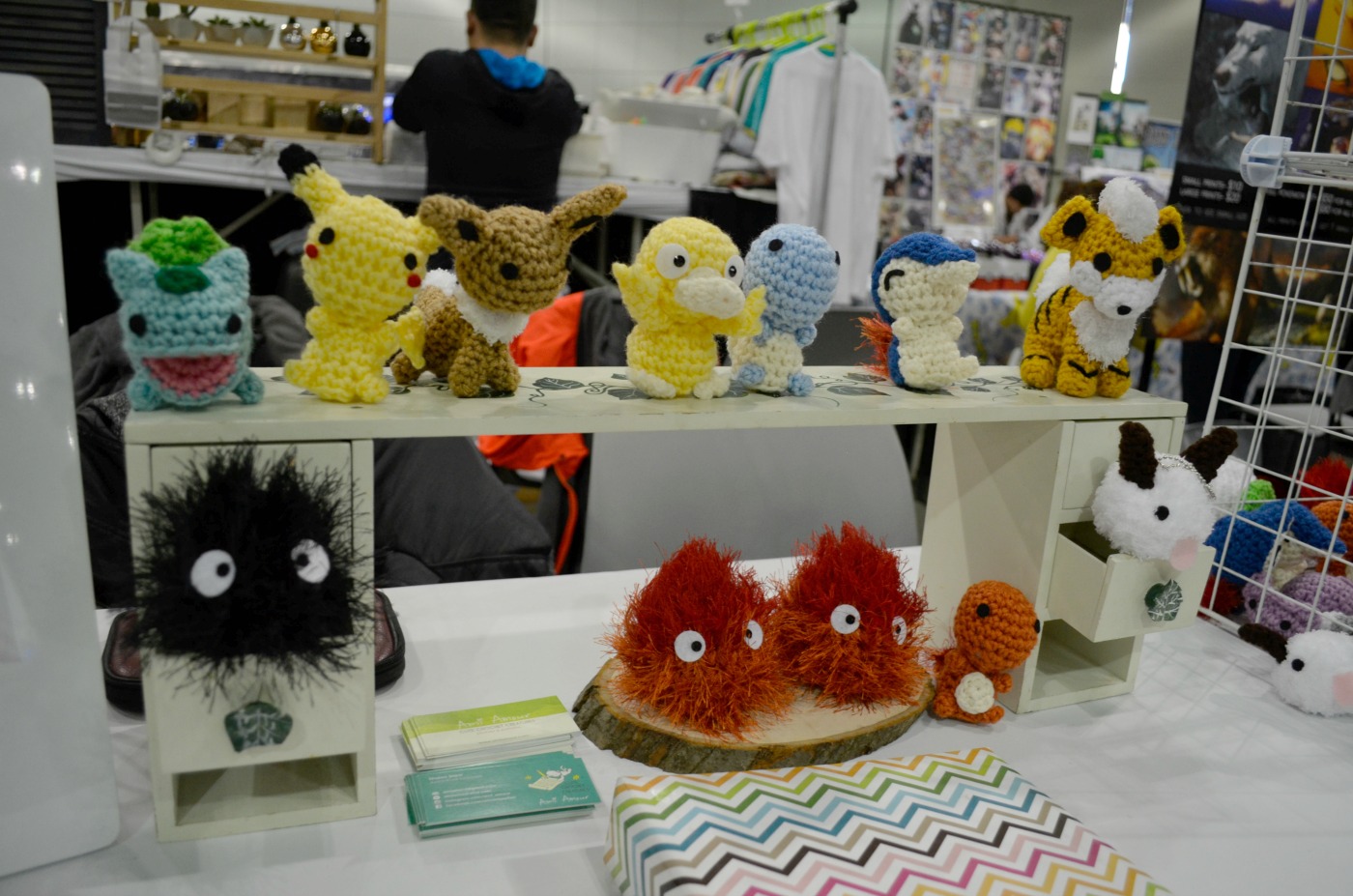 First day was interesting because it was from 5pm to 9pm so mostly evening time on a Friday and I don't think I've ever been in an artist alley open that late!  Usually I find the first day to be the most chill so it's nice to walk around when it's a bit less crowded and check out your fellow artist's art!  Here's a few of my fav: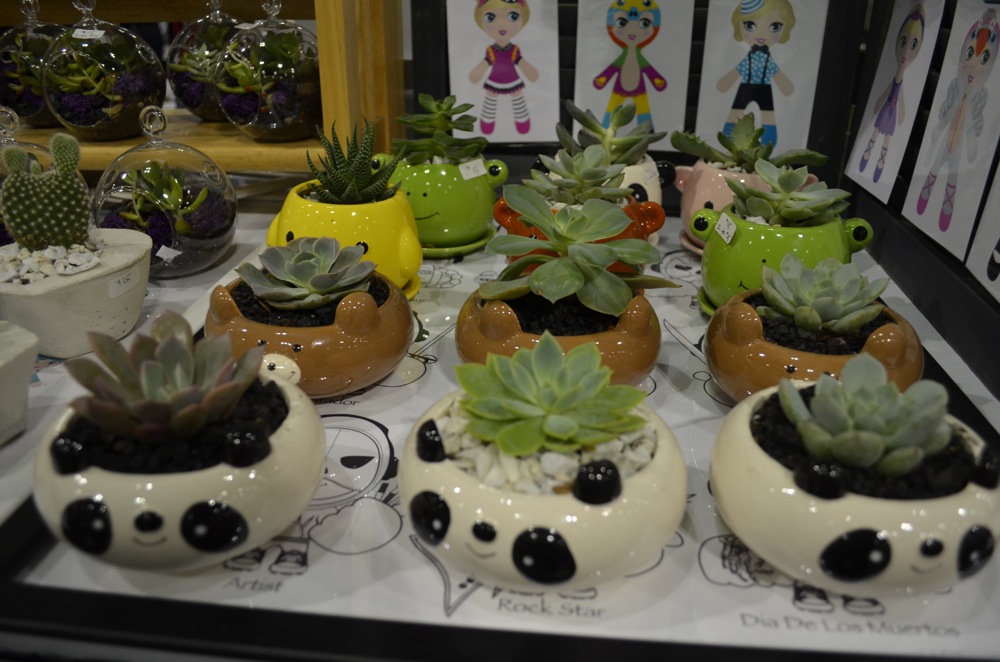 This was my neighbor in the back, Steve with Succulent Heaven.  He had succulents in the cutest pots!  I had to snag one and you'll see later if you follow me on Instagram which one I chose 😀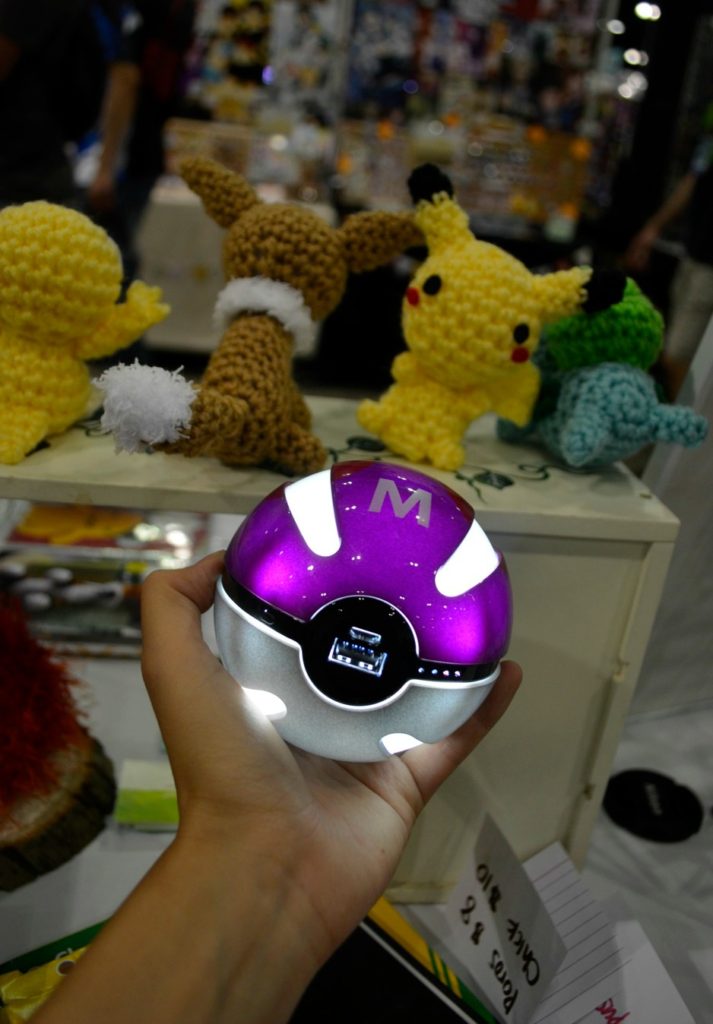 I choose you, Pikachu! Another item I just had to get.  It's a lightup Pokeball phone charger.  I got this Pokeball version because I liked how it lit up the best, but they had all the different Pokeballs, including the Classic Red one and Great Pokeball.  I loved the box packaging it came with too!  I have fun playing with it and pretending to catch my Pokemon amigurumi XD It works as a perfect cosplay accessory as well!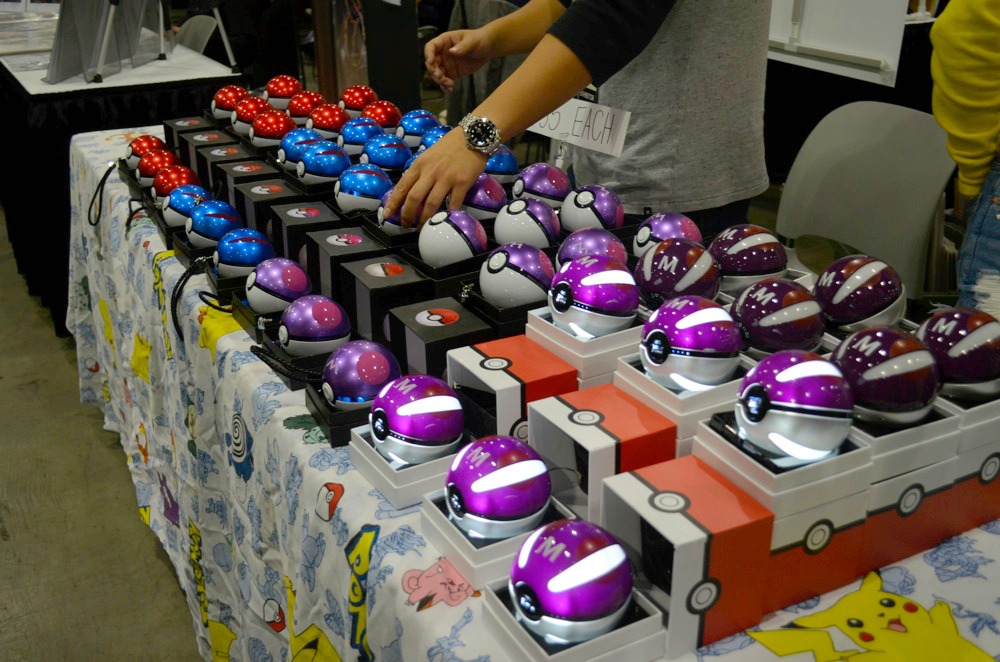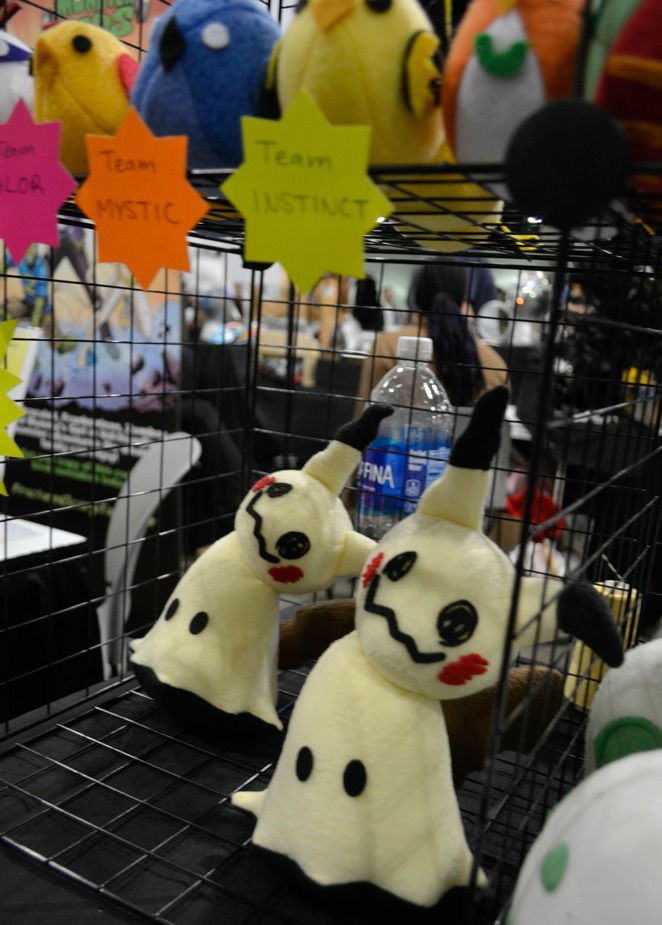 Speaking of Pokemon art, here's an adorable Mimikyu Plush doll.  And above you can see the cosmic birds for whatever team you may be on!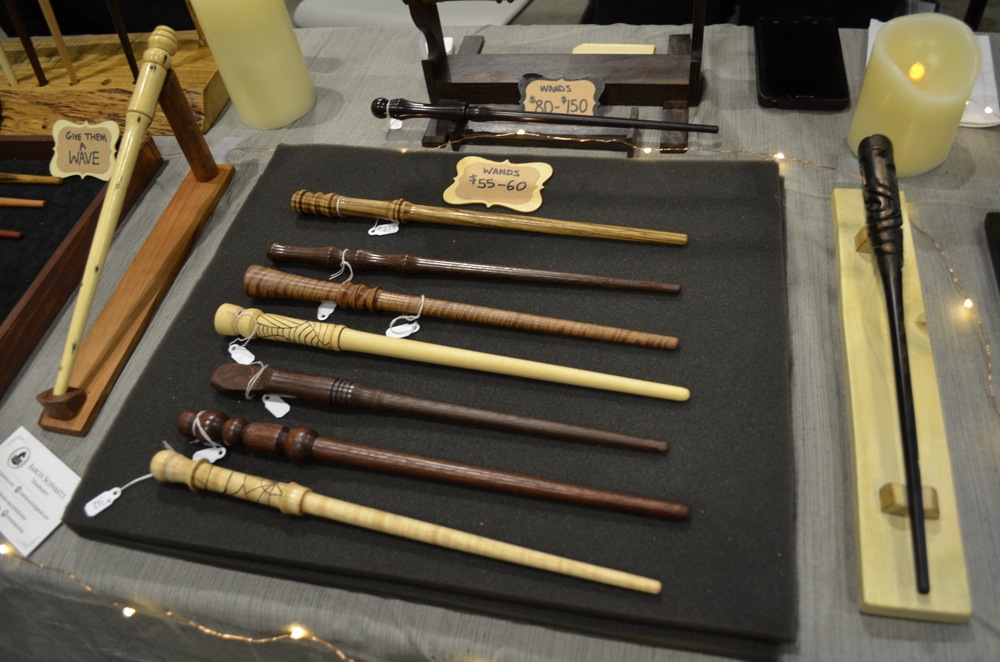 For Harry Potter fans, there were even custom woodcarved wands to be found!  Your wandmaker can be found here at Central Curios.  He even has holster vests so you have a place holster your wand.  Pretty nifty!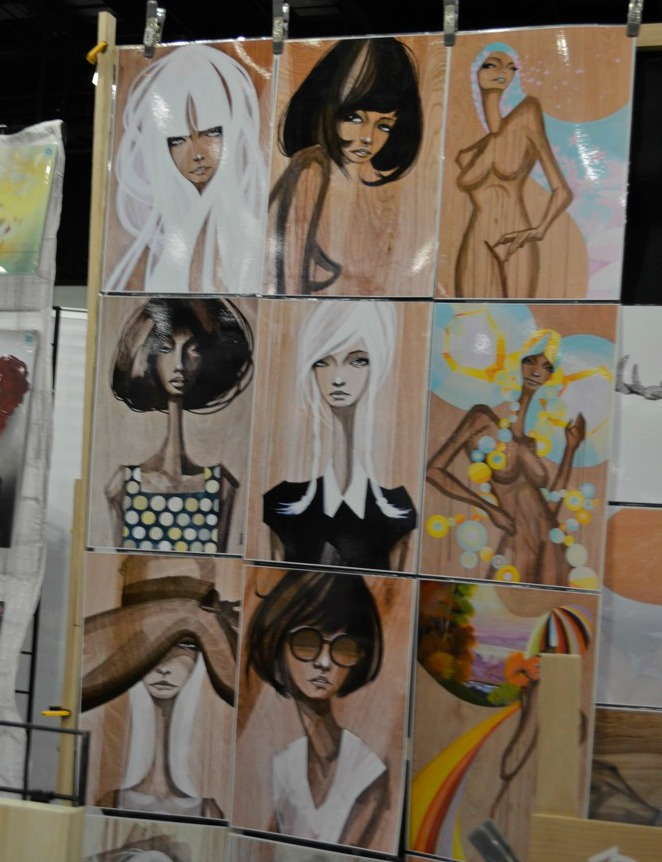 This next artist, Eddy Lee Art,  really stood out to me.  He paints on wood panels and I love the attitude and style of his women.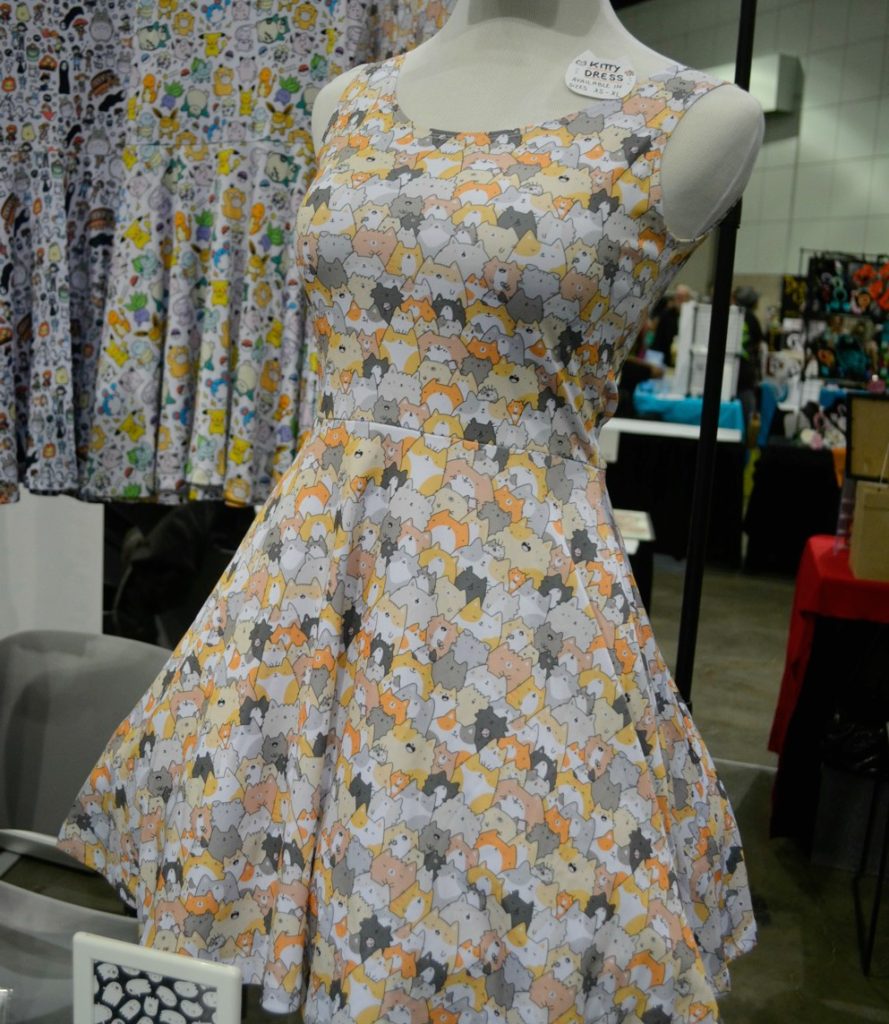 And as a crazy cat lady, I had to post this awesome kitty print dress by KiraKiraDoodles.
And of course a con is never complete without cosplayers.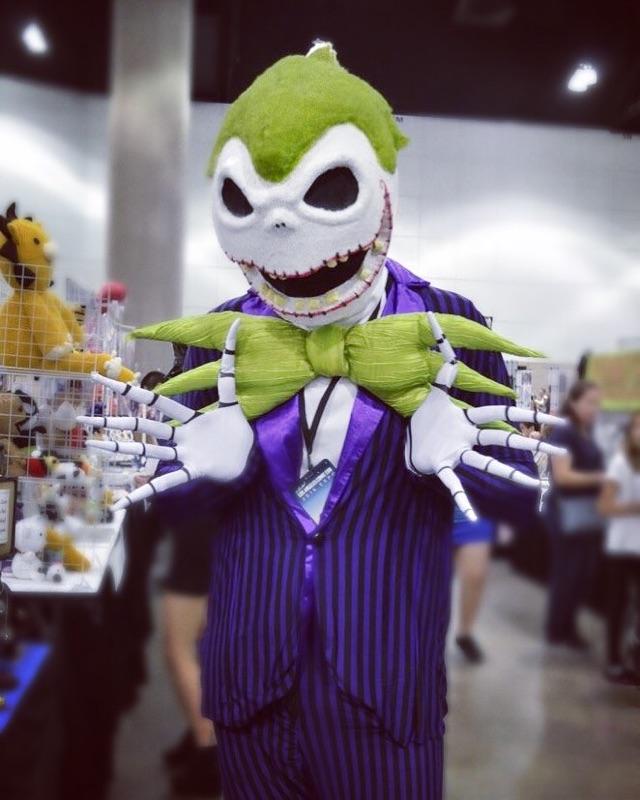 Jack Skellington and Joker Mashup. It works really well!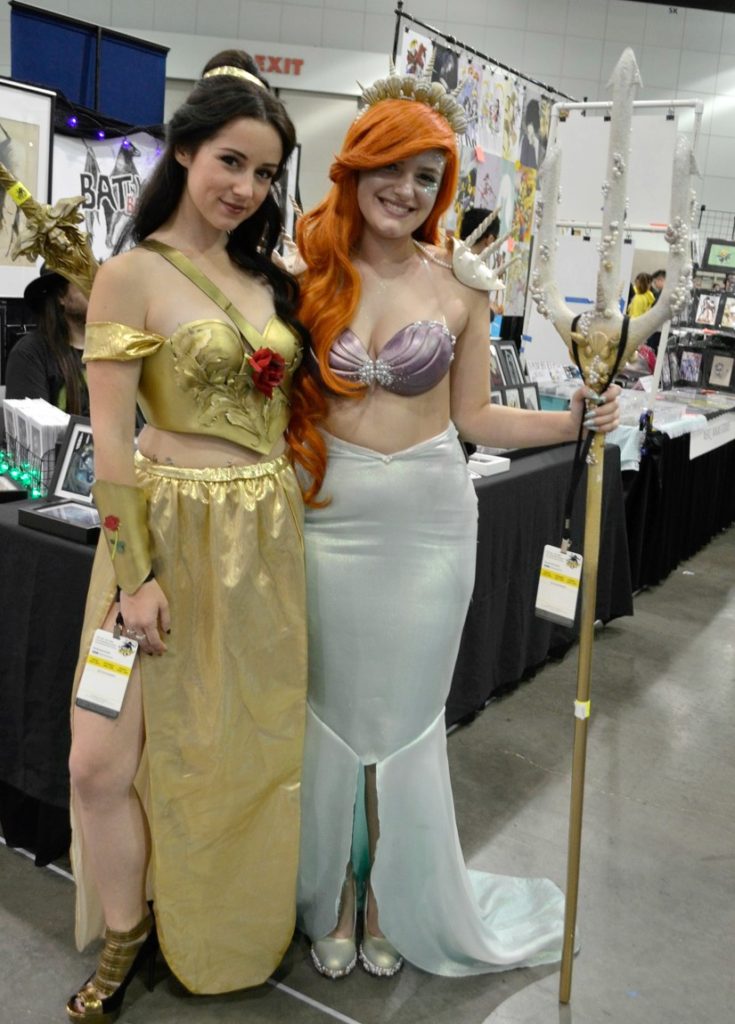 Armored Disney Princesses.  Looking fly but ready to kick ass!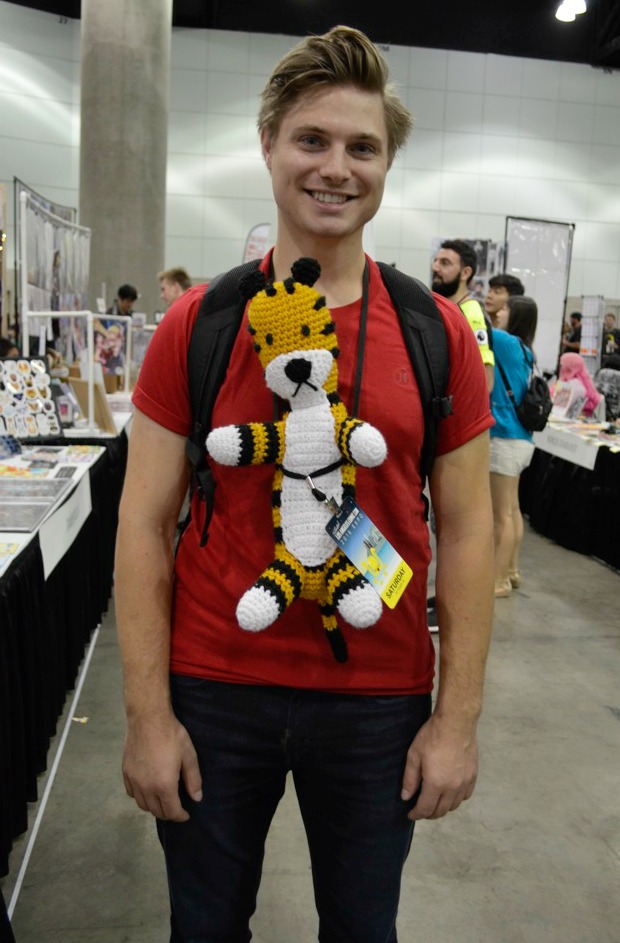 Calvin and Hobbes.  Apparently he had gotten this Hobbes 5 years earlier from me!  It makes me glad to hear that my dolls still get around!  I'm sure they've seen many adventures together since then 😀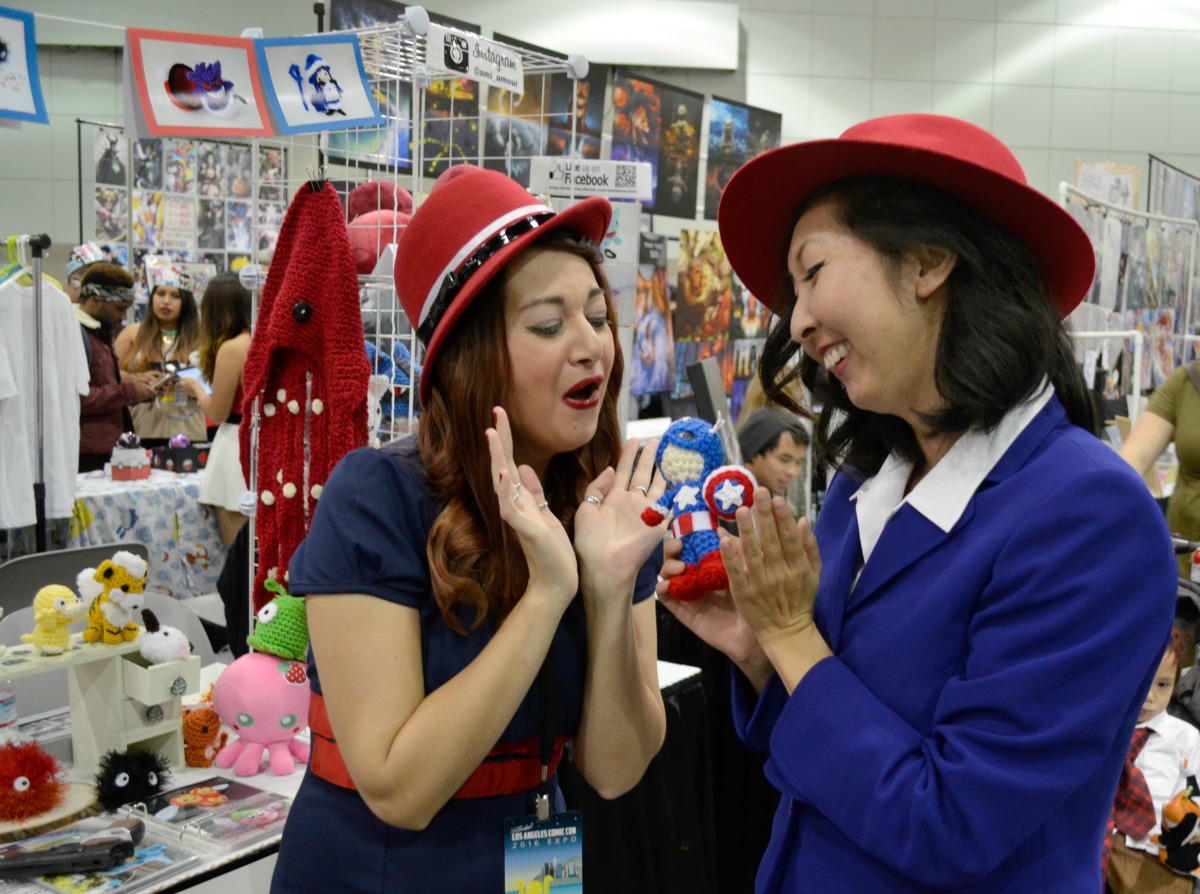 On Saturday I cosplayed as Agent Carter and met up with my twin!  Here we are fawning over our bae, Captain America <3 <3
And last but not least, here's a cute photo of these Pokemon kids adopting my chibi Pokemon!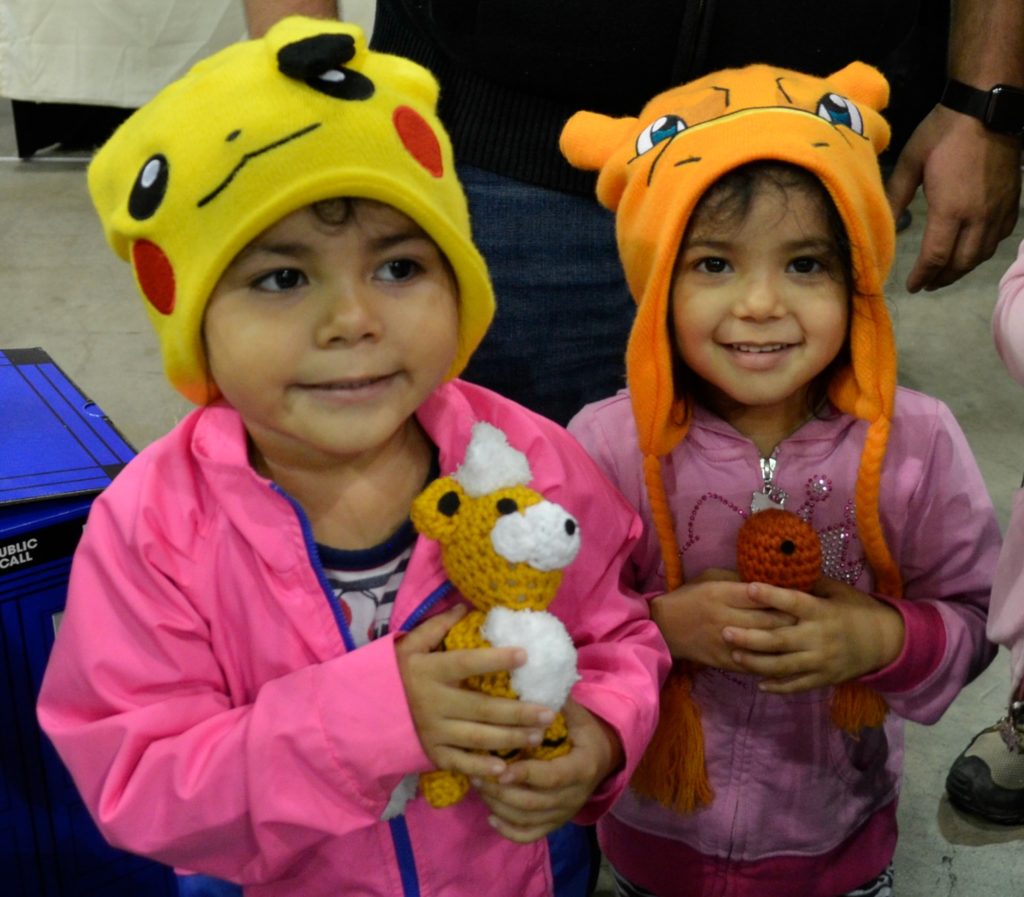 It really warms my heart when kids especially enjoy my amigurumis.  One of my customers from 2 years ago came by and visited me on Sunday with her daughter.  They had previously adopted a kitty amigurumi from me at my last Comikaze show.  She told me the story of how her daughter could not go to sleep unless she has her amigurumi kitty with her and that it's become a bedtime ritual for them.  I really find it so special when something that I've made becomes magically infused into someone's childhood memories.  It's truly stories like these that makes everything worthwhile and gives me new life and energy!
Thanks to old friends who came to visit and to new friends I've made!  Hope to see you soon again!