Here's my take on a super quick and easy amigurumi crochet heart to make for either your smaller amigurumi dolls or as a topper for your cupcake goodies! I've used the same crochet pattern for both, but just with a different yarn weight to give it a different size and purpose.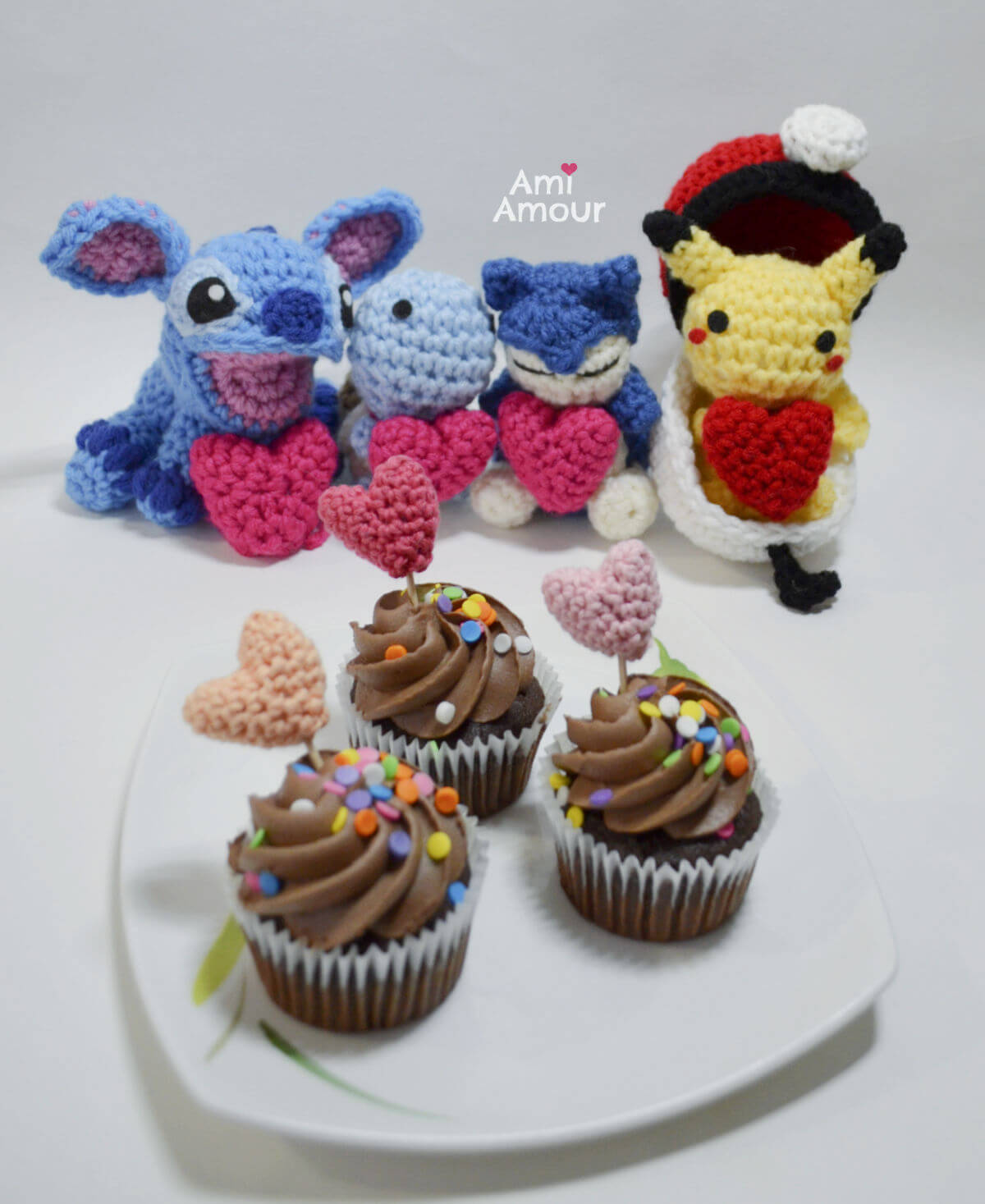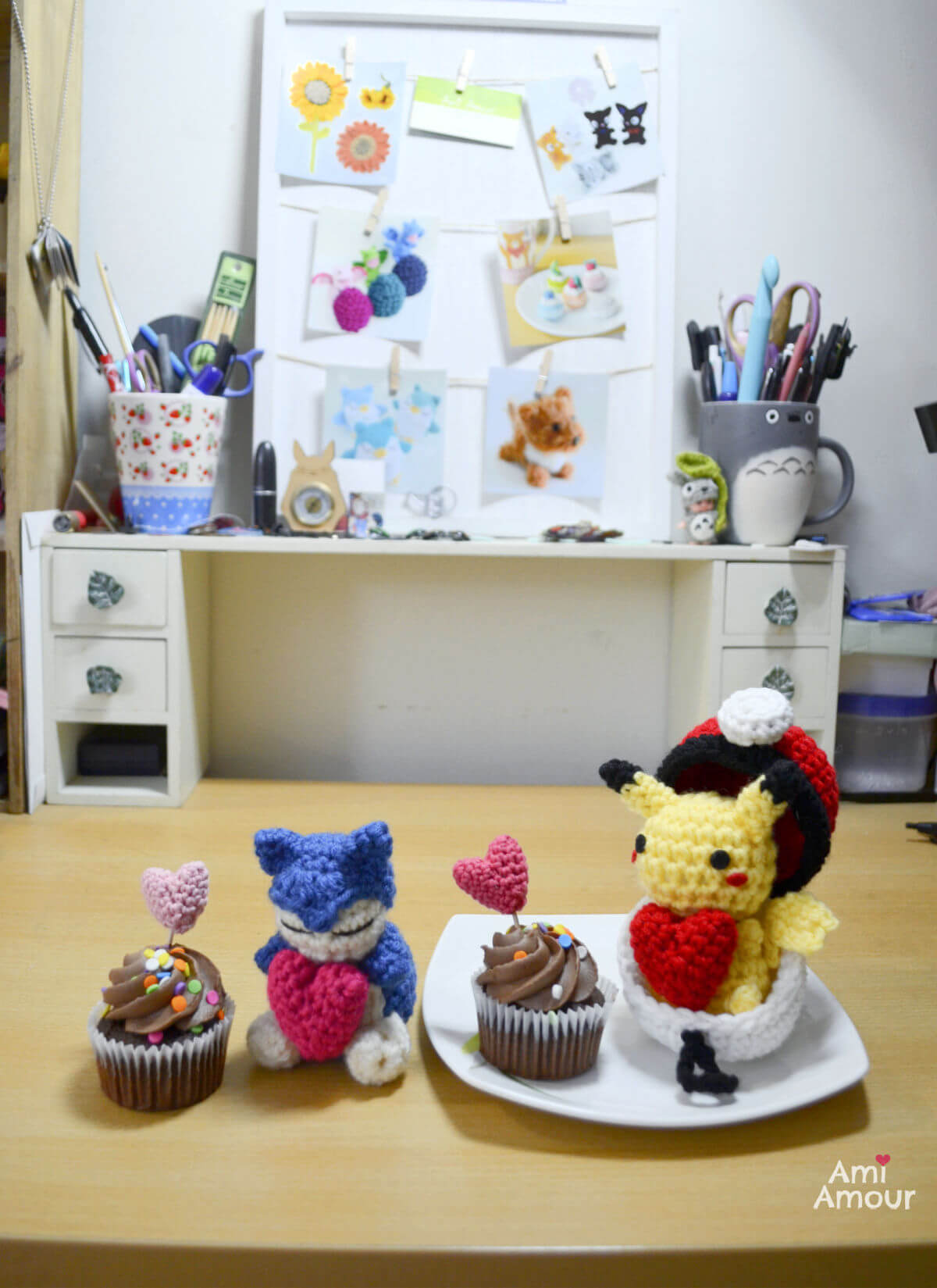 If you want to make a heart for your amigurumi, this small crochet heart pattern works best for amigurumis between the sizes of 3 inches to 5 inches tall. It partners up really well with many of my chibi amigurumi patterns, such as my crochet Pokemon. It's a great way to "Valentine" up any doll by making the amigurumi look like it's hugging a crochet heart!
Here's adorable Pikachu with a heart!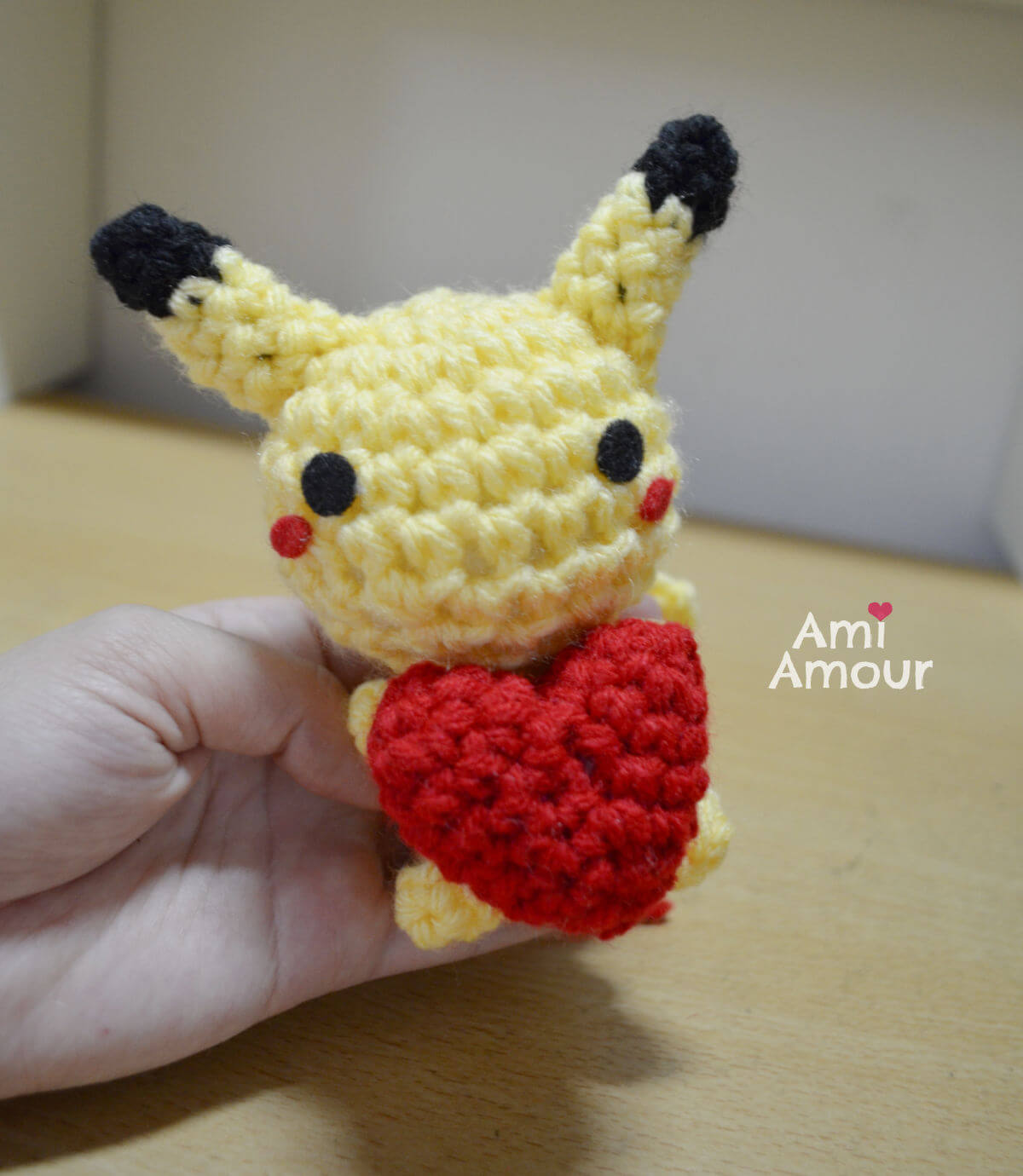 Sleepy Snorlax, taking a nap with a heart!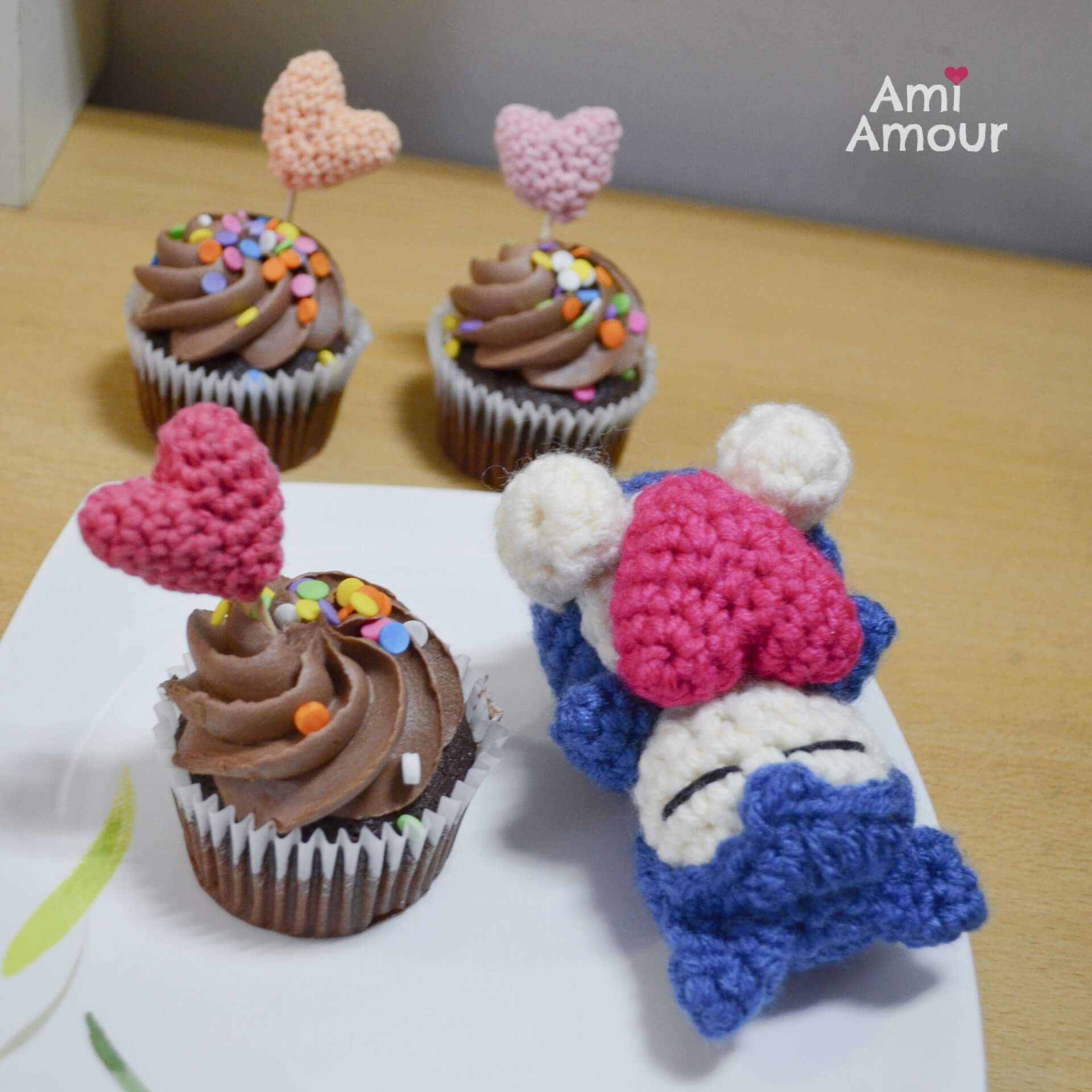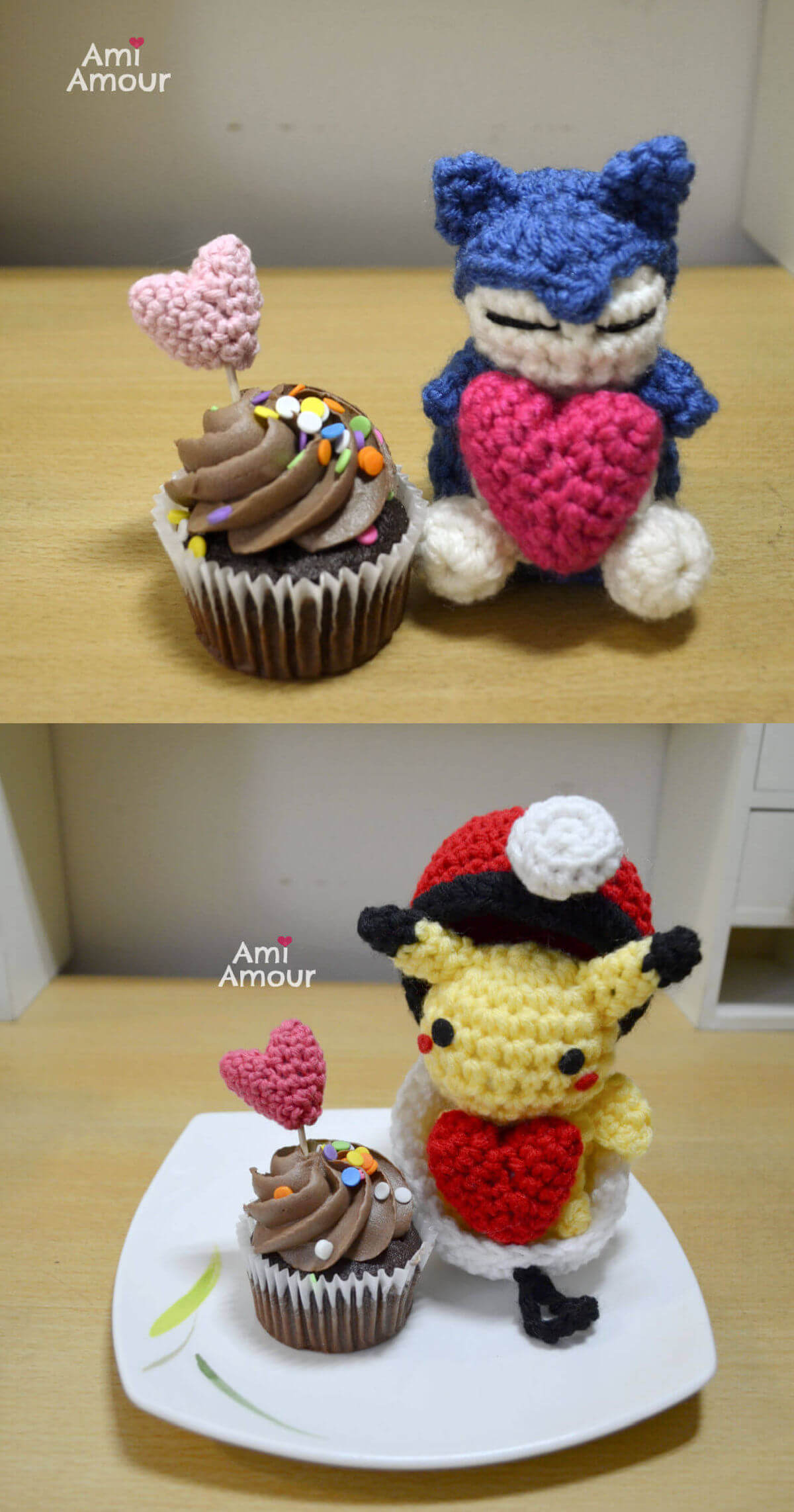 The same pattern also can be used to create a cute heart cupcake topper. Since I wanted the amigurumi heart a lot more smaller and delicate, I used the Paintbox Yarn, in cotton and dk weight to create these little hearts.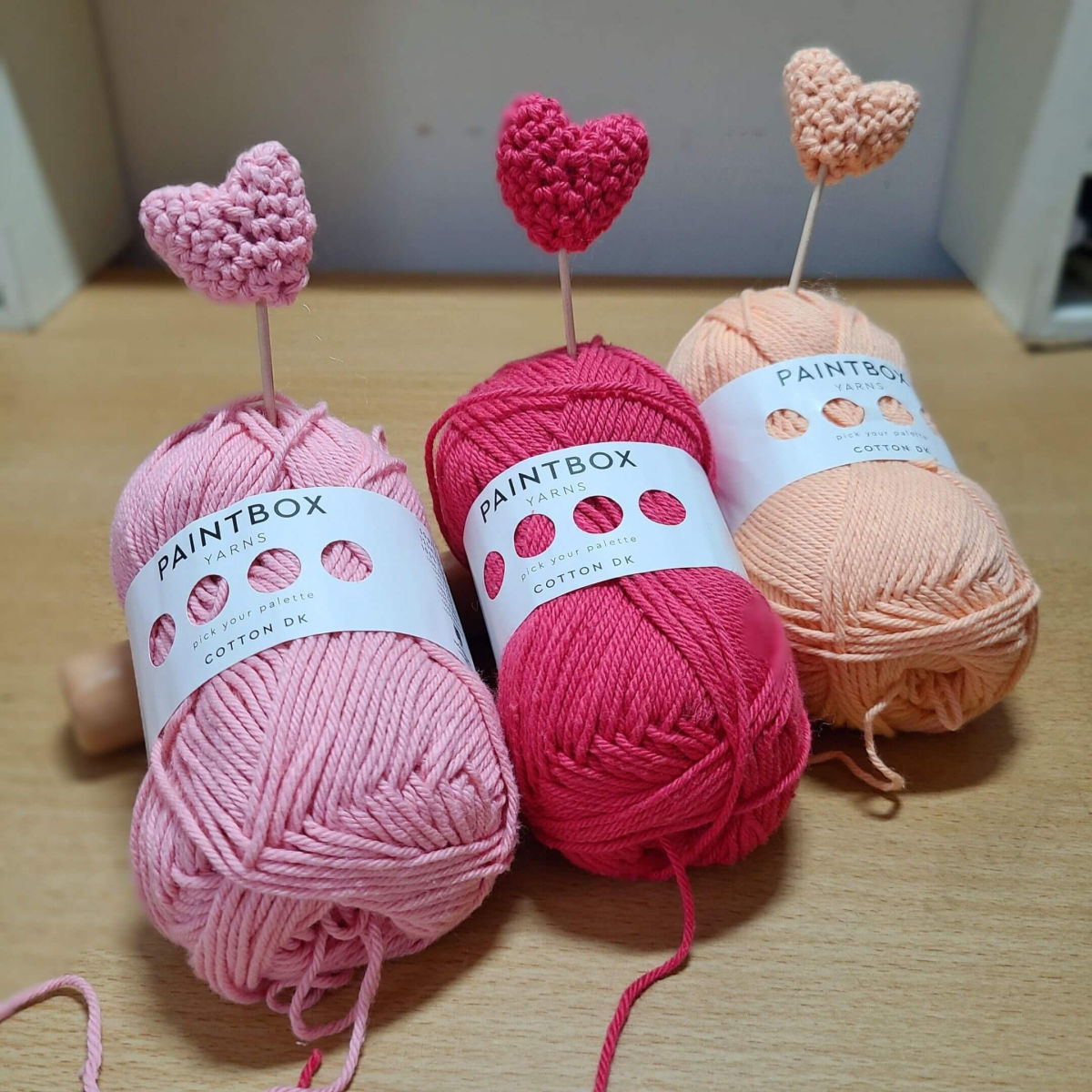 These heart cupcake toppers are great fun for parties (not to mention it makes a nice little gift for a guest to take home that lasts beyond after their cupcake is eaten!), and also can be a wonderful treat for any Valentine's day. To create a topper, I just used toothpicks and stuck the heart on top and then stuck the toothpick on top of the cupcake. Simple, easy, and cute!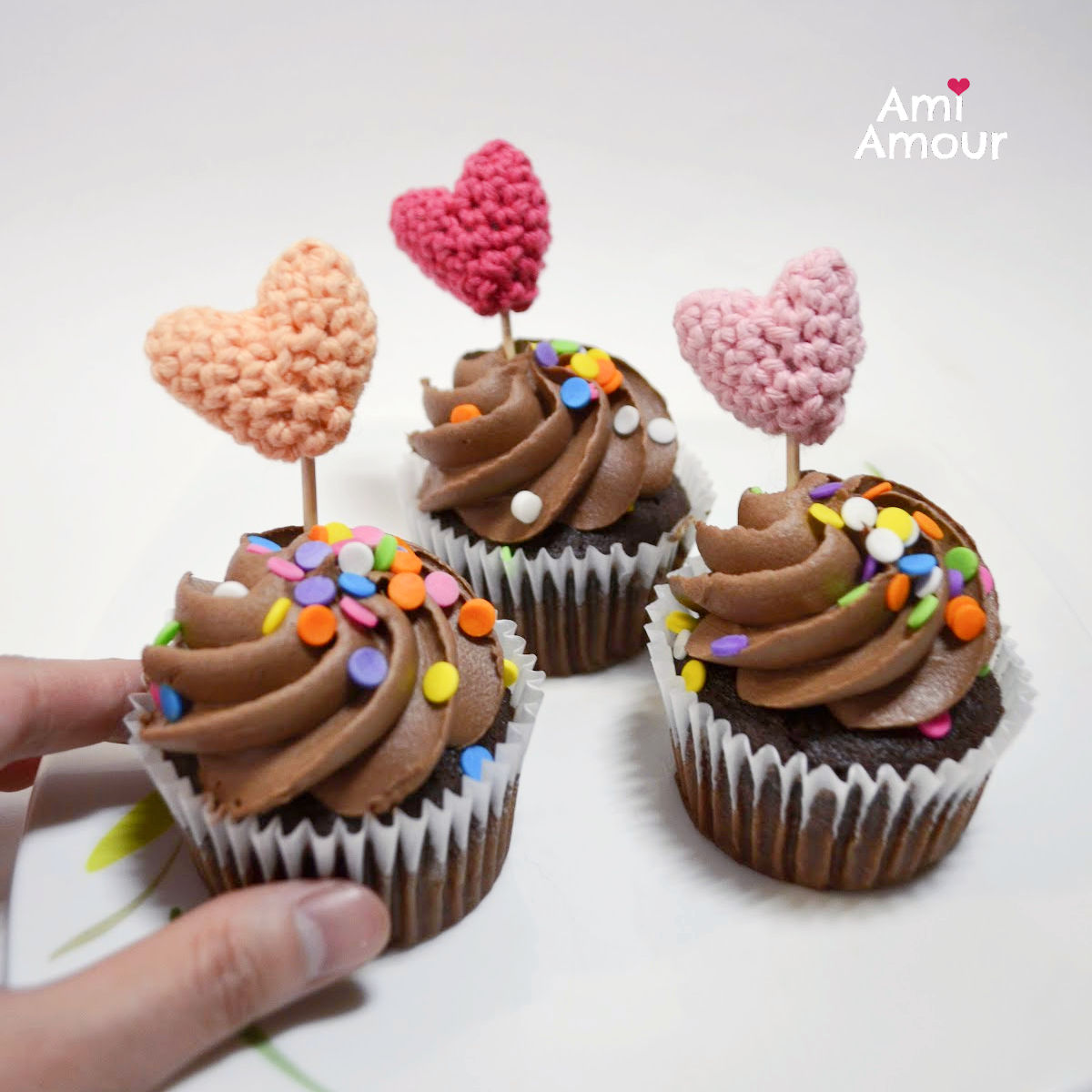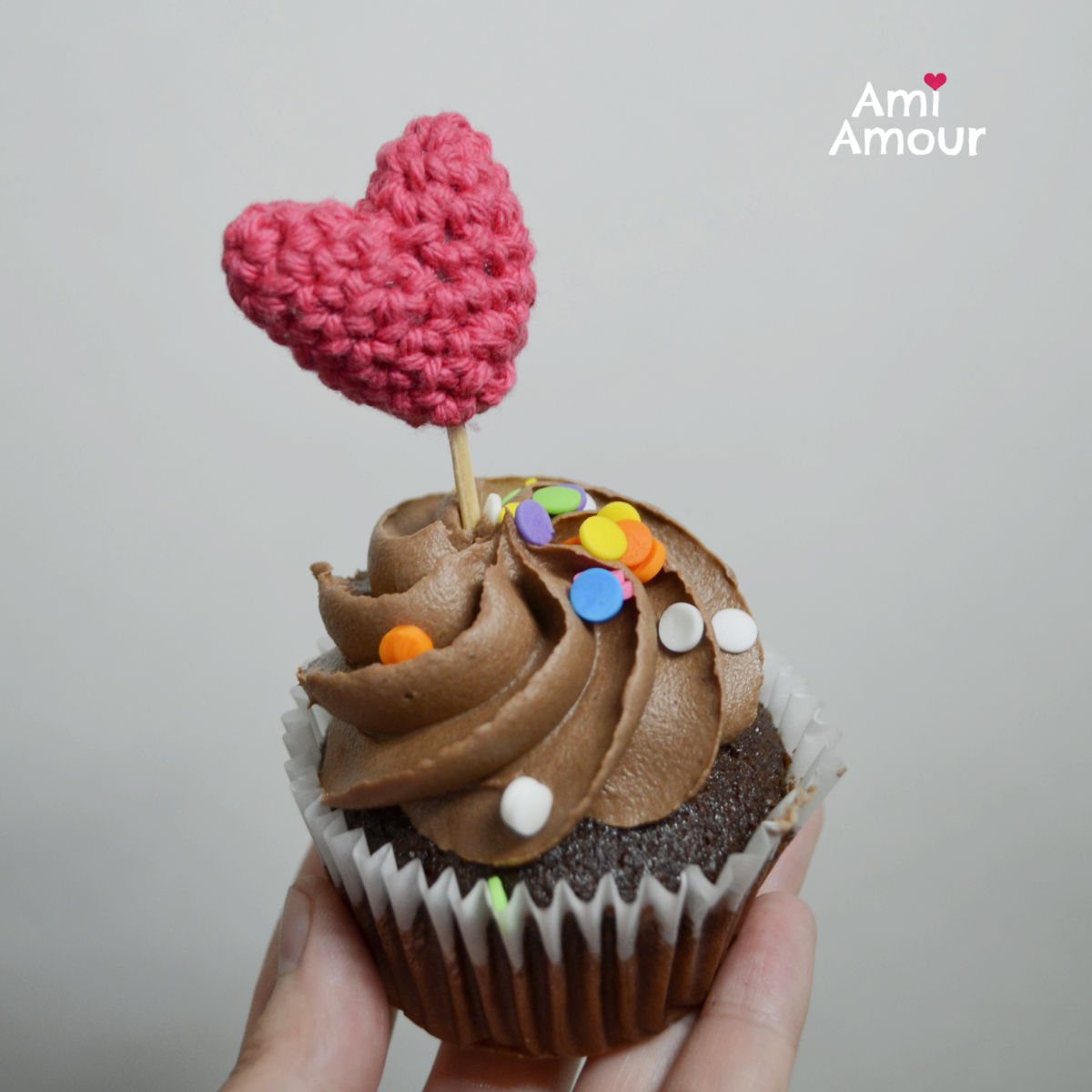 I hope you'll enjoy making these cute little hearts. I'd love to see how they turn out! Be sure to tag me with your projects on Instagram @ami_amour.
Don't forget to subscribe to my blog so you don't miss any of my patterns!

Here are some of my other free crochet patterns you may enjoy!


1. Macaron Amigurumi
2. Sushi Amigurumi
3. Sunflower Amigurumi
Crochet Step by Step along with me!
Easy Crochet Heart Tutorial Video
*Disclosure: This post contains affiliate links. This means I may receive a small commission if you decide to purchase anything by clicking on one of these links.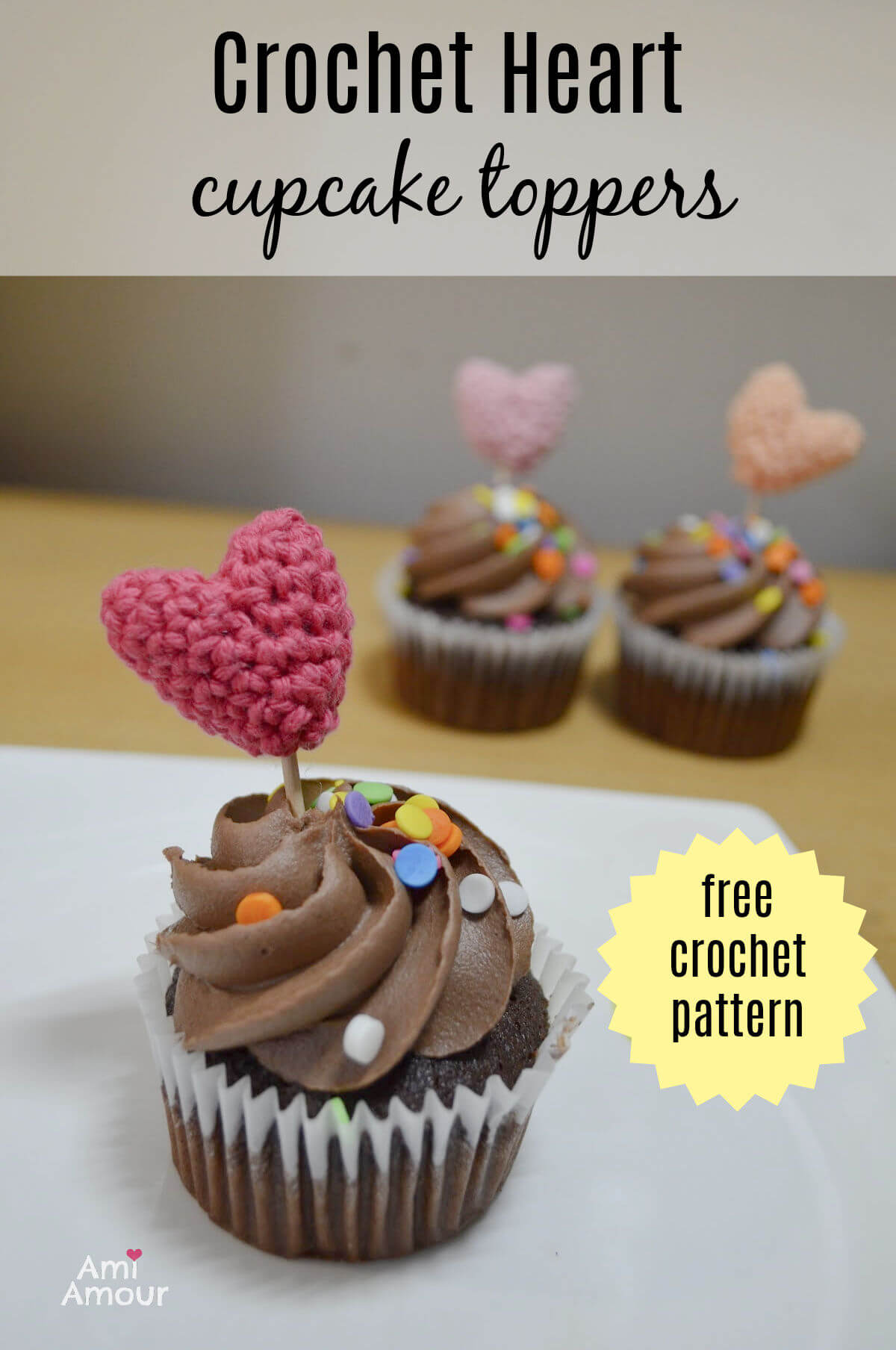 LEVEL: Easy
PROJECT SIZE:
If using worsted weight yarn, Heart is approximately 2 inches tall by 2 inches wide. (5cm by 5cm)
If using dk weight yarn, Heart is approximately 1.25 inches tall by 1.25 inches wide (3cm by 3cm)
YARN and CROCHET HOOK:
Making a Heart for your Amigurumi Doll
Worsted weight, acrylic yarn
– Loops & Threads, Impeccable Yarn
– Crochet Hook: 5.0mm size
Making a Heart Cupcake Topper
DK weight, cotton yarn
– Paintbox Yarn, Cotton, DK weight
– Crochet Hook: 3.25mm size
NOTIONS:
– Polyfil Stuffing
– Scissors
– Toothpicks (optional: used to stick your heart on top to create a cupcake topper)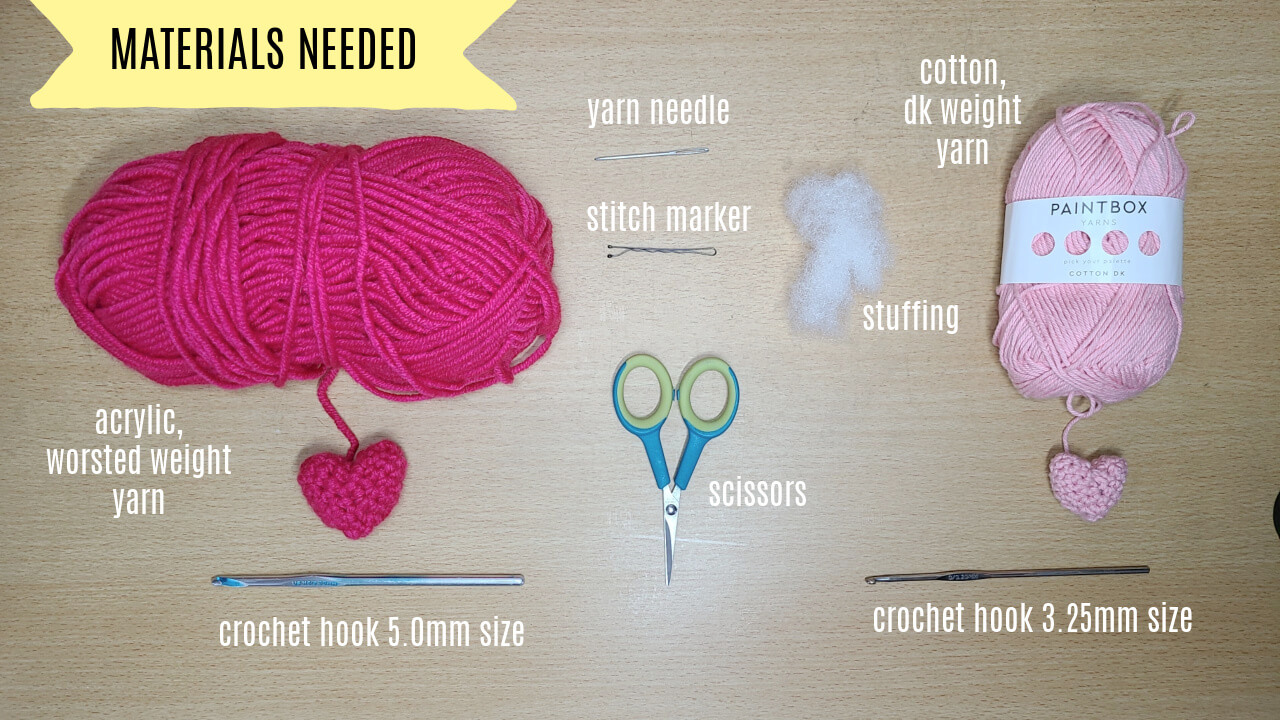 ABBREVIATIONS: (American English crochet)
ch – chain
sc – single crochet
sl st – slip stitch
sc2tog – single crochet 2 together (sc dec)
st – stitch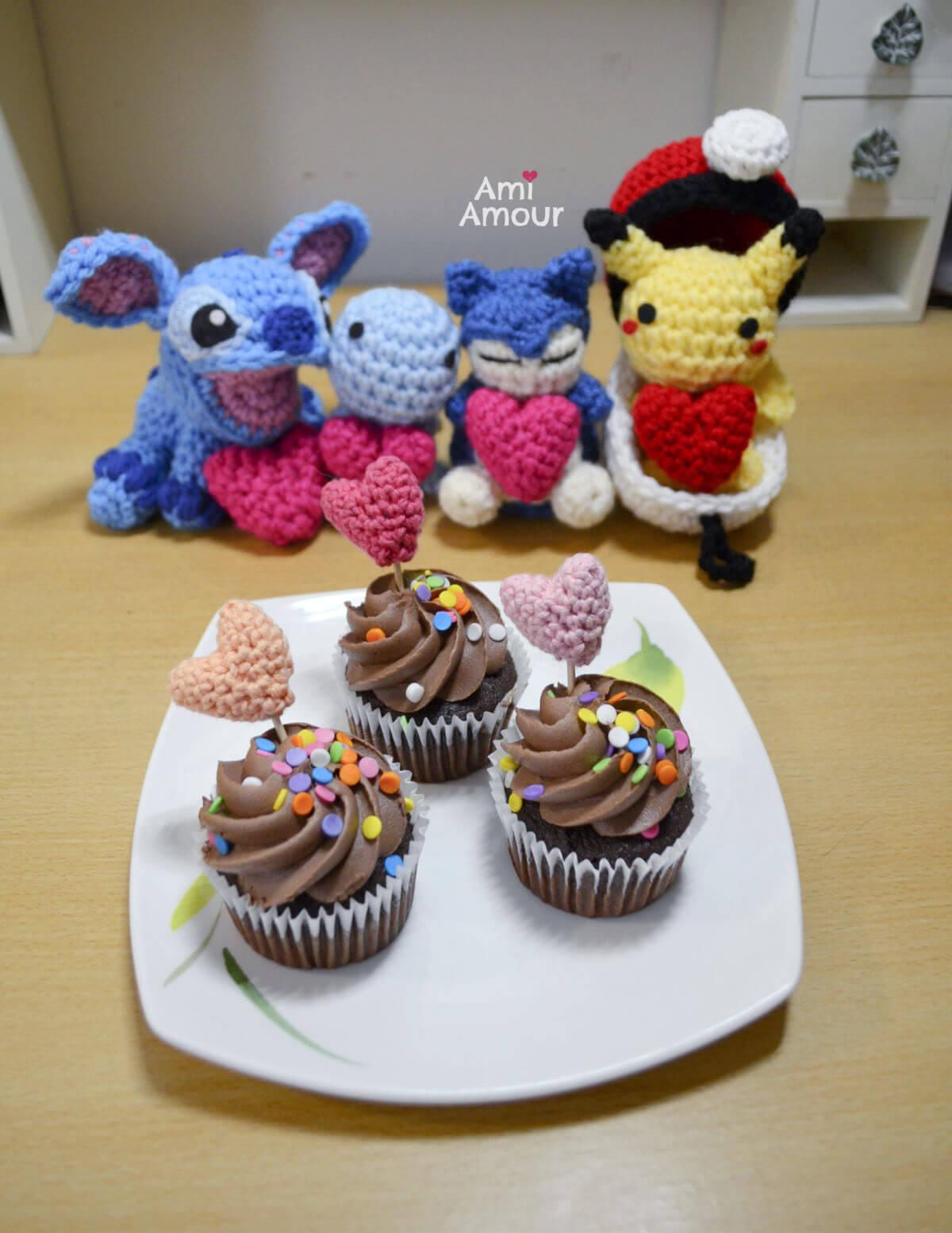 Easy Crochet Heart Amigurumi Pattern – Free Pattern
Round 1: 4 sc into magic ring.
Round 2: 2 sc in each st around – 8 sc.
Round 3: Sc in each st around – 8 sc.
Round 4: [2 sc in next st, sc in next 3 st] around – 10 sc.
Fasten off. You have just created Part A. Repeat Rounds 1-4 to create Part B. Do not fasten off! Join Part A and Part B together across 4 sts with sc. See photo tutorial below or see video tutorial here.
Round 5: Sc in each st around – 12 sc. (Go around the circumference of the Heart)
Round 6: Sc in next 2 st, sc2tog, sc in next 4 st, sc2tog, sc in next 2 st – 10 sc.
Round 7: Sc2tog around – 5 sc.
Fasten off, leaving a long tail.
Stuff and sew closed.
Tip: If you find any openings or holes in your heart, you can also use the leftover tail yarn to close up the openings.